Nong Khai หนองคาย
Hello Unregistered,
Time and Date in Nong Khai
Nong Khai is a popular stop off point for people traveling onto Vientianne in Laos across the Friendship Bridge, also it is used by many foreigners living in Thailand for visa runs into Vientiane. Nong Khai is 615km from Bangkok, 404km from Amnat Chareon, 566km from Ang Thong, 571km from Ayutthaya, 366km from Buriram, 636km from Chainat, 317km from Chaiyaphum, 818km from Chiang Mai, 898km from Chiang rai, 243km from Kalasin, 588km from Kamphaeng Phet, 166 km from Khon Kaen, 356km from Korat, 729km from Lampang, 797km from Lamphun, 202km from Loei, 614km from Lopburi, 1,122km from Mae Hong Son, 239km from Maha Sarakham, 329km from Mukdahan, 303km from Nakhon Phanom, 614km from Nakhon Sawan, 780km from Nan, 97km from Nong Bua Lamphu, 804km from Phayao, 393km from Phetchabun, 518km from Phichit, 485km from Phitsanulok, 663km from Phrae, 279km from Roi Et, 210km from Sakon Nakhon, 508km from Saraburi, 587km from Singburi, 513km from Sisaket, 544km from Sukhothai, 422km from Surin, 623km from Tak, 448km from Ubon Ratchathani, 51km from Udon Thani and 664km from Uthai Thani, 603km from Uttaradit and 350km from Yasothon, Nong Khai can be got to by road or train.


Learn more about Nong Khai & Isaan on our
Isaan & Nong Khai Forum
.
Nong Khai Tourist Attractions & Members Vacations
Nong Khai, Hotels, Guest Houses, Restaurants, Bars, and things to see and do. You can view the train time tables to and from Nong Khai
here
.
You can view Thailands airports, arrival and departure times
here
.
The telephone area code for Nong Khai is 042.
Laos Visa Run Page
.
If your traveling to Vientiane then Nong Khai is likely a place you will go to.
Beung Kan
About 130kms away from Nong Khai City is Beung Kan, the home of Wat Phu Tok.
Some photos of the Mekong River
A tour of Isaan including Nong Khai
A trip to Vientiane
Things to do and see in Nong Khai
A tour around Loei
Nong Khai to Vientiane visa run
A few days in Nong Khai
Phu Langka National Park
Phu Lang ka National Park, about 31,250 Rais or 50 squares kilometers, covers the area in Baan Pang District, Nakhon Phanom Province, and Sega District, Nong Khai Province. There generally are productive forests such as montane forest, rain forest, mixed forest and deciduous forest. The area is the source of water, habitat of a number of animals, and has many wonderful places to visit such as cliffs, caves and waterfalls. Despite the beautiful scenery and productive forest, the area also has many varieties of life and environment.
Nong Khai Beach Videos
Nong Khai Market Videos
Nong Khai Loy Krathong
Nong Khai Songkran Videos
Nong Khai Wat Khaek Video
Nong Khai Naga Fireballs Videos
Nong Khai Rocket Festival Videos
If you are in Nong Khai to do a visa run to Vientiane there is now a
bus service each day
, this costs 180baht return, to learn more about doing a visa run to Laos and Vientiane click
here
.
Getting to Vientiane from Nong Khai
.
Maps of Nong Khai can be found
here
.
Videos of Nong Khai Tourist Attractions
.
Tourist Attractions in Nong Khai
Sculpture Park, also known as
Sala Kaew Koo
Sculpture Park Videos
.
Sculpture Park contains statues of heights greater than 16 meters, it was initiated by a Laos National Luang Poo Boun Leua Sourirat, whe passed away in 1996 after spending nearly 20 years with other devotees constructing the different statues, after his death the statues went into decline until the local Government decided to help in its renovation.
Phu Wua Wildlife Reserve
Historical Park
The Serpentís Fire
Wat Hai Sok
Wat Khaek A Day at Wat Khaek
Wat Phu Tok
Wat Poo Chai
Situated behind the Nong Khai bus station.
Wat Pho Chai Videos
Wat Aranbanpot
Wet lands
Phu Pra Bat
Nong Khai Coach Station
Thailands Weather Forecasts
Hotels in Nong Khai
Munkong Apartments
268/3 Prajak Road.
Telephone: 042 460756-9
Munkong Apartments
Banthoengchit
521 Banthoengchit Rd. Amphoe Muang. Nong Khai 43000
Telephone 042-411101,412571
Nongkhai Grand
598 Moo 5 Phonpisai Rd,Nongkhai.
Telephone: 420033-44, 412026
Has swimming pool, massage, snooker, restaurants, disco etc.
Room rates from 1,200 to 5,000baht per night.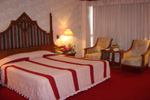 Green House
218 Mu.2 Tha Bo-Sri Chiang Mai Rd. Amphoe Tha Bo. Nong Khai
Garden Home
77 Mu.3 Amphoe Sang Khom, Nong Khai
Maekhong Royal
222 Had Jommanee Rimkhong Road.
Telephone: 465777-81, 421280
Room Rates from 900 to 2,500baht per night.
Pantawee Hotel
1049 Haisoke Road, 43000 Nong Khai, Near Tesco Lotus.
Telephone: +66 42 411 568
All rooms have air-con, 24 hour Free Internet Access, TV / DVD / Computer and a substantial library of movies . En suite hot shower and toilet. Hotel also has a Spa, Swimming pool, Restaurant etc.
Room Rates from 700 to 1,800baht per night.
Pantawee Hotel
Thai Laos Riverside Hotel
51 Kaeworawut Road, Nong Khai
Telephone (042) 460263-7 Fax: (042) 460317
Room Rates from 700 to 900baht per night.
Khong River Hotel
Opposite the Old Railway Station.
Telephone 411277,465557, 465558
Room Rates from 400baht per night
Pongvijit Hotel
1244/1-2 Bunthengjit Road.
Telephone 420632 , 420632
Room Rates from 200 to 500baht per night.
Motel 843
Meechai Rd. opposite wat srichomchean.
Telephone 411031
Room Rates from 150baht per night.
Phajak Bungalow
1178 Prajak Rd, Nong khai.
Telephone 420510
Room Rates from 260 to 650baht per night.
Gold Lucky Hotel
230 Jomanee Soi 2, Kaew Worowut Road, Muang District, Nongkhai 43000
Telephone.042-423189, 089-8112337 Fax: 042-423275
Donmon Resort
Lang Rongrean Nong Khai 2nd Road.
Telephone 423186
Room Rates from 300 to 500baht per night.
Plangthong Resort
Telephone 465236
Room Rates from 450baht per night.
Big Snake Guesthouse Resort
Big Snake Guesthouse in Ban Wat Luang, Phon Phisai, Nong Khai province.
We provide western standard facilities under western management.
Our service is unobtrusive yet personal and friendly.
Double bedroom studios and a 2 double bedroom apartment are now available with a large swimming pool and petanque court, in a genuine unspoiled northeastern (Isan, E-san, Issan, or Isaan) Thailand village. Located 43kms east from Nongkhai on highway 212 toward Phon Phisai.
This is also close to Naga Fireballs or Bung Fai Payanak.
Room Rates from 550 to 1,050baht per night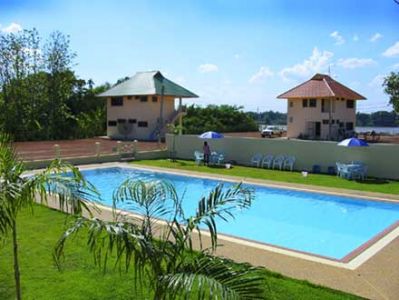 Guest Houses in Nong Khai
Thai Nong Khai Guesthouse
Telephone 042 413 155
Thai NongKhai Guesthouse
Amazon Guest House
Jommanee Soi 7, Nong Khai.
Telephone 085 0093489
Room Rates from 250baht per night to 3,000baht per month.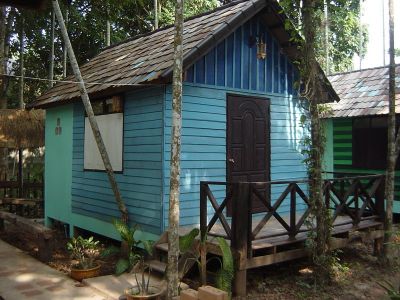 Esaan Guesthouse
Shared Bathrooms.
Room Rates from 100 to 150baht per night.
Ruan Thai Guesthouse
RimKhong Road.
Room Rates 120 to 450baht per night.
Sawasdee Guesthouse
402 Meechai Road, infront of Wat Srikoonmuang.
Telephone 412502
Room Rates from 100 to 380baht per night.
Mekong Guesthouse
519 Rimkhong Rd. Telephone 460689.
Room Rates from 100 to 500baht per night.
Rimkhong Guesthouse
815/1-3 Rimkhong Rd. Amphoe Muang, Nong Khai 43000
Telephone 042-460625 - Fax : (66 042)420967
Near The Sadej Pier.
Room Rates 180baht per night.
Friendship Guesthouse
Just off of Meechai Road near Sawasdee Guest House.
Room Rates from 400baht per night.
Kachakorn Guest House
Telephone: 089-8413439, 081-1180948
Narumol Guest House
239 Moo 4.
Telephone 423477
Room Rates 200 to 300baht per night.
Nu Guest House
Near the train Station. Telephone 412061
Room Rates 150baht per night.
P.K. Guest House
Near Wat Jommanee. Telephone 465642, 462393, 089-5709110
Room Rates from 200 to 300baht per night.
Tim Guesthouse
Rim Khong Road. Nong Khai.
Telephone 042-451072
Room Rates 150baht and up per night, Bicycles and motor bikes can be rented here.
Tonys Riverside Guesthouse
Tony's Riverside Guesthouse is located only a few metres away from the Indochina-"Thasadej"-Market directly at the Mekhong riverside.Opened in August 2005. Rooms are differently equipped, partly with hot shower and WC, aircondition and DvD-player.
All rooms have double bed, cupboard, fan, TVset, Minibar.
Bar & Restaurant with English and Thai-Cuisine (closed on mondays), gymnasium
Restaurants and Bars in Nong Khai
The Bridge bar
The bar is located on the banks of the Mekong in Nong Khai, northeastern Thailand (Isaan). Nong Khai is a major access point to and from Laos over the Friendship Bridge just out of town. Vientiane lies just 25km upriver. They have the usual selection of beers, spirits, fine steaks, wireless internet, good company, plus a range of small fluffy toys for 50 baht each.
Restaurant Kiwi Bar
Soi Watnak, 1255/4, Nong Khai 43000
Telephone: 042 46 12 19
We'd like to welcome you to our Restaurant Kiwi Bar; which we first opened in the year 2000.
Restaurant Kiwi Bar is managed by Haesi, a professional chef with 30 years of experience in Switzerland and his wife Joy who has many years of experience as a service manager in a first-class Bangkok hotel.
Cafe Thasadej
387/3 Soi Thepbunterng, Nongkhai 43000
Telephone 042-412075
Franz' & Apples's Place
622 Rimkhong Road
John POPEYES Beer Bar
674/1 Keaworawut, Nongkhai 43000
Telephone 07-8678330
Jose Ramon, Restaurant & Cantina
1128/11 Soi Takai, Nongkhai 43000
Lamai's Bamboo Bar
1128/9 Takai Road, Nongkhai 43000
Telephone 087-9554626
Laundry Bar
1069/2 Meechai Road. Nongkhai 43000
Telephone 042-411035
Nois Cafe & Bar
577 Rimkhong Road, Nongkhai 43000
Telephone 089-4437503
Nongkhai's Austrian Breakfast Point
772-3 Soi Chuenjitt, Nongkhai 43000
Telephone 061-2724237
Nongs Place
Rimkhong Road, Nongkhai 43000
Telephone 086-8617291
O.J. Bar & Cafe
1255/1, M.5, Soi Watnark, T.Muang, Nongkhai 43000
Telephone 66 42 460088
Outback Bar & Grill
1129/9 Soi Fai Bip Bip, Nongkhai 43000
Telephone 089-0704743
Pizza Mr.Bentz
314/6 T.Nongkomkoa. Nongkhai 43000
Telephone 087-8068930
Restaurant & Bar Vern at Nobbi's
997 Rimkhong Road. Nongkhai 43000
Telephone 042460583/0833327947
Rudy's Bakery and Boncafe
447/6 Meechai Road. Nongkhai 43000
Telephone 042-413072
Surreal
476 Rimkong Road. Nongkhai 43000
Telephone 081-5572776
Take It Easy Bar
1075 Keawworawut Road. Nongkhai 43000
Telephone 042-422665
The Danish Baker
434 Meechai Road. Nongkhai 43000
Telephone +66 42 460 840
Two Wheels Biker Bar
Panangchonrapratan Road. T.Meechai
Telephone 087-8564385
HornBills Book Shop
Kaeworawut Road, Nong Khai 43000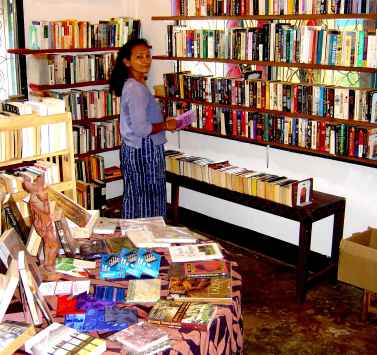 The Wasambe Book Shop
1121 Kaeworawut Road.
Telephone 460717
Nong Khai Golf Course
Victory Park Golf & Country Club
191 Moo 1 Tambol Khai Bok Wan Amphor Muang Nong Khai 43100
Telephone: (042) 407-296-300
Victory Park Golf & Country Club Video
Thailand Train Timetables
Northern Thailand
North Eastern Thailand
Eastern Thailand
Southern Thailand
Nong Khai Weather Forecasts Nong Khai Sunrise Interactive Nong Khai Map View Larger Map