Nakhon Sawan นครสวรรค์
Hello Unregistered,
Time and Date in Nakhon Sawan
Nakhon Sawan is 240kms North of
Bangkok
, 653km from
Amnat Charoen
, 141km from
Ang Thong
, 172km from
Ayutthaya
, 478km from
Buriram
, 64km from
Chainat
, 342km from
Chaiyaphum
, 449km from
Chiang Mai
, 542km from
Chiang Rai
, 525km from
Kalasin
, 117km from
Kamphaeng Phet
, 327km from
Korat
, 493km from
Khon Kaen
, 359km from
Lampang
, 428km from
Lamphun
, 398km from
Loei
, 130km from
Lopburi
, 683km from
Mae Hong Son
, 521km from
Maha Sarakham
, 710km from
Mukdahan
, 746km from
Nakhon Phanom
, 425km from
Nan
, 415km from
Nong Bua Lamphu
, 614km from
Nong Khai
, 448km from
Phayao
, 192km from
Phetchabun
, 129km from
Phitsanulok
, 307km from
Phrae
, 562km from
Roi Et
, 653km from
Sakon Nakhon
, 175km from
Saraburi
, 639km from
Sisaket
, 188km from
Sukhothai
, 478km from
Surin
, 185km from
Tak
, 697km from
Ubon Ratchathani
, 563km from
Udon Thani
, 50km from
Uthai Thani
, 247km from
Uttaradit
and 599km from
Yasothon
, and you can get there by
train
or coach, not really a major tourist destination just a stopping off point in your journey to somewhere else.
Learn more about Nakhon Sawan in our
Central Thailand & Nakhon Sawan Forum
.
Nakhon Sawan Province shares borders with Kamphaeng Phet, Phichit, Phetchabun, Lop Buri, Sing Buri, Chai Nat, Uthai Thani and Tak.
Members vacations and trips to Nakhon Sawan
Chansen Museum
Nice well set out museum about the past in Thailand, worth a visit if your in Nakhon Sawan.
Nakhon Sawan Mountain
Up on top of the mountain to visit the Temple with views overlooking Nakhon Sawan City.
Running a Dairy Farm in Nakhon Sawan
Hotels and Nakhon Sawans town center
The Pen One Hotel with rooms from 350baht per night, or the P.A. Place Hotel with rooms at 500 baht per night and are equipped PC and free wi-fi.
Kamphaeng Phet is 116 kilometers from Nakhon Sawan, around the Historical Park there are about 40 Thai temples, these are all sign posted and a lot of infomation is available at these Wats.
Kamphaeng Phet Historical Park
A trip to Kamphaeng Phet
Spend a day at Khao Yai National Park
Some nice pictures from the main Temple
Thung Yai Naresuan National Park, a visit by one of TeakDoors members
Maps of Nakhon Sawan
Hotels in Nakhon Sawan
Panagarp Resort
32 Mu 4 Tambon Dakaenlueng. Amphur Muang. Nakhon Sawan Province (1km from By-pass Bridge) Telephone: 056 358211
The Panagarp Resort " Romance Package"
Experience the romance and peacefulness of the Panagarp Resort for your honeymoon or romantic get-away.Our beautiful Garden at our Resort is perfect for just such a celebration. Imagine relaxing in the lana style wooden Houses , hear the birds chirping and watch our magnificent sunrise and sunsets....and of course, choose our Romance package ...chocolates, chilled sparkling wine, a arrangement of flowers and more....Have Breakfast/Lunch or Dinner amidst picture perfect nature's surrounding at the Panagarp Resort. Picture yourself cuddled up in one of our wooden Huts dimmed candles or soft light lending that special ambiance. Package Includes: 1 Bottle Sparkling Wine, Ice Bucket w Ice & 2 Champagne Glasses , Serviette (cotton) 1 Flower arrangement (9 Roses) 1 Plate assorted Chocolates 1 Fruit Basket ( fruits in season) 9 Candles in Room CD & DVD Player provided with romantic Movie (English with Thai subtitles) and romantic Music CD Rose heads sprinkled in Heart shape on the Bed
Home Stay Resort
193/1 mou 24
Tambon Maelay
Ampher Maewong
Nakhonsawan Province
90 kms from Nakhon Sawan next to Mae Wong National Park. It is 1,000baht per night to rent this house regardless of how many people & includes breakfast.
Ban Saen Suk Resort
12 moo 5 ,Tambon Buangsaemat , Amphur Muang , Nakhon Sawan Province (3km from Phitsanulok Road-Ping River Bridge) Nakhon Sawan Telephone: +66 (0) 846187850
Rooms are all Airconditioned , have Shower, Toilet , TV , Double bed , Fan , Lounge Chairs. They do offer Laundry Service and motorbike rentals.
Has 12 rooms at 1,000baht per night.
The Asia Nakhon Sawan Hotel
1017/4 Moo 9 Asia Road, Ampher Muang , 60000 Nakhon Sawan.
Telephone: (056) 372222
Room Rates from 990baht per night.
Country Lake Nature Lodge
75 Moo 3, Tambol Namsong,Amphur Phauhakhiri, Nakorn Sawan
Telephone: (056) 205-204-6
The Lodge is located next to the lake called "Nam song" at Payuhakiri District.
Room rates from 500baht if your Thai.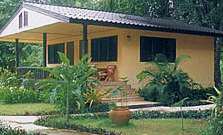 The Pimarn Hotel
605/244 Asia Road. Nakhonsawan
Telephone: 056 312 222
Room Rates from 800baht per night.
Has an outside terrace with big screen tv for sporting events.
The Lelawadee Home & Resort
57/67 Downduang Road. Tambon Paknampo. Ampher Muang, 60000 Nakhonsawan
Telephone: 056-372411-3
Room Rates from 890baht per night.
Has a small restaurant, free WIFI, and also free PCs you can use.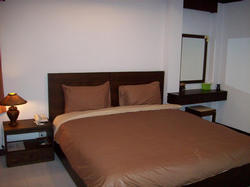 Restaurants in Nakhon Sawan
The German Imbiss
9/2 moo 10 Tambon Nongkug. Nakhon Sawan 60240
Telephone: 056 333 922
The Swiss Lounge Restaurant and Bar
548/2 Moo9 T. Nakhon Sawanttog.
Telephone: 056 229 474
Other Restaurants in Nakhon Sawan
Baan Isan: 056-331190
Che - pun: 056-225511
Chuanchim Rim Khlong: 056-238116
Fairy Menu: 056-228260
Gold Eagle: 056-228849
Golden Club: 056-221194
Hiati Noi: 056-341525
Hong Fa: 056-214121
Kesorn Beer House: 056-213756
Khun Chit: 056-223688
Khlua Charli: 056-331502
Koniao: 056-222627
Koyi: 056-221823
Lenghong Suki: 056-222887
Lotus: 056-225602
Mae Somsri: 056-221604
Maison: 056-222263
Nat Phochana: 056-212463
Nung Ning: 056-226570
Ocharot: 056-222915
Phae Ahan Pla: 056-22621
Po – Kung Phao: 056-227369
Rabiang Thong: 056-222264
Rimchon: 056-223513
Ruean Phae: 056-213674
S and V: 056-213838
Sikhwae Riverside: 056-231833
Suan Ahan Saiping: 056-213008
Thapthim: 056-222263
Thotman Napha: 056-214629
Ti Lukchin Plankrai: 056-214054
Things to do and see in Nakhon Sawan
Khok Mai Den Ancient City
Wat Bang Pramung Floating Market
Nakhon Sawan Caves
Nakhon Sawan has several caves you can explore, such as Bo Ya Cave and Khao Tham Phra.
Bueng Boraphet Aquarium
Flowers of Nakhon Sawan
Chao Pho Thepharak Chao Mae Thapthim Shrine
Chao Pho Thepharak-Chao Mae Thapthim Shrine is in the area of Pak Nam Pho Community on the right bank of the Chao Phraya River. The shrine is revered by locals and is the spiritual magnet of the people in the area as well as passersby using the river. The shrine also offers the best view of the beginning of the river.
Getting There :Take the Nakhon Sawan-Chum Saeng road (No. 225). It is about 3 kilometers from the city on the left.
The Field of Balancing Rocks
Wat Chan Sen and the Chan Sen Museum
Wat Chom Khiri Nak Phrot
If you want to visit some Wats/Temples in Nakhon Sawan then check out our
Nakhon Sawan Temples
thread.
Khao Woranat Banphot (Khao Kop)
Utthayan Sawan which is a large Public park, with an area of 314 rai, located in the central part of the city. With a small island in the middle of the small lake, the park provides all necessary recreational facilities for locals, as well as, tourists.
Bung Boraphet
, is a wildlife sanctuary and also has a aquarium building.
Mount Nor - Mount Kaew. To see the monkeys and bats.
Dragon and Lion Procession on the Chinese New Year.
Wat Phra Si Iriyabot, Wat Chang Rop, and the Phet Hotel
Nakhon Sawan flood pics
Thailands Weather Forecasts
Thailand Train Timetables
Northern Thailand
North Eastern Thailand
Eastern Thailand
Southern Thailand
National Parks in and around Nakhon Sawan
Mae Wong National Park
Formerly, Mae Wong National Park was the centre of hill tribe for example Hmong, Yao, Muzer and Karen. The park was declared a national park on 14th September 1987 as the 55th park of Thailand. This 894 km2 park is located approximately 350 kilometers northwest of Bangkok in the provinces Nakon Sawan and Kampaeng Phet, West Thailand.
Nakhon Sawan Weather Forecasts

1/tda href=img src=