Khon Kaen - ขอนแก่น
Khon Kaen is 238km from
Amnat Charoen
, 400km from
Ang Thong
, 405km from
Ayutthaya
, 449km from
Bangkok
, 200km from
Buriram
, 448km from
Chainat
, 150km from
Chaiyaphum
, 652km from
Chiang Mai
, 732km from
Chiang Rai
, 77km from
Kalasin
, 422km from
Kamphaeng Phet
, 190km from
Korat
, 563km from
Lampang
, 631km from
Lamphun
, 206km from
Loei
, 493km from
Lopburi
, 956km from
Mae Hong Son
, 73km from
Maha Sarakham
, 243km from
Mukdahan
, 298km from
Nakhon Phanom
, 493km from
Nakhon Sawan
, 352km from
Phichit
, 614km from
Nan
, 161km from
Nong Bua Lamphu
, 166km from
Nong Khai
, 319km from
Phitsanulok
, 638km from
Phayao
, 240km from
Phetchabun
, 497km from
Phrae
, 113km from
Roi Et
, 205km from
Sakon Nakhon
, 342km from
Saraburi
, 421km from
Singburi
, 347km from
Sisaket
, 378km from
Sukhothai
, 256km from
Surin
and 457km from
Tak
, 282km from
Ubon Ratchathani
, 115km from
Udon Thani
, 498km from
Uthai Thani
, 437km from
Uttaradit
and 184km from
Yasothon
.
A tour round Khon Kaen, hotels, restaurants, markets etc
An ongoing thread on things to do in Khon Kaen
Fun things to do and see in Khon Kaen
Lam Pao Dam
Lam Pao Dam is about an hours drive from Khon Kaen if you have rented a car and is worth a day trip.
A Tour round Loei Province
A Tour round Issan
Hong Mun Mang or Khon Kaen City Museum
Phra Mahathat Kaen Nakhon
Prasat Pueai Noi
Khon Kaen Maps
Got any questions on Isaan or Khon Kaen? Why not visit our
Isaan & Khon Kaen Forum
.
Hotels and Guest Houses in Khon Kaen

Piman Garden Hotel
6/100 Klang Muang Road,
Muang Khon Kaen 40000
Telephone 043-334111
Piman Garden Hotel
Wanchai Hotel
381/1-3 Sukapiban 2, Ban Phai, Khon Kaen, 40110, Thailand
Telephone : +66 (043) 272033, 272133
Room Rates from 280baht per night and up.
Chai Pat Hotel
106/3 Na Muang rd., Muang, Khon Kaen, 40000, Thailand.
Room Rates from 250baht per night.
Sofitel Raja Orchid Khon Kaen
9/9 Prachasamran Road Muang, Khon Kaen 40000 Thailand, Khon Kaen, 40000
Bars;
CLEO'S PALACE COCKTAIL LOUNGE:
MALULEE POOL TERRACE:
ORCHID LOBBY LOUNGE:
STUDIO 1 KARAOKE:
Restaurants;
BAKER'S BASKET:
KHAOTOM CHINA TOWN:
KRONEN BRA‹HAUS:
PAVILION CAFE RESTAURANT:
SAIGON VIETNAMESE RESTAURANT:
SCROPPINO CUCINA ITALIANA:
SUSHI BAR:
LOONG YUEN: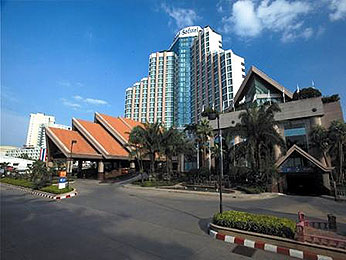 Kosa Hotel
250-252 Srichan Rd. Nai Muang, Khon Kaen 40000 Thailand, Khon Kaen, 40000
Fitness Center
Sauna Room
Swimming Pool
Has 3 Restaurants;
Kosa Coffee Shop.
Phai Liw Chinese Restaurant.
Kosa Beer Garden.

Charoen Thani Royal Princess
260 Srichand Road, Naimuang District, Amphur Muang, Khon Kaen 40000, Thailand.
Room Rates from 1,000baht per night.
swimming pool.
Fitness Centre.
147 Snooker Centre.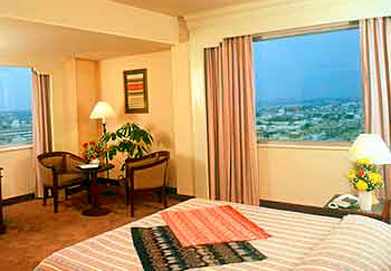 PP Hotel
98 Darun Samran Road, Amphur Muang, Khon Kaen, 40000 Thailand
Tel: 043 226-500 to 510
Kaen Inn Hotel
56 Klang Muang Road. Amphur Muang. Khon Kaen, 40000
Tel: 043 245-420 to 431
Europe Guest House
23/5 Nikon Samran Road.
Room Rates from 150 to 520baht per night.
Pajjsin Apartment
54/9 Moo17, Soi Weerawan1, Namuang Rd., Tambon Naimuang, Ampher Muang, Khonkaen, 40000
Room Rates from 300baht per night.

Thai Homestay
214 Group 2 Non Sa-At. Udon Thani. 41240. N E Thailand
Telephone: 042 392 705
This is in between Khon Kaen and Udon Thani.
Room Rates from 3,000baht for a single night per person and goes down in price for longer stays.
Castle Howchow Beach Resort
429 Howchow Road. Amphur Kranuan. Khonkaen 40170
Telephone: 089 417-8504
Room Rates from 950baht per night.
About 70 kms from Khon Kaen Town itself, head North towards Udon Thani, then turn right towards Nam Pong (There is also a snake farm here) and head for Kranuan.
Castle Howchow Beach Resort
Restaurants and Bars in Khon Kaen
Seven's Corner Bar

5 mins walk from the Pullman hotel in downtown Khonkaen
231/23-25 Soi Yimsiri, Srichan Road, Amphur Muang, Khon Kaen, Thailand
Imported draught beers, English pub grub, free internet and pool. Khonkaen's oldest Western bar, established in 1991.
KAM Cafe and Pizzeria
Pizza Restaurant.
310/10 Soi Runrom 1, Namuang Rd.
Telephone: 043 320225
Eric's Bar
Bar and Snack Restaurant.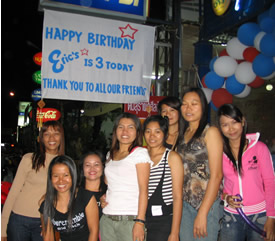 No'1 Bar and Restaurant
Namuang Road.
Has pool and darts, also has Cod and Salmon on the menu.
Restaurant 345
Airport Road.
Telephone: 089 575-7398
Dutch and Thai food. Also has motorbikes for rent.
Leo's Bar
3/28 Prachasamran Road. Muang District. Khon Kaen City
Telephone: 087 038 3949
There are a couple of disco/ nite clubs on Prachasamran Road close to Hi-Tech Night Garden, there are also many bars in this area.
Things to see in Khon Kaen
Bueng Kaen Nakhon
Horse Track; Holds races most weekends in the afternoons.
Museum
sendoza market Khon Kaen
Sra Bua Kaew temple
Ubolrat Dam
Wat Jien Bung
Wat Nongwan
Wat Wutharam
Shopping in Khon Kaen
Fairy Plaza.
Fairy Plaza
Golf in Khon Kaen
Ubon Rath Dam Golf Course Tel: 446-233 ext 2871
Infantry Refiment Golf Course
Sriharachdechoe Camp Khonkaen
Telephone: (043) 239-807#4263
Siharatdechochai Golf Course
The 8th Infantry Regiment, Siharatdechochai Camp, Maliwan Rd., Tambol Sila, Muang District, Khon Kaen 40000
Telephone: (043) 255-530-9 Ext. 263
Training Golf Course - Khonkaen
Friendship Highway, Muang District, Khonkaen
Telephone: (043) 221-112, (02) 271-0130 ext.873, 880
National Parks in Khon Kaen

Nam Phong National Park
Phu Phan Kham National Park
Phu Pha Man National Park
Phu Wiang National Park


Europe Guest House Live Web Cam
Thailands Weather Forecasts