Nong Khai Maps
Learn more about Nong Khai & Isaan on our
Isaan & Nong Khai Forum
.
Nong Khai map showing how to get there from Udon Thani.
Nong Khai local area map.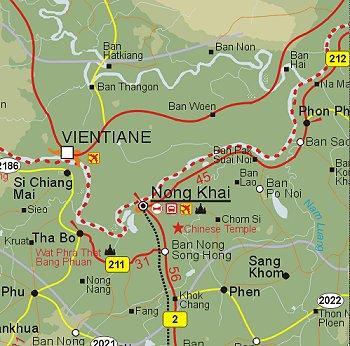 Nong Khai city map with hotels and Temples.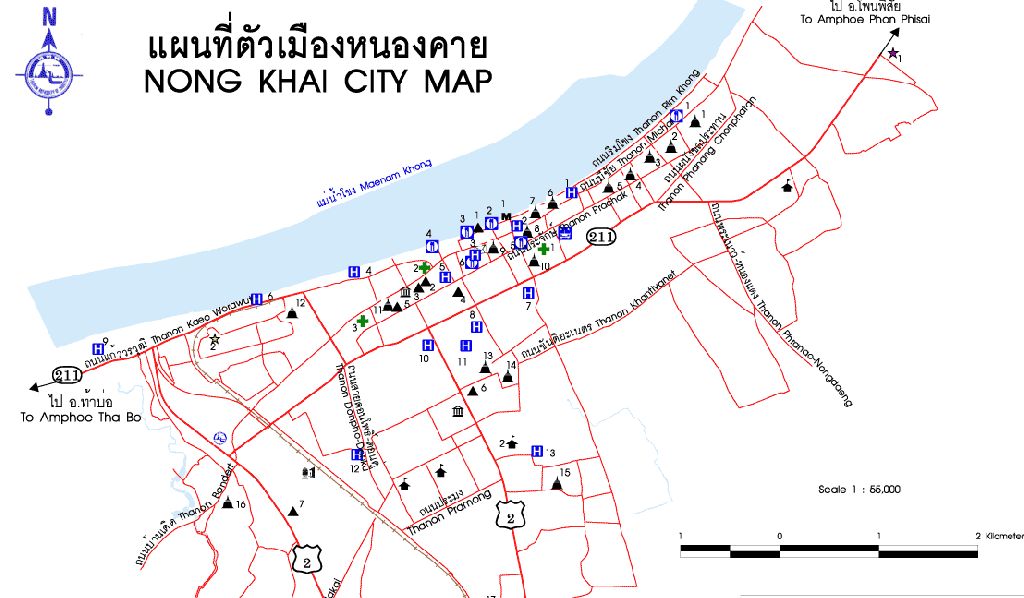 Nong Khai Hotels and Guesthouses
1 Na Na Guesthouse
2 Sawatdi Guest House
3 Phong Wichit Hotel
4 Thai-Lao Riverside Hotel
5 Rung Arun Hotel
6 Khong River Hotel
7 Nong Khai Grand Hotel
8 Prang Thong Resort
9 Maekhong Royal Nong Khai Hotel
10 Thip Hotel
11 Ruenram Hotel
12 Frontier Hotel
13 Gold City Hotel
Teakdoor members have stayed at
Munkong Apartments
, air con rooms from 350baht per night with other rooms from 3,500baht per month.
268/3 Prajak Road,
Telephone; 042 460 756-9
Temples and Wats
1 Wat Nalikwat
2 Wat Udom Mahawan
3 Wat Phosi
4 Wat Sakaeo
5 Wat Yot Kaeo
6 Wat Sisamang
7 Wat Lamduan
8 Wat Si Khun Mueang
9 Wat Si Saket
10 Wat Pathum Panaram
11 Wat Chai Phon
12 Wat MichaiThung
13 Wat Khatorik
14 Wat Arun Rangsi
15 Wat Mongkun Sirikhun
16 Wat Chan Samakhi
17 Wat Kaset Sirinat
Hospitals in Nong Khai
1 Ruam Phaet Hospital
2 Nong Khai Hospital
3 Nong Khai Wattana Hospital
Markets
1 Tha Sadet Market
Places in Nong Khai
1 Municipal Mueang Nong Khai Pier
2 Nong Khai Police Station
3 Nong Khai Law Court
4 Nong Khai Municipal Office
5 Nong Khai Stadium
6 Nong Khai Technical College
7 Nong Khai Border Pass for Thais without passports wanting to cross over into Laos
Restaurants in Nong Khai
1 Manatchai 1993 Restaurant
2 Tha Duan 1993 Restaurant
3 Udomrot Restaurant
4 Bun Uea Restaurant
5 Orot Thep Restaurant
6 Thai Thai Restaurant
Tourist Attractions in Nong Khai
1 Somdej Ya Shrine
2 Nong Thin Park



Return to Nong Khai main page
here
.