Lopburi ลพบุรี
Hello Unregistered,
Time and Date in Lopburi
Lopburi is 153km North of Bangkok, 524km from Amnat Charoen, 40km from Ang Thong, 98km from Ayutthaya, 349km from Buriram, 85km from Chainat, 243km from Chaiyaphum, 579km from Chiang Mai,542km from Chiang Rai, 458km from Kalasin, 247km from Kamphaeng Phet, 493km from Khon Kaen, 327km from Korat, 489km from Lampang, 558km from Lamphun, 441km from Loei, 814km from Mae Hong Son, 414km from Maha Sarakham, 679km from Mukdahan, 679km from Nakhon Phanom, 130km from Nakhon Sawan, 554km from Nan, 319km from Nong Bua Lamphu, 614km from Nong Khai, 557km from Phayao, 251km from Phetchabun, 243km from Phichit, 259km from Phitsanulok, 437km from Phrae, 434km from Roi Et, 586km from Sakon Nakhon, 46km from Saraburi, 33km from Singburi, 510km from Sisaket, 188km from Sukhothai, 396km from Surin, 315km from Tak, 697km from Ubon Ratchathani, 503km from Udon Thani, 111km from Uthai Thani, 377km from Uttaradit and 470km from Yasothon, you can get there by train or coach, not really a major tourist destination just a stopping off point in your journey to somewhere else.
From Bangkok you can get to Lopburi by van from Victory Monument, bus from Mo Chit or train from Hua Lamphong, or of course you could rent a car and drive yourself.
Lopburi Province shares borders with Phetchabun, Chaiyaphum, Nakhon Ratchasima, Saraburi, Phra Nakhon Si Ayutthaya, Ang Thong, Sing Buri and Nakhon Sawan.
Learn more about Lopburi or ask your Lopburi questions in our Central Thailand & Lopburi Forum.
Places to visit in and around Lopburi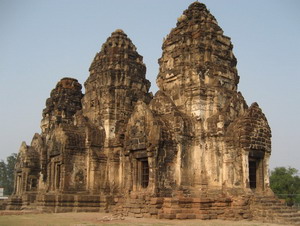 Lopburi's Monkey temple
An ancient Temple where the monkeys are allowed to roam free and be fed by tourists and locals, please remember that these are wild animals and can be considered dangerous as happened
here
.
Somdet Phra Narai National Museum
(commonly known as King Narai National Museum)
Sorasak Road, Tambon Tha Hin, Muang District, Lopburi Province 15000
Open Wednesdays to Sundays and has a 30baht admission fee.
Lop Buri Zoo
A 25-acre zoo is well known for its interesting residents: Asian and Australian birds and mammals. The most striking feature of the zoo is the unusual family of three tigers and four dogs who live harmoniously together in the same quarters. The zoo is located behind the Army Theatre near the Sa Kaew Circle. Opens daily from 8.00 a.m. 6.00 p.m.
Prang Khaek
Prang Khaek is the oldest monument of Lop Buri and the oldest Khmer-style Hindu Shrine to be found in Thailands central region. A fascinating small compound of Khmer remains, it consists of the three brick prangs constructed without adjoining corridors. Prang Khaek was restored by King Narai the Great in the 17th century. Recently restored by the Fine Arts Department, it is located on Vichayen Road, near the Narai Ratchaniwet Palace.
Phra Prang Sam Yot
Located on Vichayen Road, approximately 200 meters from the railway station, Phra Prang Sam Yot is Lop Buris best known landmark and provincial symbol. A former Hindu Shrine built in the 13th century in the classic Bayon style of Khmer architecture, the compound comprises three prangs (towers) linked by a corridor. The three laterite and sandstone spires decorated with classic stucco are believed to have originally represented the Hindu Trimurti; Brahman (the creator), Vishnu (the preserver) and Siva (the destroyer). During the reign of King Narai, the shrine was converted into a Buddhist temple when a brick viharn located to the east which houses a grand U-Thong-Ayutthaya style Buddha image was probably built. Buddha images were later added to the two prangs. The temple is open at 8.00 a.m. until 6.00 p.m., admission fee is 30 baht.
Namtok Wang Kan Lueang Arboretum
Located approximately 12 kilometers from Lam Narai Market is a waterfall that flows all year round. Perfect for people looking for a quite and refreshing retreat from the town, the waterfall is accessible via Chai Badan Tha Luang Road (Highway No. 2089). Look for the sign of the waterfall and proceed for approximately 7 kilometers.
Kachornvit Mushroom Farm
It is Located at 71/1 Mu 6 Nikhom Sang Toneng Sub-District, Mueang District. Since its establishment in 1981, the Mushroom Farm has developed its technology to grow high-quality organic mushrooms using EM microbe. Visitors can take a short tour of the farm or sample several kinds of preserved mushrooms which are also available for sale. Farm-stay accommodations are available but reservations must be made in advance. Call 036 652442 or 07 0710683 for more details.
Ban Hin Song Kon
Lop Buri is well-known for the production of the only best quality Din So Phong – marl - of Thailand. The source of production is at Hin Song Kon Village, Thale Chup Son Sub-district (by Khlong Chonlaprathan, around Saphan 6). It is the village where Din So Phong is produced in nearly every house. In that compound, there is white marl with a delicate and tight texture and thus, is not suitable for agriculture. However, due to local intellect, it has been used to produce Din So Phong which can be a raw material for many products such as talcum powder, cosmetics, toothpaste, furniture filler, etc. Contact Address: Thale Chup Son Subdistrict Administrative Organization Tel: 0 3661 1438
Sunflower Field
The largest sunflower field in Thailand is located in Tambon Chong Sarika, Phatthana Nikom District. The panoramic sunflower field has become Lop Buri's major tourist attraction especially during November to January when they are in full bloom. To travel from Bangkok, drive along the Lop Buri-Saraburi Road for approximately 30 kilometers, then turn left into Highway No. 21 and proceed for another 15 kilometers. Traveling from Lop Buri town center, the sunflower field is located approximately 45 kilometers from the town.
Bee Farm
Location: Soi 24 Sai Tri, Mo 9 Phatthana Nikhom District, Lop Buri 15220 The center distributes information and knowledge on Bee cultivation in Thailand. It is also a place where natural bees products including royal jelly, honey (from sunflower, natural honey extracts, etc.) and other honey-related products are on sale.
Oasis Agro-Farm
Location: 85/2 Mu 13 Chong Sarika Sub-District, Phatthana Nikhom District, Lop Buri 15220 An agro-tourism farm covering an area of 50 rai, Oasis Agro-Farm was established in 2001 to raise imported ostriches from South Africa. The farm is divided into different zones including a butterfly farm, an ostrich ranch, a sunflower plantation, etc. Visitors can enjoy hand-feeding the ostriches and driving a mini-tractor along the sunflower plantation. Admission fee is 10 bahts/person. For more information, contact Mr. Somchat Singhapol at 01 7808928 or 01 9941256 or you can visit www.oasisfarm.net to get a glimpse of the farm.
Ban Kluai
The village is well known for its carefully woven Mat Mi. The art of weaving Mat Mi has been handed down over generations for more than 135 years. The distinct features of Ban Kluais Mat Mi are its unique pattern and supreme quality.
TeakDoors Members Vacations in Lopburi
Lopburi to Saraburi
Amusing journey by bus from Lopburi to Salaburi.
A few days in Lopburi
Bangkok to Lopburi by train, a stay at Nett Hotel and a tour of the ancient ruins in Lopburi.
A few more days in Lopburi
A stay at the Asia Hotel, and a tour round Lopburi including King Narai the Greats Palace.
Every year Lopburi holds a Monkey Banquet, this is to feed the monkeys, more can be read about it here and here.
More than 2,000 monkeys enjoy a vegetable and fruit banquet at Lopburi's Prang Sam Yod and Phra Kan Shrine.
Map of Lopburi
Videos of Lopburi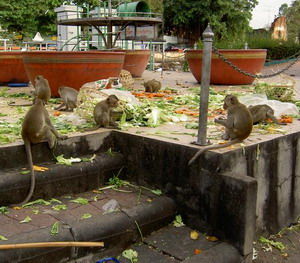 Restaurants and Bars in Lopburi
Louis Steak House
Belgium owned Steak house near Tesco Lotus in the town center of Lopburi.
130/1 Mu 3, Chaloem Phrakiat Road, Amphoe Mueang, Lop Buri.
Louis Steak House
Bualuang Restaurant
46/1 M.3 T.Tasala
A.Muang
Lopburi 15000
Telephone +66 (0)36 413 009
fax: +66 (0)36 614 231
alt: +66 (0)36 422 669
Has been serving Thai and Chinese meals for more than 20 years.
Lopburi Inn Cafe
Situated at the Lopburi Inn and serving Thai, Chinese, and International foods.
Of course we can't forget to mention KFC and Mister Donut are also in Lopburi.
Hotels and Guesthouses in Lopburi
Lopburi Asia Hotel
1-7/8 Surasak Road
Lopburi Province
Telephone (036) 427 419, (036) 618 893-4
Rooms rates from 200baht per night.
Lopburi Asia Hotel
Lopburi Residence Resort
217 Nikom Sangton Eang
Lopburi 15000
Telephone (6636)615521-4
Fax. (6636)615111
Lopburi Inn Hotel
28/9 Naraimaharat Road
Meuang, Lopburi
Room rates from 1,000baht +++ per night.
Lopburi Inn Resort
144 Moo.3 T
Lopburi
Nett Hotel
17/1-2 Ratchadamnoen Road, Lopburi
Telephone (036) 411 738
Thailand Train Timetables
Northern Thailand
North Eastern Thailand
Eastern Thailand
Southern Thailand
Thai National Parks near Lopburi
The nearest National parks are in Saraburi.
Namtok Chet Sao Noi National Park
The main area of Namtok Chet Sao Noi National Park is ruggedly mountainous alternating with the plateaus. The area is rather dry with the shallow soil surface, height above sea level is 180-402 m. The highest peak of the area is on the Chokchai Phatthana with 402 m above sea level, next is the mountain range which is in the central of the area and Ban Dong Namcha mountain range 386, 359 m above sea level following. The foothills are on the East and the North side, which are near Khlong Muak Lek, there is a stream which flows all year round and a tributary to Pasak river at Wang Muang district while the central area with stream flow through is Huai Laeng which has water in the stream bed only in the rainy season.
Namtok Samlan National Park
This area consists of many big and small mountains and plains in the valley. The highest peak is Khrok Mountain, about 329 meters above sea level. Tourist on the peak can see Saraburi Province's city and nearby districts very clearly. The forest of this area is the source of many waterfalls and streams, These help to maintain plantations for the local people. The surface of this area is clay and sandy soil which covers hard soil and rock beneath.
Thailands Weather Forecasts
Lopburi Weather Forecasts Lopburi Sunrise