Things to do and see in Pattaya and day trips to visit different attractions within the area.
If you want to learn more about Pattaya or have any questions feel free to use our
Pattaya Forum
.
Related Thailand pages and threads;
Koh Larn Island Main Page
Koh Larn or Coral Island is a 45 minute boat ride away from Bali Hai Pier in South Pattaya, it has several fine beaches and nice clean water.
A night in Bangkok and a weekend in Pattaya
A couple of guys on holiday and an expat showing them around.
Pattaya Guesthouses and Hotels
The cheap, the expensive guesthouses and hotels of Pattaya, Jomtien and Naklua listed here.
Webcams in Pattaya and the rest of Thailand
A listing of online webcams in Pattaya and the rest of Thailand.
Thailands Weather Forecasts
Weather forecasts for most of Thailand which are updated hourly.
Pattaya and Jomtien a gogo bars
The Go Go Bars of Pattaya and Jomtien, an indepth look at a few of them with pictures.
Pattaya, Jomtien and Naklua Restaurant reviews
Pattaya is renowned for its fantastic selection of restaurants, from places where you can get a fried rice for 25 baht, to places where you can dine on imported Angus steaks.
The road from Pattaya to Jomtien, a virtual tour
The road from Pattaya to Jomtien featuring the bars and restaurants.
Everything you need to know about Jomtien
A virtual tour down the whole length of Jomtien Beach, featuring most of the bars, restaurants and hotels.
Pattaya and Jomtien Mobile Vendors
A look at the goods for sale in Pattaya on mobile carts with photos.
Eating at Thai Food Stalls
Eat with the locals for less than a dollar a meal.
Cheap Thai Food Restaurants
Nothing over 3 dollars at these restaurants.
Restaurants and eating out in East Pattaya
The Markets of Pattaya and Jomtien
Pattaya has many markets selling everything from food to clothing, have a look through this thread and see some great pictures, from insect stalls to pirate dvd sellers.
Places outside of Pattaya
One of our members stays at Golden Beach, visits the Million Years Stone Park, goes to Silver Lake Vineyard amongst other places.
A first timers adventures in Pattaya
Want to Buy a motorbike or rent a Harley in Pattaya
Rent or Buy a Harley Davidson in Jomtien
Buying or Renting a Quad Bike ATV in Pattaya
Videos of Pattaya in the 80's



Pattaya Maps
Map of Eastern Pattaya showing Bars and Restaurants
You can view a map of Jomtien
here
and Pattaya
here
.
Beaches in Pattaya, Jomtien or within 60 kms of both.
Pattaya Light House
The light house is on the headland in South Pattaya and is a nice place to hang out to watch the sun go down, there is also a small open air bar there.
Bali Hai Pier
Baki Hai Pier is where you need to go if you want to go over to Koh Larn (Coral Island) for the day, the boat fare costs 30baht each way.
Pattaya Sea Rescue
This is inbetween Bali Hai Pier and the light house in South Pattaya, they have some nice rescue boats there.
Jomtien Beach
Probably the biggest and most commercial beach in the area, they have banana boats, parasailing and just about anything else you can think of.
Hu-Gwang Bay
A small sandy bay between Pattaya and Jomtien, very few tourists find this beach so there are no Thai touts to pester you, nice and peaceful beach to top up your suntan.
A trip to Koh Larn, about a 45 minute boat ride from Bali Hai Pier in Pattaya
Spending the night on Koh Larn.
Sugar Beach
A nice peaceful beach where for the most part you will be left alone.
Pattaya Beach
Sea Sand and Sun Resort, about 12 kms from Pattaya
Quite a nice upmarket resort if you fancy a few cocktails on the beach.
Hat Sai Torng Beach or Golden Sand Beach, about 15kms from Pattaya heading towards Sattahip
Has a couple of nice restaurants actually on the beach, best to get there before the sun goes down.
Hat Sai Torng, another review
There is a nice Indian restaurant at Hat Sai Torng
Sunset Beach, about 16kms from Pattaya
Sunset Village, about 20kms from Pattaya heading towards Sattahip
Another upmarket resort.
White Sand Beach in Maptaphut, about 50kms from Pattaya
Ang Sila, about 55 kms from Pattaya near Chonburi
Spend a while at Wong Duan Beach on Koh Samet
Mae Ram Pheung
Just passed Rayong and the next beach to Ban Phe, this is a nice place to spend a couple of days.
Pattaya Floating Market
To save a trip to Bangkok Pattaya now has its own floating market, about 10km from Pattaya on Sukhumvit Road heading towards Sattahip set on 25rai is an impressive market selling Thai food from all four regions of Thailand, also all the usual products tourists like to buy.
Can be got to by bus or sawngthaew, entry is free and should definitely be put on your to do list.
The Sanctuary of Truth
The Sanctuary of Truth is situated in Naklua so is easy to get to either by motorbike taxi or Songthaew.
Entrance fee starts at 500baht and does seem quite expensive, but I don't believe there is anywhere in the world you will be able to see something like this, a completely carved teak wood building which covers an area of around an acre, everything bar the floor boards have ornate carvings on them, on the grounds you can ride horses, rent an ATV, or just snack at there outdoor restaurant, worth visiting as it is quite an amazing building.
Silverlake Winery
Silverlake Vineyard is about 10km from Pattaya heading towards
Sattahip
and away from Bangkok, on Sukhumvit Road it is well sign posted and situated next to
Khao Chi Chan
(the mountain with Buddha image on it in gold). Silverlake Vineyard is extremely scenic set round a lake amongst the mountains, has a lovely restaurant there and also a pizza restaurant, across the road is an elephant village if you want an elephant ride.
In the local area is also
Wat Yansangwararam
and
Wat Wihan Sian
so probably worth renting a motorbike or car for the day, maybe stop at the Floating Market first for lunch.
Pattaya Go Kart Tracks
There are 3 Go Kart tracks in Pattaya, 2 are on Soi Theprasit and 1 on Sukhumvit Road next to Mini Siam,
Pattaya Kart Speedway
has 4 tracks and a variety of Go Karts for rent, 2 tracks are off road tracks and 2 are racing tracks.
KR Karting
is also on Soi Thepprasit and is an international standard racing track.
At Pattaya Kart Speedway there is also a Paintball wargames site.
edit
KR Karting has now closed down as of end of 2007.
July 2008 and EasyKart has opened in South Pattaya near Bali Hai Pier, more
here
.
Pattaya also holds a few Bikes or custom cars shows each year, this thread
here
is a mixture of bikes, trucks and cars.
Pattaya Bungy Jumping
Pattaya has at least 3 bungy jumping places, some can be found
Here
Pattaya Water Skiing
Pattaya Lake Land is about 4 kms from Pattaya and has cable ski available from 300baht for 2 hours, open everyday.
Pattaya Lake Land Cable Ski
Shooting and Gun Clubs in Pattaya
There are quite a few shooting ranges in and around Pattaya including one just off of Koh Larn Island, bullet prices are quite expensive and generally are reloads.
Shooting Range just outside Pattaya in the Jomtien area
Koh Larn Shooting Association on Coral Island
Tiffanys also has a Shooting range, sometimes people commit suicide there
Pattaya Park
Water Park and hotel with restaurants, the restaurants charge foreigners more than the locals, also has 2 revolving restaurants.
Pattaya Park Tower and Water park
Pattaya Park Beach
Pattaya Park Hotel has fire drill
Pattaya Park Website
Fishing in Pattaya
Pattaya you have the choice of fresh water or sea fishing, for sea fishing Pattaya Sports club has weekly outings, for fresh water fishing there are several lakes and ponds, Jomtien fishing park is probably one of the better ones, there are also many small ponds where you can fish with a bamboo stick for small catfish, what you catch you have to buy, they will also cook them for you if you so wish.
Jimmys Fishing Park now renamed Pattaya Barra Fishing Park
One of the Pattaya Fishing Parks near Jomtien
Baan Rai Chay Fishing Park, about8 kms from Pattaya
Fresh Water fishing
Jomtien Fishing park and some big fish
For a bit of carp fishing maybe visit Jimmys Fishing Park
A small Pattaya Catfish pond
If you have your own fishing tackle you could try Chaknork or Maprachan Reservoir
Nong Nooch Tropical Garden
Nong Nooch is about 16 kms from South Pattaya heading away from Bangkok. It covers an area of about 500 acres with a mini zoo, cultural shows and landscaped gardens. Open from 0800 - 1800 hours with an entrance fee of 300 baht for adults and 150 for kids (only 100 baht for adults if not wanting to see the cultural show, and 800baht if you want to go on an elephant ride.
Nong Nooch Tropical Garden
Another member visits Nong Nooch Village
Pattaya Monster World
Museum of weird, deformed and unusual animals from all over the world.
On Sukhumvit Road in the Jomtien area.
edit
Monster world is now a shopping center without animals.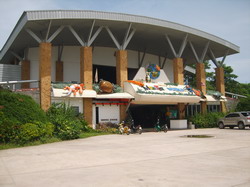 Fly Thailand
Microlight Trikes, Ultralight Trikes Flexwing / Delta wing, Autogyro Flying, and Balloon Flying at Eastern Airfield Pattaya.
Fly Thailand
Shows and Ladyboy Cabaret shows
There are at least 3 places in Pattaya that do Ladyman transsexual shows, the 2 main ones are Tiffany's and Alcazar on 2nd Road in North Pattaya, also There is Simons Cabaret in South Pattaya.
Check what movies are on in Pattaya Here
Tiffany's Transvestite Show in North Pattaya
Alangkarn, Thai dancing, laser show, etc etc, about 20 kms from Pattaya
The Alcazar is in North Pattaya on Second Road opposite Soi 5 and has Ladyboy Shows.
Ripley's Believe it or not Museum, 3rd Floor Royal Gardens
Parks in and around Pattaya
Suan Chaloemphrakiat Pattaya Fitness Park
Father of the Royal Thai Navy monument
Nong Nooch Tropical Gardens
Pattaya Animal Shows, Elephant Kraals etc
Pattaya Underwater World
On Sukhumvit Road in the Jomtien area, many different marine animals and has a 100 meter long plexi glass underwater tunnel to view the marine life, charges are 180baht for Thai people and 360baht for foreigners, you can get the Thai price if you have a work permit or a Thai driving license.
One of our members visits Underwater World
Website for Under Water World
An Elephant Krall in Jomtien
Pattaya Elephant Village, they charge a bit more for walk in Foreigners
The Million Year Stone Park and Pattaya Crocodile Farm, Double pricing here for Foreigners
Horse riding at Horseshoe Point International Riding School
The Soi's of Pattaya looked at in depth with pictures and videos
Pattaya Soi 17 now renamed Soi 8
Soi KorPai
South Pattaya Walking Street
Pattaya's Walking Street 2006
Thappraya Road and Pratumnak Road
Pattaya Short Time Bars in Soi Yodsak
A Video of driving down Soi Yodsak, you need to be a member to view videos on this forum
Pattaya Soi 7
Tony's Gym Pattaya 3rd Road
Pattaya Bottle Art Museum
On Sukhumvit Road, just past Pattaya Klang on the way towards Jomtien, Owned by a Dutch guy and charges foreigners more than Thai people to enter.
*Now closed down*
Mini Siam
On Sukhumvit Road nearly opposite the Bangkok Pattaya Hospital going towards Naklua and Bangkok, Has scaled down versions of areas in Thailand.
Also has a small Go Kart Track here with Go Karts for rent, and a Mc Donalds with drive thru.
Maybe Visit Naklua
Naklua starting from the Dolphin Roundabout in North Pattaya has many Bars and Restaurants, generally these are orientated to German Tourists although it is now attracting more Russian tour groups as well.
The Naklua Market, The Magic Tree, and The Sanctuary Of Truth Temple
WongAmart Beach in Naklua
Sri Racha
Sri Racha is about 35 kms from Pattaya and has a few attractions including the Tiger Zoo.
Travel a bit Further and see the coastline of Sri Racha and dine at one of their seafood restaurants
Khao Kheo Open Zoo in Sri Racha
Saithip Butterfly Farm near Sri Racha
Sri Racha Tiger Zoo, charges more for Foreigners
Bangsaen
Bangsaen
is about 45kms from Pattaya heading towards Chonburi. Has an aquarium that allows visitors for a very small fee.
Bangsaen Food Market
Bangsaen Beach
Bangsaen Monkey Mountain
Bangsaen Chinese Temple
Ban Chang
Ban Chang has some great beaches and seafood restaurants, also has a street of short time bars and a couple of very good European Restaurants, about 45 kms from Pattaya.
Had Nam Rin Beach
Had Phayun Beach
Had Phala Beach
Ban Chang, Miracle fruit, a beach, some bars and a restaurant
Kaw Son Poo Nim Seafood Restaurant
Rayong Things to do and see
Rayong is about 60kms from Pattaya so is an easy drive for a day out, they have an aquarium here and a couple of nice beaches.
Ban Phe is the ferry point for koh Samet but does have some nice restaurants and some cheap shopping
Laem Mae Phim Beach, a very quiet beach
Mae Ram Pheung Beach
Suan Son Beach is nice for an afternoon of drinking and eating
Chanthaburi
Chanthaburi is about 180 kms from Pattaya but on good roads, there are some great beaches there, waterfalls, National Parks and other tourist attractions like Oasis Sea World in Laem Sing where you can swim with the Dolphins.
Things to do and see in Chanthaburi
Bang saray or Bang Sare as it is sometimes spelt
Bangsaray is about 15kms from Pattaya heading towards Sattahip. Nice quiet beach and many Sea Food Restaurants set out over the sea.
RimHad SeaFood Restaurant
Ruan Talay SeaFood Restaurant in Bang Saray
Ban Amphur Seafood Restaurant
Malabar SeaFood Restaurant
BangSaray Beach
Wat Khorng Kha Temple
Sattahip and its Beaches
Sattahip is about 35kms from pattaya and has some nice beaches which are Royal Thai Navy run.
Sattahip Naval Base
Dancing Lady Beach
A day trip to Sattahip and Jomtien
White Sand Beach
The Fishing Boats of Sattahip
Wat Wihan Luang Poreah Temple
Street food in Sattahip
Sattahip Kilo Sip
Eating at the night market in Sattahip
Golf Courses in and around Pattaya
BangPra Golf Club
Laem Chabang Golf Course
Phoenix Golf & Country Club
Chonburi Century Country Club
Eastern Star Resort Country Club
Great Lake Golf & Country Club
Khao Kheow Country Club
Natural Park Hill Resort Country Club
Natural Park Resort Country Club
Noble Place Golf Resort & Country Club
Pattaya Country Club
Phutaluang Royal Thai Navy Golf Course
Rayong Green Valley Country Club
Royal Lakeside Golf Club & Resort
Siam Country Club Golf Course
Soi Dao Highland Golf Course
Sriracha International Golf Club
St. Andrews 2000 Golf Club
The Century Golf & Country Club Rayong
Treasure Hill Golf & Country Club
Pattaya Annual Events, Festivals and Celebrations in and around Pattaya

Pattaya Marathon 2007 pictures and videos
Loy Krathong at Jomtien Beach
Loy Krathong in Pattaya
Pattaya Annual Vegetarian Festival every Octocber
Pattaya Asaka Buscha Day July 2007
Jomtien Buddhist Lent at a Temple 2007
Pattaya often has Fun Fairs visiting it
Pattaya Photo Competition
Pattaya Rugby Festival
Pattaya Annual Mountain Bike Race
International Regatta at Ocean Marina
Hobie Championship at Royal Varuna Yacht Club
Miss Tiffany Universe LadyBoy Contest
Pattaya-Phuket Amateur Ryder Cup
Rice Harvest Celebration
Pattaya Windsurfing Cup
Nong Nooch Thai Elephant Day
HRH Princess Maha Chakri Sirindhorn Cup for Body Building
Pattayas Soccer competition held on Jomtien Beach
Jomtien Beach Football Competition
Jomtien Beach Football
Arm Wrestling Competiton at the Royal Garden Plaza
Nong Nooch Northern Thailand Festival
Sizzler Byte CII World Championship at Royal Varuna Yacht Club
Maka Buscha Day
Pattaya Maka Buscha Day
Pattaya Visaka Buscha Day
Pattaya Gay Festival
Pattaya MotorBike Week
Pattaya Chinese New Year
Pattaya Triathlon
Pattaya Jazz Festival
Pattaya Carnival
Pattaya Air Show
Pattaya Long Boat Races at Mabprachan
Pattaya and Jomtien Songkran
Jomtien Jet Ski
Jomtien Tozen Jet Ski Championship
Pattaya Music Festival 2006
Pattaya Music Festival 2007
Pattaya Crocodile Egg Eating Competition
Pattaya Loy Kratong
Apagorn Day celebrated on the Pratamnuk Mountain
Pattaya Annual Table Tennic Championship
Pattaya Jesters Care 4 Kids Charity Bash
Temples, Wats and Mosques in and around Pattaya
Pattaya - Krom Luang Chumphon Khet Udomsak, next to Buddha Mountain
Wat Khao Sao Tung Torng
Bangsaen Chinese Temple
Wat Sawangpha - Naklua Temple
Wat Tepprasat between Pattaya and Sattahip
Wat Nong Prue is near Maprachan Lake
Large Thai Temple on Soi Nern Plub Wan
Rayong, Wat Ta Pong
Sattahip - Wat Wihan LuangPoreah Temple
Ban Chang - San Jao Laung Tai Chinese Temple
Ban Chang - Wat Suvanrangsan Temple
Ban Chang - Chinese Cemetry
Wat Maikatingtong Temple - Jomtien
Gurudwara Sahib Sikh Temple - Pattaya
Wat Chaimongkron Temple - South Pattaya
Sattahip Church/Assemblies of God
Church of Jesus Christ - Jomtien
Wat Boon Temple - Jomtien
Wat Yang sangwararm near Pattaya
Koh Loy Temple - Sri Racha
Pattaya - Buddha Mountain
Wat Viharrsien about 15 km from Pattaya
Khao Chee Chan - Pattaya
Wat Suttawat Temple in Pattaya, not worth visiting but pictures here
Pattaya Shopping Malls and SuperMarkets
Best Supermarket, near the Dolphin Roundabout at North Pattaya, nice selection of imported foods.
FoodMart, Thappraya Road Just before Soi Thepprasit.
Has a nice selection of imported foods, also does Yorkies Pies, Belucky products, Big Joes curries.
Foodland, Pattaya Klang or Center Road, good butchers, Deli and also has a pharmacy.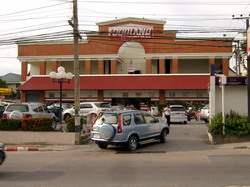 Friendship Supermarket, South Pattaya Road, nice selection of imported foods.
Makro Cash & Carry, South Pattaya on Sukhumvit Road heading towards Sattahip.
Big C, 2 locations, North Pattaya Road and Sukhumvit road near South Pattaya Road.
Big C
Lotus, Sukhumvit Road heading towards Satahip.
Lotus
Carrefour, Large shopping mall on Pattaya Center Road with probably the best selection of foreign foods in their supermarket.
Carrefour
Royal Garden Plaza, Pattaya Beach Road, large shopping mall.
Tops Supermarket, nice selection of food on Pattaya Center Road down near Beach Road.
Central Festival is the latest shopping mall in Pattaya to open, it is situated between Pattaya Beach Road and Second Road next door to View Talay 6
Pattaya Central Festival
Pattaya Central Festival
The Avenue on Pattaya Second across from Soi Yamoto and Soi Post Office isn't as big or popular as some of the others, but does have a Villa Supermarket.
The Avenue