Ban Chang
Ban Chang is situated in the
Rayong Province
and is about 45km from
Pattaya
, the quickest route if you are driving is head towards
Sattahip
from
Pattaya
, turn left towards Silver Lake Vine Yard, at the end of that road turn left then first right, at the end of that road turn right, when you get to the end of that you are back on Sukhumvit Road and in Ban Chang
Want to learn more about Ban Chang? Why not check out our
Eastern Thailand Ban Chang Forum
or our
Ban Chang Map
.
Golf in Ban Chang
Ban Chang has several international quality golf courses within 20 minutes driving distance including Green Valley, Century, St Andrews 2000, Eastern Star and Plutaluang Navy course.
Bars and Restaurants in Ban Chang
If you are coming from the Sattahip direction, once you get to Ban Chang if you turn left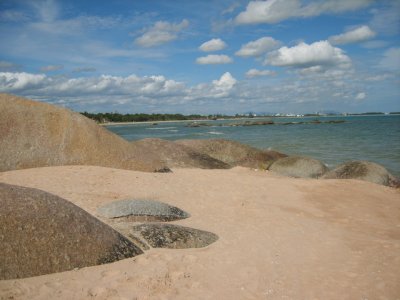 at the second set of traffic lights you will find the farang orientated bars and restaurants, there are about 40 of them in a 200 meter long stretch, the bars are generally short time bars and each has a few bar girls, nothing outstanding but makes for a good afternoon out, bars and restaurants include The Camel Pub, Faces Bar, Jigsaw Bar, McAllisters Bar, The Wherehouse, Kiwi Bar, Rainbow Bar, Beaver Bar, Outlaw Saloon, Sunshine Bar, Papa's Bar, Moonshine Bar, Star Bar, Offshore Pub amongst others.
One of the Thai seafood restaurants visited by one of our members,
Kow Son Poo Nim Restaurant
Beaches in Ban Chang
There are 3 main beaches in Ban Chang
Had Nam Rin Beach
Had Nam Rin is probably the nicest beach, has a few restaurants on and near the beach and also food carts and stalls plying their trade.
Very busy during long weekends.
Had Phayun Beach
Had Phayun Beach is a nice quiet beach with a few Thai food stalls and thats about it, if you want peace and quiet then this is the place to go.
Had Phala Beach
Had Phala Beach has restaurant areas on the beach, rocky areas for fishing and all in all is worth a visit.
Members Threads and Visits to Ban Chang
This
Thread
involves a visit to see the "Miracle Fruit", a meal at one of the Thai restaurants in Had Nam Rin and then a visit to some of the bars in Ban Chang town center.
Pattaya to Ban Chang
A trip from Jomtien stopping at Khao Chee Chan, then a meal on the beach in Ban Chang, then onto the farang orientated bars in the town, then onto Golden Beach for cocktails, a visit to Bang Saray for beer and a Thai sea food
meal, and finally Viharnra Sien Chinese Temple and Wat Yan.
A movie being filmed in Ban Chang
Hotels in Ban Chang
Banchang Palace Hotel, Rayong
293 Moo 3 , T.Banchang A.Banchang , Rayong 21130
Tel : 038 - 82678-82 ; Fax : 038 - 602695
Ban Chang Palace Hotel
Phala Cliff Beach Hotel, Rayong
241- 242 Moo 6 Pala Rd., Ban Chang, Rayong
Tel :+66 0 3863 0341-4 Fax : 66 0 3863 0243, 66 0 3863 0245.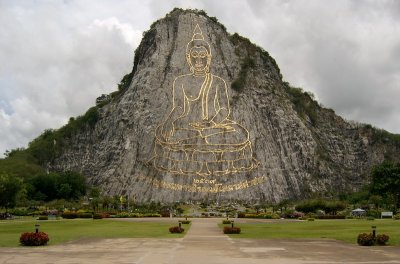 Room rates from 1,400baht per night
Phala Cliff Beach Hotel
Purimas Beach Hotel, Rayong
Address : 34 Payoon-Namrin Road, Banchang, Rayong
Purimas Beach Hotel
Temples and wats in Ban Chang
Wat Suvanrangsan Temple
Pretty normal everyday thai temple.
San Jao Laung Tai Chinese Temple
Small Chinese temple.
Chinese Cemetry