Kien Svay
Kandal Guesthouses
As previously mentioned, I'm always up for a day out of the hectic pace of Phnom Penh when I've been there for a while and an old friend from my hometown visiting with his girlfriend provided the perfect excuse. My mate wanted to show his girlfriend a few sights in Phnom Penh, the usual tourist places, in the morning so I met him in the early afternoon to ride to Kien Svay on our scooters.
Kien Svay is actually the name of a district on route 1 about 15km out of Phnom Penh which is notable for a couple of things. The first is the old "floating brothels" which used to be in abundance, there still are a few AFAIK, or at least a few "houses". The second is what basically amounts to a few stilt huts on a river where you can order food and beer, generally just chicken and rice, fish and rice, typical Cambodian country food basically. Sorry, but it's the latter I'm going to post about!
Doesn't sound that exciting but lovely scenery and good country air, you are also more than welcome to smoke a few joints here, if thats what you're into.*(Edit: Cambodia has extremely harsh drug laws, just because it seems to be safe to do so doesn't mean it is.)* Here's a couple of photos of the stilt type huts: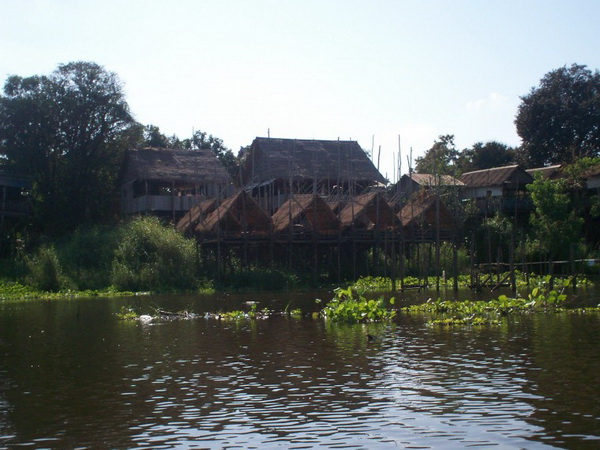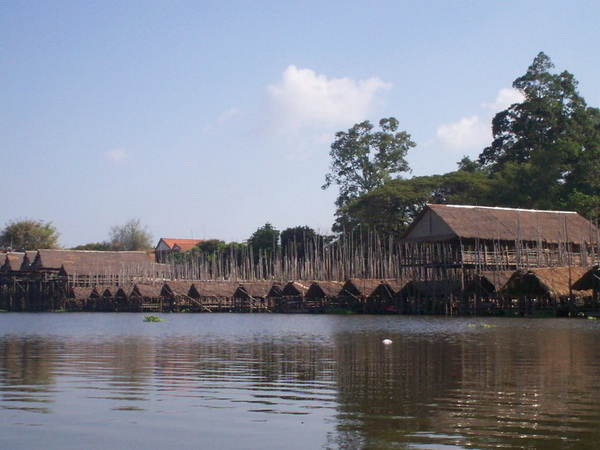 I've heard a couple of things about overcharging at these places before but never had any problems personally, then again I speak enough Khmer to ascertain the price beforehand. It might be advisable to go with a local, even to get your English speaking Tuk-Tuk or whatever translate, as English isnt spoken widely here. $3-5 for a whole freshly killed chicken or big fish is about right, $1 for all the rice and thats still being generous. Beers will be about a dollar each but no problem with BYO so just get a load of cans for 2500 riel each before and buy some ice to cool'em there.
When you pull off the highway you pass down a dirt road and turn right to where all the shacks are. People come outside to get you into their shacks straight away but just keep driving for a few minutes to get to the middle of the shacks and pick whoever looks the friendliest, walk through their house and over the rickety bridges to the huts.
View from shack:
It's mostly just people like this going about their daily business but a few people decided to open th shacks for an earner from the city folk nearby, its mostly popular with Khmer families, so as at Oudong avoid weekends and public holidays.
People will also come up on boats when you're in the shacks selling mussels, freshwater shrimp and bananas, all grilled on a charcoal grill on the boat and sold really cheap, if I remember correctly it's four big grilled shrimp for a dollar.
If you want you can take a boat trip up and down the river, usually with a bloke and his son paddling. Its a couple of dollars for a little trip for the whole boat. Heres our driver:
And his son, who looks a bit pissed off: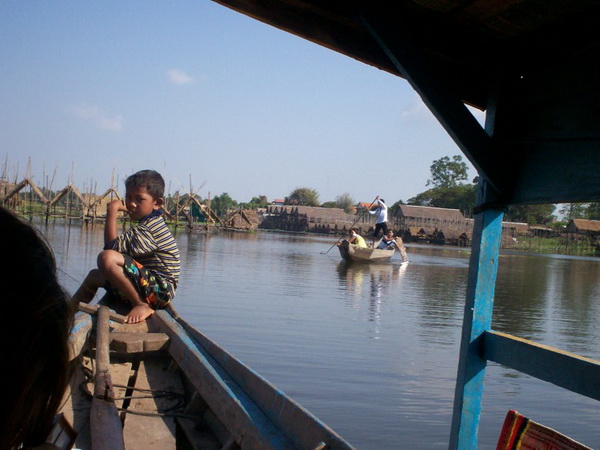 Well, thats pretty much it. A nice day was had by all so full of food beer and smoke we headed back to town. Its not going to bring the tourists in droves but it's a nice scenic spot not too far from Phnom Penh which makes a nice change of scenery. I'll post later about another couple of spots but for now I'll end with a photo of the crazy rush hour traffic on Monivong Bridge coming back into Phnom Penh:
Kien Svay Map
View Larger Map
Original content by Khmen