Ream National Park
Hello Unregistered,
Right, so as I've lost some shots of trips around Phnom Penh I thought I'd include some shots of a trip to Ream National park, about 30km from Sihanoukville.
I'm not really much of a beach person, its OK to relax for a few days but I'm not into sunbathing so after a few days I get bored and want to do something else. So, me and a friend were sitting at the far end of Otres beach, Sihanoukvilles most unspoiled beach, and decided to take a ride to Ream National Park, but not before taking the oppurtunity to have a ride of our bikes on the beach.
| | |
| --- | --- |
| Me on Otres beach on my bike: | And a cute little girl and her little bro in the background who ran out to see what the crazy barang were up to: |
To get to Ream national park you head to the port from Victory Hill monument and turn right up to Sihanoukville mountain. On the way there is a temple on top of the mountain with nice views over the town to the coast and also the Angkor brewery for the beer fans out there!
Carry on for a bit after the brewery and you get to a junction with the road North to Phnom Penh on the left and Sihanoukville airport on the right. Take the right turn and its another couple of Km to Ream. Its a nice little drive on this road with typical country scenes.
Some buffalo on road to Ream:

When you reach the end of the road you come to a nice little crescent shaped beach and you're now in the National park:



For some reason all the beach shacks here have been abandoned so there is quite a spooky atmosphere to this place. Anyway, I think the main beaches in the park are to the right when you reach this beach but me and my mate not having a clue decided to turn left and followed the coast road around. (I think most people do this trip on tours in a boat to reach inaccesible beaches and islands. There is also some mangroves to visit and walking trails to th interior forest and mountains, where there is supposedly loads of wildlife but we didn't do any of that!).
As we rounded the coast we came to a small settlement which I think is Ream town. We stopped at a beach shack for a beer then had a little drive about. There is a temple here and a few houses and thats pretty much it, when you reach the end of the coastal road you reach a Naval base, so we were thinking "This national park is a bit shit", not realising we weren't really in the best part of it!
Anyway, it all worked out OK in the end cos on a random whim I decided to turn off the road up a dirt track heading towards the coast on a headland. Im glad I did as after a couple of minutes of following a trail we got to the top of a small cliff. On walking down the gentle slope we came across a fantastic secluded cove immediately to the right:

The water was crystal clear and the beach spotlessly clean, I'm not one for swimming in the sea but I just had to dive in! In this shot you can see some of the mangroves further up the coast, It's possible to walk around the whole coast back to the first beach on these narrow beaches:

This shot shows a worn away rock outcrop that can be seen in the previous photos. Also, notice the handy completely level ledge to the left which is ideal for sitting and having a beer, which my mate went and grabbed while I rolled a quick doobie! No pushy vendors here! Its also shaded by overhanging trees so its ideal really!:

After we'd had a couple of beers, we heard some kids playing and after clambering back up the rocky outcrop we met these novice monks and friends from the local temple who'd came to the wider beach to the left for a game of beach football:
On spotting us they all ran up eager to practise their English and each one in turn started firing off questions such as "What country do you come from? What is your name? My name is... How old are you? Do you have wife? Why you come Cambodia? What football team you like?" etc etc. Suffice to say they all supported Man Utd, Liverpool, Arsenal and Chelsea and they found it amusing I support Newcastle, cos we'd just been relegated! "Ha! Newcastle no good!" BTW, the structures behind them are a spirit house and small shrine at the base of the cliff path.
So after we'd had a little kick about with them we took a little wander down the beach, this is the view down the beach: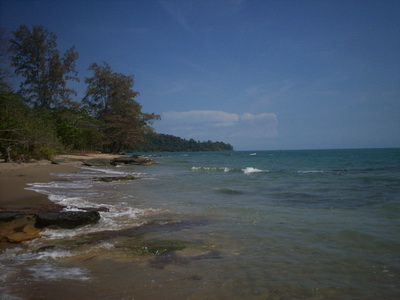 And heres one looking back up the beach:
We might have not actually been to the main bit of the park, but this place was a really nice accidental discovery and a great secluded spot if you can find it! All I can say is get to the headland and keep an eye out for a small avenue of trees to the right. If you get to the gas station youve gone too far.
Written by khmen
From Wiki
Ream National Park, is a national park of Cambodia located 18 km from Sihanoukville in south-east Cambodia. Established in 1993, when the Cambodian government began to take action to protect many of its threatened areas, encompasses 210 kmē including 150 kmē of terrestrial and 60 kmē of marine habitats. The national park contains beaches, mangrove forests, tropical jungles and over 150 species of bird and is well noted for its monkey population.
Ream National Park Videos