Kampong Cham
Kampong Cham Guesthouses
Kampong Cham is a provincial capital on the banks of the Mekong, and as it's name suggests there are many Cham Muslim communities living in the vicinity. I woke up one day fancying a day out and as Icouldnt rope anyone in to join me looked at my map of Cambodia and picked Kampong Cham, mounted the steed and left at about 9 am. In all honesty there is'nt a great deal to see or do in the town except relax, enjoy the quiet provincial atmosphere and visit a couple of sights around the outskirts. Its basically real rural Cambodia as soon as youre outside the town, as in dirt roads, rice drying in the sun and stilt huts with no electric and running water.
Anyway, I havent got many worthwhile shots of the town itself so I'll post a few from a rural hilltop temple about 15kms north of the town itself, called Wat Hanchey. The drive to this temple is fantastic, it follows the course of the Mekong along a dirt road and the scenes of rice fields on the left and the mighty Mekong on the right along with the rural people going about their business is fantastically idyllic. Enjoyed the ride too much to be stopping taking photo's though so you'll just have to imagine it or do it yourself! Sometimes I just enjoy the moment and cant be arsed spoiling it taking photo's, life is not to be lived through a viewfinder!
Anyways, onto the temple itself. I'ts situated on a hill at a curve in the Mekong so the views of the great river are fantastic. Once again, my photography skills dont do the subject justice but there you go!
Views over the River Mekong: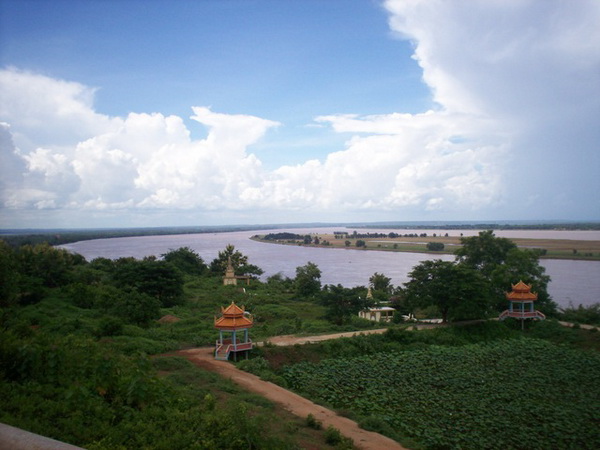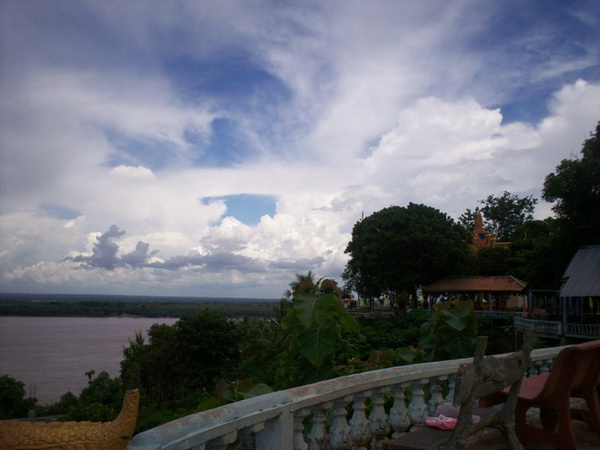 And here's a couple of the rather oddly styled temple buildings: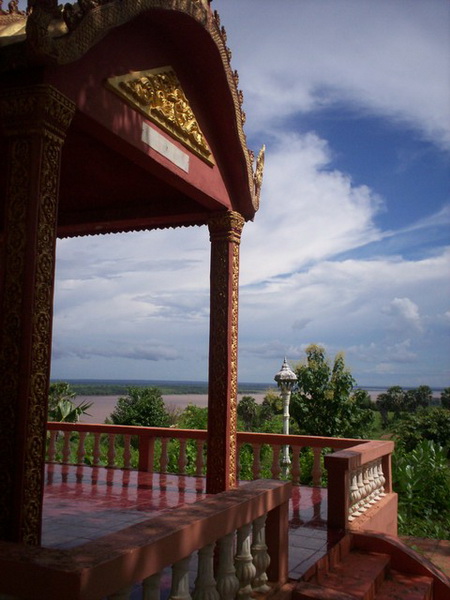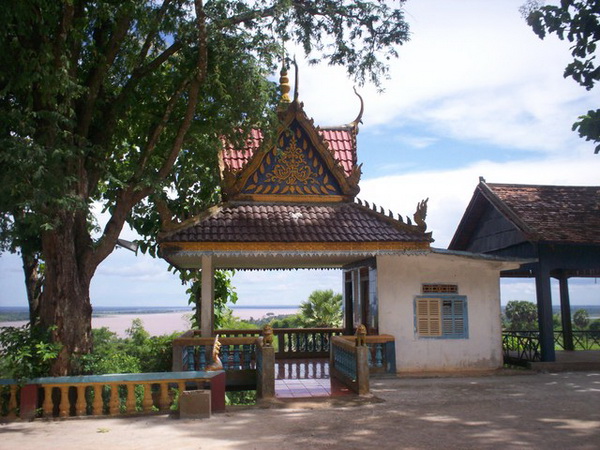 That's pretty much it, aside from mentioning that if you exit the temple and follow the "road" round to the left around the hill for a couple of minutes there is a shrine on the hillside with beautifully rendered murals of Buddha, especially considering it is basically what amounts to a bus shelter in the boondocks of Cambodia!
Also, for the adventurous, if you follow the road a bit further you get to REAL rural Cambodia, where there is no traffic apart from ox-carts and pushbikes. My bike wasnt up to it so I didnt go that far but I will one day.
I have also heard of a dirt road that follows the course of the Mekong the whole 120kms from Phnom Penh to Kampong Cham so next time I'm going to ride that instead of the highway, stay tuned!
Thats it for today though, I've got a really nice set of photo's to end the thread with at some time next week, and as the thread has gone off the rails anyway I'm going to include a really nice daytrip from Sihanoukville.....Laters
Written by khmen
Kampong Cham Map
ดูแผนที่ขนาดใหญ่ขึ้น
Kampong Cham Weather