Phnom Penh Dragon Boat Races
The rural life in most parts of Cambodia is still not mechanised, bloody hard work for the farmers but it sure does make for some idyllic scenes. I imagine the country scenes are pretty much unchanged from what they would have looked like hundreds of years ago, enjoy it while it lasts cos those tractor type things are becoming more common every year and give it twenty/thirty years it'll probably be similar to where you are and in Isaan.
Yeah, I've seen the boat races in Phnom Penh a couple of times. They happen at the annual Bonn Om Touk Water Festival in November, where this year the tragedy on the bridge occured. (Not to be confused with Ch'nam T'mei Khmai, Khmer New Year, which is the same as Thai Songkhran).
The races start from the Japanese Bridge in the north and the finish line is in front of a pavilion outside the royal palace where the King and important folk sit. The boats are built throughout the year at various temples all over Cambodia, you can see another one in the temple grounds of Wat Sarawan on st.19, right next to the National Museum.
Definitely worth a trip over for if you havent seen them, a couple of million countryfolk descend on Phnom Penh from all over Cambodia for the event which celebrates the start of the wet season and an increase in the volume of the Mekong, reversing the flow of the Tonle Sap river which in turn quadruples the size of the Tonle Sap lake which in turn irrigates the whole of central Cambodias agricultural land!
Quick tip if you do visit then, book hotel well in advance and, as a foreigner you are allowed access to the pavilion outside the palace, which is useful as it can be hard to get a decent view of the races as the crowd can be 5 deep all along the riverfront! Oh, and be careful of your belongings in the crowds as pickpockets operate there, as I know to the tune of $10!
Photos of the boat racing teams waiting to race, not sure how many to a boat but I'd say at least 40 or 50: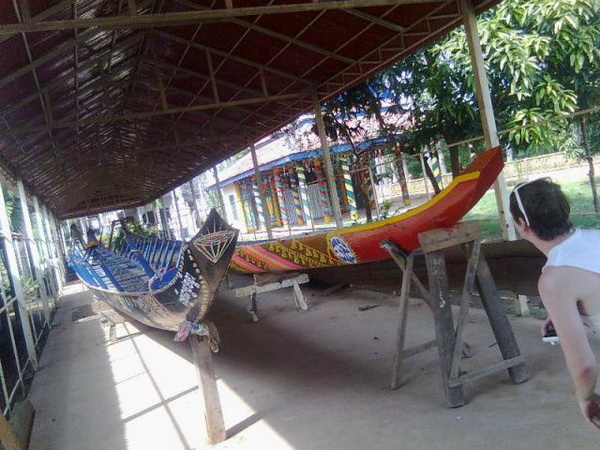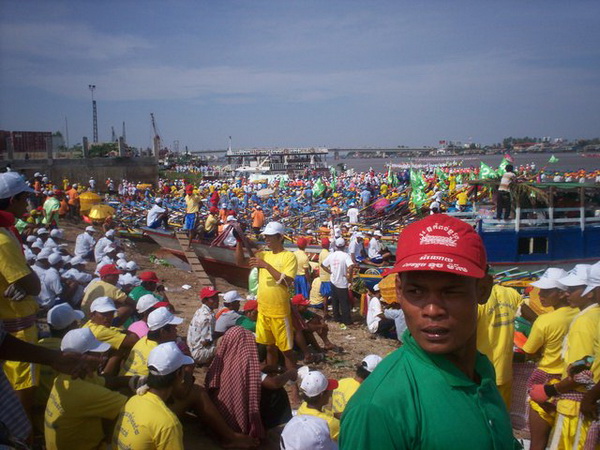 Re Fishing- I dont actually fish myself but you wont find many better places to fish than Cambodia if thats your thing, half the country is rivers and lakes! You can also guarantee that any freshwater fish you eat will have come from within a few miles of where you are. I know some lads that do fish and they inform me that the Tonle Sap lake is one of the richest lakes in terms of abundant marine life in Asia, if not the world. And, there is also the Mekong....So, happy fishing!
Written by khmen
Dragon Boat Race Videos