Things to see and do in Ayutthaya





Check out our newest and latest
Ayutthaya
page.
Ayutthaya is 538km from
Amnat Charoen
, 410km from
Buriram
, 298km from
Chaiyaphum
, 289km from
Kamphaeng Phet
, 531km from
Lampang
, 602km from
Lamphun
, 476km from
Loei
, 856km from
Mae Hong Son
, 598km from
Mukdahan
, 597km from
Nan
, 620km from
Phayao
, 301km from
Phitsanulok
, 479km from
Phrae
, 450km from
Roi Et
, 65km from
Saraburi
, 413km from
Surin
and 357km from
Tak
.
Want to read more on Ayutthaya or ask a question? Why not visit our
Central Thailand & Ayutthaya Forum
.
A tour round Thailand including Kanchanaburi
A journey from Pattaya with a first stop at Kanchanaburi, a stay at Ploy Guesthouse and a visit to the River Kwai Bridge, pictures of the waterfalls at Erawan National Park, then on to Ayutthaya and a stay at Tonys Guesthouse, and a final stay at Pak Chong.
Ayutthaya sound and light show
Ayutthaya's annual sound and light show.
Bangkok to Ayutthaya by train
A 15 baht train journey from Bangkok to Ayutthaya, a stay at Krunsri River Hotel, and a visit to a few of the temples of Ayutthaya.
Sex in Ayutthaya's Grand Street
Grand Street in Ayutthaya is the place for the night life bars and restaurants.
Swords and Knives of Ayutthaya
A small village outside of Ayutthaya famed for its steel craftsmanship.
Bangkok To Ayutthaya
A train journey from Bangkok, a stay at Baan Lotus, Temple visits and a river cruise.
As Ayutthaya Floods
Every year it seems Ayutthaya has flooding problems, this year was no different.
Ayutthaya Loy Kratong
Annual festival held all over Thailand.
(Ayutthaya The Portugese Settlement)Ayutthaya The Portugese Settlement
Ayutthaya A Boat Trip (Ayutthaya A Boat Trip.)
Take a boat tour round Ayutthaya and see it from a different angle.
(Ayutthaya Elephant Kraal/Homestay)Ayutthaya Elephant Kraal/Homestay
Famous Thai People in Ayutthaya
Ayutthaya Fort/Pom Phet
My views of Ayutthaya
(Swords and Blades in Thailand)Swords and Blades in Thailand
Weekend in Ayuttaya
Bang Sai Royal Folk Arts and Crafts Centre
A Trip to Bang Pa In Palace
Morradok Hotel - Ayutthaya
Morradok Hotel; the best way to describe this place is an overpriced dump, ok the rooms are big but lino on the floor doesn't do it for me when you are paying 500baht per night, no tv no hot water which when prices get upto that range I sort of expect those things, if they spent about 30k baht on each room then they could easily charge 1,000baht+++ per night.
The place is mainly a massage place and they don't really advertise their rooms for overnighters, the air con restaurant and bar is supposedly air conned but they haven't got anywhere near the BTU they need for the size of the place, the food is overpriced to my mind, I mean all Thai snacks started at 100baht, although they do have a live singer if your into that sort of thing, still when it's Saturday night and you have been told by two hotels that they are full then it's any port in a storm.
More info on Morradok Hotel can be found here (Morradok Hotel/Ayutthaya)
JitVilai Place - Ayutthaya Hotel
JitVilai Place/Hotel on U-Thong Road in Ayutthaya is quite a bargain at 500baht perday, I only got a couple of complaints

the shower for the hot water the shower head was pretty grunged up and didn't let out nearly enough water for a quick shower, and the car park in the hotel you had to reverse out of to get on the main street, now the reversing out also involves a tight dog leg, yep it's a bit of a bstard and I can imagine a lot of the natives have damaged their cars trying to get out of the hotel, they got teak chairs as you try to swing round the dogleg amongst other junk so it is a bit of a nightmare, but apart from that it is very quiet and really nice, the reception staff hide in their little office and open a little tiny window for you to check in, they had loads of them in there, but they werent coming out and they weren't letting farangs in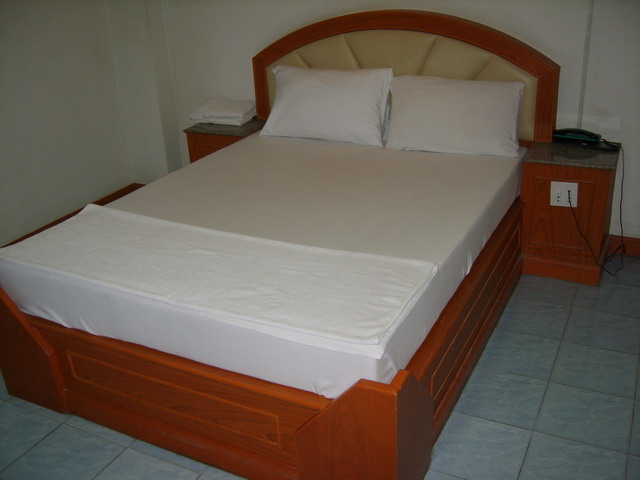 More Info on Jitvilai can be found here (JitVilai Place/Ayutthaya Hotel)
Hi-Ayutthaya(Youth Hostel)
The Hi-Ayutthaya Youth Hostel is a pretty damn good deal, not sure what this youth hostel business bit is all about as they let old people stay there aswell.
The rooms are from 350baht to 450baht per night, the 450baht per night room includes cable tv, aircon, a small bar of soap, a small satchet of shampoo and a couple of towels, the towels are quite important to me as I don't ever take one with me as they take up too much room.
You also have a self service coffee and toast in the morning which is a nice touch.
Onto the bad bits

They have cats, one of the cats was in season, wood I have now come to realise is not a good insulator for noise, the poxy thing was howling till 2.30AM....
To get there, just drive over the bridge onto Rojana Road and its about 200meters past the bridge, also has off road parking.
More info on Hi Ayutthaya Youth Hostel can be found here (Hi-Ayutthaya(Youth Hostel))
Thongchai Guesthouse - Ayutthaya
Thongchai Guesthouse in Ayutthaya is on the Maharaj Road is pretty good value for money, off road parking and very quiet with prices starting from 200baht per night.
The towels here are better than the towels I have at home

no I didn't nick any of them, get a free bar of soap but no toilet paper, but hell it does have a bum gun, the furniture was teak wood which was quite a suprise, bathroom was cold water but it must come from a tank that is in the sun as it was quite warm, they also have a couple of small bungalows for rent but no idea how much they are.
The aircon rooms are 400baht per night but this time of year who uses aircon.
You also get a free bottle of cold water which really isn't that useful as the rooms don't have fridges, all in all really good value and a great place at the prices it charges.
I forgot to mention that the fan rooms don't have a sink.
More info on Tongchai Guest House can be found here (Thongchai Guesthouse/Ayutthaya)
Ayutthaya - Bann KunPra Food & Hostel
Ayutthaya/Bann KonPra Food & Hostel, This place is on U Thong Road and is pretty expensive by Ayutthaya standards, the old fried rice starts at 50baht but you got to admit the presentation is good, the rooms start at 400baht per night but due to being right on the main road and this being a Teak House the traffic noise is horrendous, also the bathrooms are shared, for a meal this place is worth going to as they seem quite inventive on the food side of things, to stay there I think it is probably not suitable for most farangs, at 11pm they lock the gates so it's time to try and climb over the wall and also there is no off road parking.
More info on Ban Kun Pra Hostel can be found here (Ayutthaya/Bann KunPra Food & Hostel)
M&J Guest House - Ayutthaya
M&J Guest House/Ayutthaya is cheap, I really didn't believe 100baht per night places existed anymore in Thailand.
This guest house is on Thanon Pa Maphrao(Coconut Road) just pass the Por Gun.T Bar, you have to go down a tiny dirt road to get to it, the road is a dead end so to get back onto the main road you have to reverse out whilst trying to avoid lumps of concrete etc etc etc.
Good Points;
It was clean.
Bad Points;
It is made from wood so is poxy noisy with people getting up at first light.
Only one plug, so you had the choice of the fan being on or charging your batteries.
If you come back at 4AM you will find the compound is locked which then entails drunkenly trying to clamber over the poxy wall.
Shared Bathrooms.(but they were clean)
More on M&J Guest House can be found here (M&J Guest House/Ayutthaya)
Ayutthaya - P.U Inn Ubonpon Guest House
Ayutthaya/P.U Inn Ubonpon Guest House is just off Naresuan road down a small dirt track, cant miss it as it has enough signs up.
This place is nicely down out and has a nice restaurant and bar on the ground floor, rooms start at 350baht to 500baht per night, they say they have 1 room available at 250baht per night, the 500baht per night rooms have hot water,air and tv. The 350baht rooms have fan and hot water.
What I did find strange was the notice about if you leave a tap on they will charge you 200baht, I mean who the fok leaves taps on? I found out the next morning, yep you guessed it, no foking water, I assume this is a common occurence, so when there is no water people turn on the poxy taps and leave them on, also no toilet paper, so after you have had your morning dump and goto use the bum squirter, yep it means wandering back into the room with your grundies round your poxy ankles to find some toilet paper, luckily I always pack toilet paper otherwise it would have meant resorting to using their bed sheet....
More info on Ubonpon Guest House can be found here (Ayutthaya/P.U Inn Ubonpon Guest House)
Ayutthaya - Chantana Guest House
Ayutthaya/Chantana Guest House is another one that starts at 350baht per night, again it is on Farang Street or Naresuan Road, Soi 1.
This place has water and it is at a damn good pressure, for 350baht you get a fan, hot water, no bum gun but there is toilet paper in the toilet, they do have some bad rooms in the middle of the building which only have windows facing the corridor so they are in perpetual darkness, got to mention you don't get a blanket, also there is only secure parking for 2 cars, pretty lucky really that most backpackers dont rent cars I suppose

Again it was a no shoes or smoking in the guest house type place

if the UbonPu guest house normally has water then that would be a better deal as it has chairs and a desk in the room, but hell I only go there to have a shite and then fall into a drunken sleep so it really didn't matter to me that much.
Moreinfo on Chantana Guest House can be found here (Ayutthaya/Chantana Guest House)
Baansuan Guesthouse - Ayutthaya
Baansuan Guesthouse in Ayutthaya is just down the road from Thongchai Guesthouse on Jakrapad Road, now this place is classy, so we didn't stay there, we only went there for a beer and the bar was closed so we decided to have a look at the rooms, 600baht per night gets you a nice Teak wood Bungalow, aircon and all the trimmings, nice gardens with caged birds and all that sort of stuff, they also have fan rooms for the scummy people starting at 150baht per night with shared bathroom facilities

Their website;
Gallery
Accomodations
Rates
Tours/Links
Location
Contact Us
"Baan Suan" means "Garden House" in Thai. When we, the property owners, reclaimed the guest house (formerly "P.S." Guest House), we proceeded to landscape the grounds and add new accomodations, making a nice oasis in the center of Ayutthaya. We have future plans for even further expansion.
The guest house is now family owned and operated. We are life long residents of Ayutthaya. We can answer any questions and offer suggestions to enhance your enjoyment of our historic city.
We look forward to your visit!
Best Regards,
Baan Suan
Baan Suan Guest House
More info on Baansuan Guest House can be found here (Baansuan Guesthouse/Ayutthaya)
Ayutthaya Guest House on Naresuan Road Soi 1 is probably one of the most famous low end places in Ayutthaya to stay at, the room I looked at was 350baht per night and was quite unusal, this room the toilet was seperated from the bedroom by a 1.20cm high wall, which I think is a great idea if you want to carry on a conversation with your loved one while taking your morning dump.
Mainly the rooms have to share the communal toilets and shower areas which looked a bit ropey to me, but don't worry, next time I shall get the pictures of them, those rooms start around 150baht per night

At present they have the builders in so obviously I gave it a miss as I know how foking noisey bloody builders are.
The nice thing about this place is that you write your own bills for drinks and food, so you could have a really cheap night out there if you wanted

Again this is another take your shoes off outside the guest house and leave them in the bar type place, but the bar is quite nice.
The only bad thing is that the rooms are made out of plywood, so expect to be woken up at first light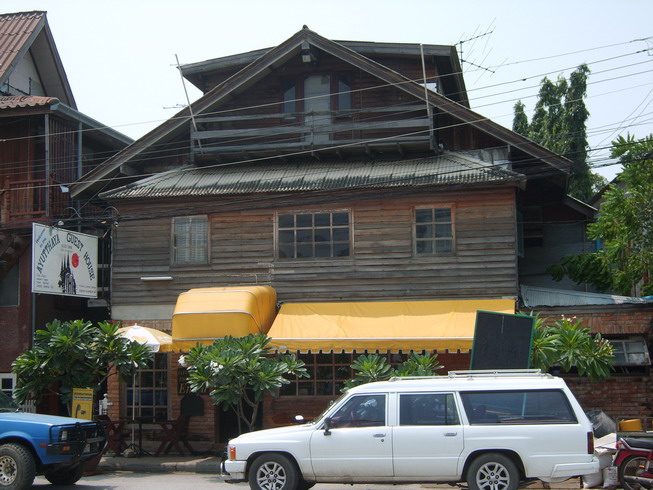 More info on the Ayutthaya Guest House can be found here (Ayutthaya Guest House, Naresuan Road)
Ayutthaya - Tony's Place/Guesthouse
Ayutthaya/Tony's Place/Guesthouse on Naresuan Road, Soi 1.
This is quite a big place and has a bar and restaurant aswell, have to admit I didn't see the menu though so they must have hid that away from me, it also does Buds San Francisco ice cream, I saw the sign for that

The sign says rooms start at 200baht per night and go up to 700baht per night, initially I was quoted 200baht per night for the fan room with shared bathroom, luckily someone in higher authority at Tony's Place realised that I was a quality tourist and not some cheap horrid backpacker so she told them to charge me 150baht for the night

Being as the rooms are all wood there is of course a lot of noise, the Soi Dogs all had a fight at 6.30am, the dishwasher woman came and washed the dishes at 7am in the kitchen, 7.30AM the maids had a conversation in the hallway, 8am I went and had a dump as I had realised I wouldn't get my normal 10 hours sleep that I generally need.
Shoes have to stay downstairs, I assume it is no smoking upstairs, but being a wooden building I wouldn't have taken the chance anyway, everything is nice and clean, although I should add there was never any toilet paper in the toilet but they do have the normal bumgun, no towels supplied so my t shirt made up for that, the bathroom does have a hot water heater for showering and it is turned on, unfortuneately it is broken, still at least the thought was there

No off street parking but the bar is staffed all night.
I should mention that it is a 11am check out time so you got to watch out for that otherwise you will be paying for another day there.
Actually going back to the shared bathroom, while I was showering I was looking for the drain, you know as you do while wondering whether to have a piss in the shower and which way to aim it, it actually drains through a half inch pipe into the toilet floor area, I mean if the shower had it's own drain then you wouldn't get wet feet if you just wanted to use the toilet or the sink, bad design to my mind and put me off peeing in the shower

More info on Tony's Place can be found here (Ayutthaya/Tony's Place/Guesthouse)
Ayutthaya - Sherwood House - Hotel - restaurant - swimming pool
Ayutthaya/Sherwood House/Hotel/restaurant/swimming pool/
This place has 4 rooms for rent with shared bathrooms for 150baht per night, it has a swimming pool that non guests can use for 45baht each so it does attract loads of noisy kids, not sure what time they allow the little brats in there though, but if you want English food in Ayutthaya then this is a pretty good place, 40baht for beans on toast

they also got a pc on the internet which they charge for, got to leave your shoes outside the restaurant though

More info on Sherwood House can be found here (Ayutthaya/Sherwood House/Hotel/restaurant/swimming pool)
Ayutthaya - BJ1 Guest House, Naresuan Road
Ayutthaya/B.J 1 Guest House, Naresuan Road, this place I haven't stayed in and from the outside it doesn't look too inviting, but hell I could be wrong, it could be like a palace inside, dorm rooms start at 90baht per night, just goes to show that you can still travel round Thailand on the cheap.
Home Stay - Koh Loy - Ayutthaya
Home Stay/Koh Loy/Ayutthaya/ Now if you want to get off the beaten track then this is the place to go, it is an Island off of Ayutthaya, no roads no vehicles or anything like that, you got to rent a boat to get over there or swim over there, it does have electric and water but I doubt if the water is from the city, yep it is pretty isolated, from what Ken said if I remember correctly,(which is quite unlikely) it used to be a Mon village in the old days, anyway the place is all made from wood and bamboo and they charge 180baht per night per person, now you may consider this expensive, but, this includes breakfast and dinner, and there really aint a lot else to spend your money on there, we got there and the old owner was sitting on his pier fishing with a couple of rods and a few bottles of Singha beer sat beside him, yep this place is for the quiet life, the rooms are all no smoking cos they don't want the whole place burnt down, it has a nice bar there for the evenings, and his daughter is sexy as hell, although she does own one of those fluffy rat dogs that would make a good small rug, got to admit we were discussing having a pissup there as it would be quite good.
Bad points; the bathrooms are communal

U Thong Inn
210 Rojana Rd., Ayutthaya 13000 Thailand
Tel : (66)-35-212531
Also has a Japanese restaurant here called Irashaimase Restaurant.
Room Rates from 1,000baht per night.
U Thong Inn
Sri Ayutthaya Thane Hotel
59 Moo2, U-thong Rd, Ayutthaya 13000
Telephone: 0-3523-3041
Room Rates from 900baht per night.
Sri Ayutthaya Thane Hotel
Krungsri River Hotel
27/2 Moo 11, Rojana Road, Kamang, Ayutthaya.
Telephone: 66-3524-4333
Has the Pasak Coffee Shop, Gu Cheung Chinese Restaurant, Suan Rim Num BBQ and Sea Food Restaurant, Lieto Italian Restaurant, and the Picasso Karaoke.
Krungsri River Hotel
The Old Palace Resort
1/35 Moo 5. Klong Srabua, Tavasukree. District Pranakhonsri Ayutthaya.
Telephone: +66 (0)352 525 34
Has Spa and traditional massage.
Room Rates from 590baht per night.
The Old Palace resort
Food and Drink in Ayutthaya
Now outside Food and Drink they have a great big sign in English to attract the potential farang customers, unfortuneately the menu is in Thai only but does have some nice pictures of food dishes, so I opted for the chicken pepper steak with a nice healthy salad for a whole 59baht, and believe it or not I couldn't finish my meal, no, unfortuneately it wasn't because there was so much food on the plate, it was because once I had eaten half the salad I realised there was an ants nest in it, yep there must have been 30 ants left in my salad, I really have no idea of how many of them I had eaten, I got to admit I did feel a bit queasy about that, bloody ants crawling around inside me, anyway the place is aircon and if your lady likes eating live ants she will love it here.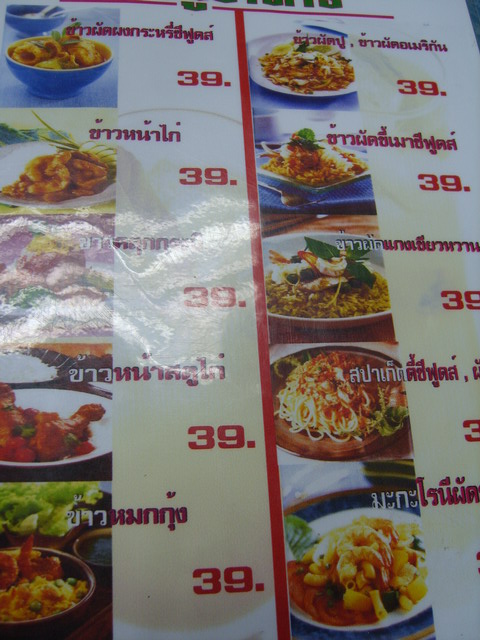 Food and Drink Restaurant in Ayutthaya info here (Food and Drink in Ayutthaya)
Baan U Thong - Ayutthaya
Bann U torng is on the river surrounding Ayutthaya, and i actually ate there with one of the most famous farangs in Thailand, yep this is my claim to fame, Yes I and Sir Ken May ate at this restuarant, although he eats there a lot cos he only lives down the road, these Thai river restaurants are pretty good, ok you got a good view, you got to be wary about them sticking ice in your beer, but apart from that even bkkphil would eat there.
Well as long as us lower class scum werent there.
Now ken Mays meal suprised me, he ordered the somtam, I mean who the fok orders that? Well it was better than the stuff I ordered, This is a pretty damn good place to eat food.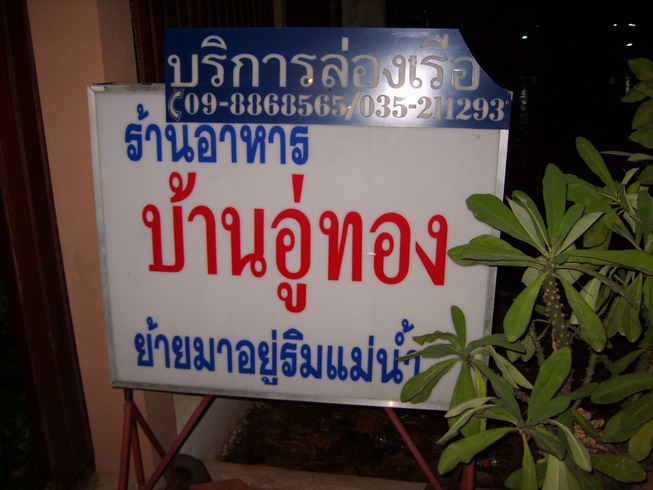 Baan U Thong Restaurant Ayutthaya info here (Baan U Thong/Ayutthaya)
Schnitzel House - Ayutthaya
German food in Ayutthaya was quite a suprise, the place is on U Thong Road but you probably wont notice it as he only has a small sign, The German owner does the cooking or maybe he just hides in the kitchen while the food is being cooked.
The place is done out quite nice with loads of bamboo for insects to hide in, a big dead spider jumped from the cieling and landed next to marmite, it's so embarrassing watching a grown man screaming in fear, luckily Gow calmed him down

The menu is extremely limited and basically comes down to sausage with stuff or spaghetti, the sausage was typical German Country style with bits of gristle and fat in to give it that authentic German taste, the owner also bakes his own bread, but German bread is a bit heavy for my delicate stomach, the whole lot came to around 300baht so that aint too bad.
footnote
They don't serve tea.....................
German Food in Ayutthaya (Schnitzel House/Ayutthaya)
Ayutthaya - Chang House, Naresuan Soi 1
Ayutthaya/Chang House, Naresuan Soi 1 also known as farang street due to it having a few bars so all the farangs go there to get pissed.
I seem to be spending quite a lot of valueble drinking time at this place and they aint even got girls for rent there, next door to their bar and restaurant they have just opened the "Kru Coffee Shop" the teachers seem to like this place, Laos freshly brewed coffee at 30baht per go does seem quite a good deal though, although the owner makes you sit outside if you want a cigarette, yep another ex smoker gone bad.
Onto the restaurant and bar, now this is quite nice, most people sit outside in the street and it has a projection tv thingy which they have all the sports on, I feel sure he has a fine collection of hardcore porn fims but as the screen is outside the bar he probably wont be willing to show them.
The food here is actually quite good, well Ayutthaya is lacking in competition in farang food and Indian food, I shall probably take a packed lunch next time I have to stay for a few days otherwise it will be eating there or resorting to Thai food everyday.
So Saturday night we decided to snack there and went for the Indian stuff, Chicken Tikka Masala, Vegetarian Samosa's and Popadoms, the masala was 120baht so as you can see this place is real cheap compared to Bangkok, also it was a lot better than most Indian restaurants I have been to, only complaint was there are no condiments to go with the Popadoms

Also if you need to use the bog use the one in the coffee shop as that is a proper one and not one that you have to stand up on.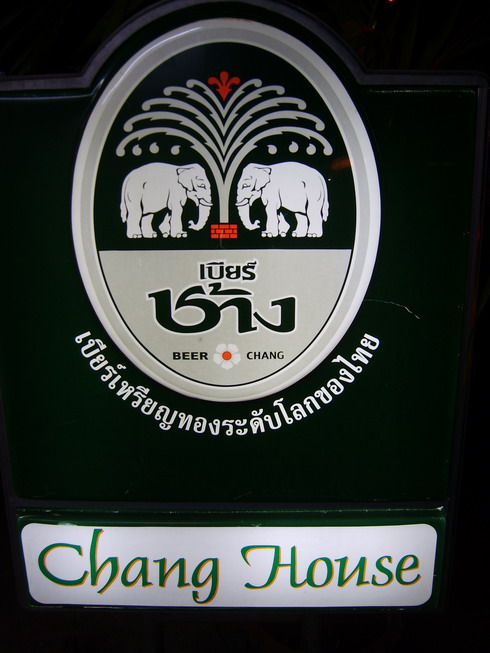 More info on Ayutthaya Chang House here (Ayutthaya/Chang House, Naresuan Soi 1)
Ayutthaya Restaurant "Wooden House on the Edge of the Water"
Ayutthaya Restaurant "Wooden House on the Edge of the Water", is actually called "Baan Mai Rim Nam", ie it is just on U Thong Road and on the edge of the river.
This place is quite expensive for Ayutthaya's normal price range of Thai Restaurants, dishes starting from 100baht up, the ground floor with the kiddies playground was flooded out, I assume the parents watch away amusedly while their kids are playing in the playground and then get washed away in the floods.
The food and the service is pretty good though.
Thai Food in Ayutthaya (Ayutthaya Restaurant "Wooden House on the Edge of the Water")
Chainam Restaurant Ayutthaya U Thong Road
Chainam Restaurant, Ayutthaya, U Thong Road.
Now this place most tourists wont find due to the main sign being in Thai and that you have to walk through a horrid shophouse to actually get there, it is right near the old prison in Ayutthaya and the Hua Raw Chinese Market.
The good bits about the restaurant;
It has had loads of good reviews in the papers and other media stuck all over the walls, toast and jam is only 3baht, now this was quite a shock as the average Thai dish was 80 to 120baht, and no we aint talking lobster here, the food was pretty good, no lumps of fat or gristle or skin.
The bad bits about the restaurant;
I shall try to keep this short but doubt if I will be able to

first off the service was awfull, 15 minutes for the first dish and then every 5 to 10 minutes a next dish arrives, now there was 4 of us and 2 other customers in the place, the 2 other customers had already eaten, so they got 6 customers and 4 service staff and probably one wok, the prices they were charging for Thai dishes we could have gone to any other restaurant in Ayutthaya and had the same meal probably cheaper and with better service.
The second main problem is that the service staff love there poxy cats, now these poxy cats really should have been thrown in the river at birth inside a sack, but nope they kept the poxy things so now they just hassle the customers, obviously when they see that the customers are really getting pissed off with these rabid cats they come and take them away and play and stroke them, never saw one of them wash their hands though, so if your into basic hygene this may not be the place for you.
Eating on the river banks in Ayutthaya (Chainam Restaurant Ayutthaya U Thong Road)
Ayutthaya - ThaiBoat Food & Drinks - Naresuan Soi 1
Ayutthaya/ThaiBoat Food & Drinks/Naresuan Soi 1.
This place has a massive menu but we didn't get to eat there as that night was going to be curry night down the road a bit and the next night was a party so we went freeloading, shall probably eat there later this week.
They also do tatoos there aswell which seems a dangerous combination, ie a bar/getting drunk/ and tatoos.
More about farang street in Ayutthaya here (Ayutthaya/ThaiBoat Food & Drinks/Naresuan Soi 1)
Ayutthaya Kru Coffee Shop
Temples in Ayutthaya

(Ayutthaya - Hua Raw Chinese Temple and Market)Ayutthaya - Hua Raw Chinese Temple and Market


(Ayutthaya/Wat Phutthaisawan Temple)Ayutthaya/Wat Phutthaisawan Temple
(Ayutthaya/Wat Ratchbaruna Temple)Ayutthaya/Wat Ratchbaruna Temple
(Ayuthaya Wat Yannasen Temple)Ayuthaya Wat Yannasen Temple
(Ayutthaya - another small Temple or Wat)Ayutthaya - another small Temple or Wat
(Ayutthaya - Wat Mahathat Temple)Ayutthaya - Wat Mahathat Temple
(Ayutthaya Chedi of Queen Suriyothai)Ayutthaya Chedi of Queen Suriyothai
Ayutthaya Wat Worachetha Ram Temple
Ayutthaya Wat Maenangpleum Temple
Ayutthaya/Wat Thammikarat Temple
Ayutthaya/Wat Phraditsathan Temple
Ayutthaya/Wat Khunsan Temple
Ayutthaya/ Wat Suwandawas Temple
Wat Wang Chai Temple/Ayutthaya
(Wat Koomanjai Temple/Ayutthaya)Wat Koomanjai Temple/Ayutthaya
Wat Samwihan Temple/Ayutthaya
Wat Racharpradidtan Temple/Ayutthaya
Wat Intraram Temple/Ayutthaya
Wat Chaiwatthanaram/Ayutthaya Temple