Getting around and to and from Pattaya

Videos of Pattaya in the 80's
If you want to learn more about Pattaya or have any questions feel free to use our
Pattaya Forum
.
Jomtien Beach Bus Station to Suvarnabhumi Airport
.
Located on Chaiyapruk 2 right near the corner of Jomtien Beach Road where they have a Sub Police Station, a small tourist information office and Marine Beach Hotel, they have 4 coaches perday going to and coming back from Suvarnabhumi Airport in Bangkok, the cost is 106baht each way.
There is also a shuttle bus from the airport to Khao San Road.
Has a few restaurants and bars close by if you arrive too early for your bus.
Jomtien to Suvarnabhumi Airport Timetable.
09.00am
13.00pm
17.00pm
19.30pm
Suvarnabhumi Airport to Jomtien Timetable.
06.40am
09.00am
13.00pm
17.00pm
If you are catching a flight or meeting someone at Suvarnabhumi Airport you can check out flight information, ie delays etc
here
.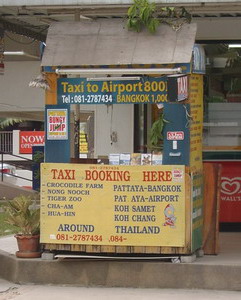 Pattaya and Jomtien Taxi Stands.
If you need to get to Bangkok or Suvarnabhumi Airport then a taxi will cost starting from 800baht, if going into Bangkok make sure before departing that the fare includes Express Way tolls, you will find many taxi stands in Pattaya and Jomtien, also many hotels are willing to book taxis for you, if your near South Pattaya just past the traffic lights heading towards Jomtien you will always find taxis waiting there to take passengers to Bangkok.
With some of the taxis you may find that they are a bit old and not a very comfortable ride, so if you get the chance check out which one will be your taxi ride.
Outside the Avenue Shopping Mall on Pattaya Second Road you can also get meter taxis for local journeys, these haven't as yet got much of a good reputation as quite often they are unwilling to turn on their meters and want to charge expensive prices, you can read more about the Avenue Shopping Mall
here
.
Motorbike taxis you will find at the end of just about any Soi in Pattaya, Jomtien and Naklua, these work out more expensive than the local Songthaews but will quickly take you to exactly where you want to go, and no, they don't have liability insurance so your on your own if there is an accident.
Pattaya to North Eastern Thailand
.
The 407 Pattana Company Limited coach office is located in the Petronas Petrol Garage on Sukhumvit Road just past Center Road, this garage is opposite Soi Nern Plub Wan.
On its way to
Isaan
the bus will take short stops at the following places,
Sri Racha
,
Chonburi
,
Chachoengsao
,
Korat
,
Khon Kaen
,
Udon Thani
and finish at
Nong Khai
.
Pattaya to Isaan Timetable.
08.10am
17.40pm
19.00pm
19.35pm
20.10pm
20.40pm
20.50pm
21.00pm
21.30pm
22.00pm
All in all it takes about 12 hours to get to the end of the route at Nong Khai and costs under 600baht for the fare, more can be read about it
here
.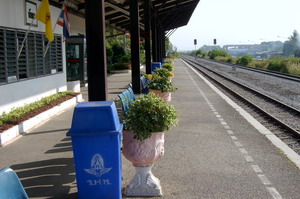 Pattaya Train Station.
Pattaya train station is on the East side of Sukhumvit Road just off of Siam Country Club Road, with one train perday to Bangkok at 31baht and taking 3 hours and 20 minutes it's not very popular with tourists visiting Thailand.
At Pattaya Train Station you can book tickets up to 90 days in advance, you can also book long haul journeys by train online
here
.
The train station has a small drinks fridge with drinks for sale, also a couple of tables selling snacks etc, if you arrive by train to Pattaya you will find motorbike taxi riders outside the station.
Eastern Thailand Train Schedules
.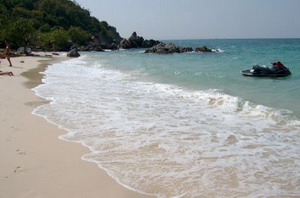 Pattaya to Koh Larn Island.
Most people traveling to koh Larn use the 20baht ferry service from
Bali Hai Pier
, you can also charter a speed boat or a larger boat for the day.
Koh Larn has many nice beaches, some deserted and some packed with sunbathers and banana boats, parasailing and jetskis.
Several of the beaches have hotels and bungalows for rent, also the main pier area at Na Ban has a couple of small guesthouses.
More on Koh Larn Island
here
.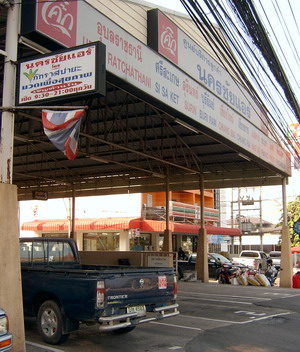 Pattaya Nakhonchai Air Coach Station.
This bus station is on Sukhumvit Road, if you are heading from South Pattaya to North Pattaya you will find the bus station just before Center Road on the right hand side of Sukhumvit Road.
From here you can catch buses to
Chiang Mai
,
Chiang Rai
,
Ubon Ratchathani
,
Buri Ram
,
Si Sa Ket
,
Surin
, Mae Sai,
Phayao
,
Phrae
and
Phitsanulok
.
You can visit their website
here
although at present it is only in Thai.
North Pattaya Road Bus Station
Situated on North Pattaya Road near Sukhumvit Road this is Pattaya's busiest coach station with buses run by Roong Rueng Transport Co' going to
Ekkamai
,
Mo Chit
and the Southern Bus Station, also Bell Travel have buses at 06:00am, 09:00am, 11:00am, 13:00pm, 15:00pm, 17:00pm and 19:00pm to
Suvarnabhumi Airport
.
Food and snacks are available at this bus station, also just outside the station are a couple of Thai restaurants.
On buying your tickets here check your change as they are quite infamous here for short changing, also if you are travelling from Bangkok and want to go to Central Pattaya or South Pattaya it is best to get the bus to
Sattahip
and get off at either set of traffic lights.
Pattaya - Jomtien to Suvarnabhumi Airport bus service
Rungueang Bus Company has buses every 2 hours between 8am to 9pm, these leave from opposite the Pan Pan Restaurant on Thappraya Road, the coaches are 32 seat VIP and cost 124baht.
Here you will also find a large supermarket called Foodmart and Thai food is available from several stalls.
More
here
.
Telephone; 086 324 2389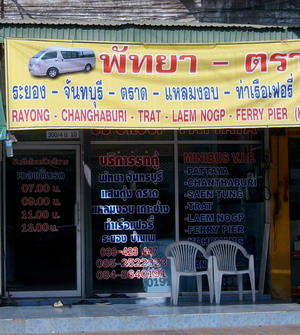 Pattaya Minibus to Rayong, Chanthaburi & Trat
Pattaya has many minibus agents, this one is 35 Group which is near the end of South Pattaya Road on the left hand side just before you get to Sukhumvit Road.
It has 4 mini-buses perday leaving at 7.00am, 9.00am, 11.00am and 1.00pm, these go to
Rayong
, Ban Phe if your traveling onto
Koh Samet
,
Chanthaburi
,
Trat
and Laem Ngop ferry terminal if you are traveling onto
Koh Chang
.
Telephone 038 423 447
Pattaya to Hua Hin

If you want to travel to
Hua Hin
from Pattaya this can be done by
boat
or by
mini-bus
.
Pattaya to Rayong or Chonburi

Popular minibus service which runs on Sukhumvit Road.
Pattaya to Chonburi or Rayong


Maps of Bangkok

You can find road maps of Bangkok and also links to all the BTS maps with local area information and videos
here
.
Maps of Pattaya and Jomtien

You can find maps of Pattaya and also maps showing the bars on the East side of Sukhumvit Road
here
, for Jomtien maps click
here
.