Bangkok Museums
Bangkok Photos
Bangkok Temples
If you have any questions about Bangkok why not post them in our Bangkok Forum.
Hello Unregistered,
National Museum
A visit to the National Museum reveals the history of Thailand and how people lived during the different periods. It gives you a view through the windows of the past.
The National Museum, located on the opposite side of Sanam Luang to The Grand Palace, was established in 1887 by King Rama V. The foundation collection was previously stored at The Grand Palace.
The original building was formerly the palace of a vice-ruler. King Rama VII placed it under the administration of the Royal Institute of Literature, Archeology and Fine Arts which has evolved to be the Fine Arts Department.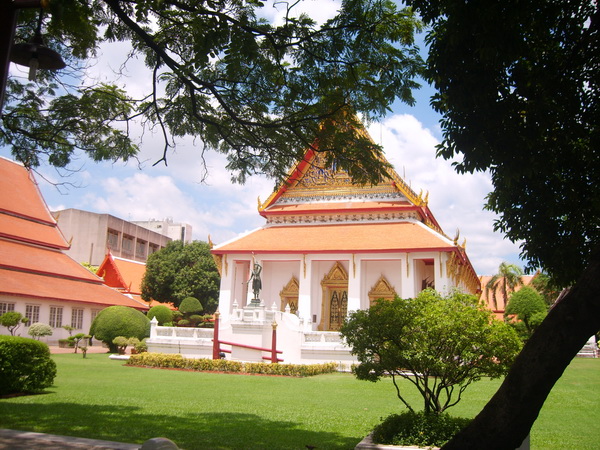 New buildings were constructed in 1967 and other historical buildings relocated to the museum grounds.
The Buddhaisawan Chapel was built in 1787 to enshrine a revered northern Buddha image called Phra Buddha Si Hing. The interior has exceptional murals, while the building itself is a fine example of Rattanakosin religious architecture.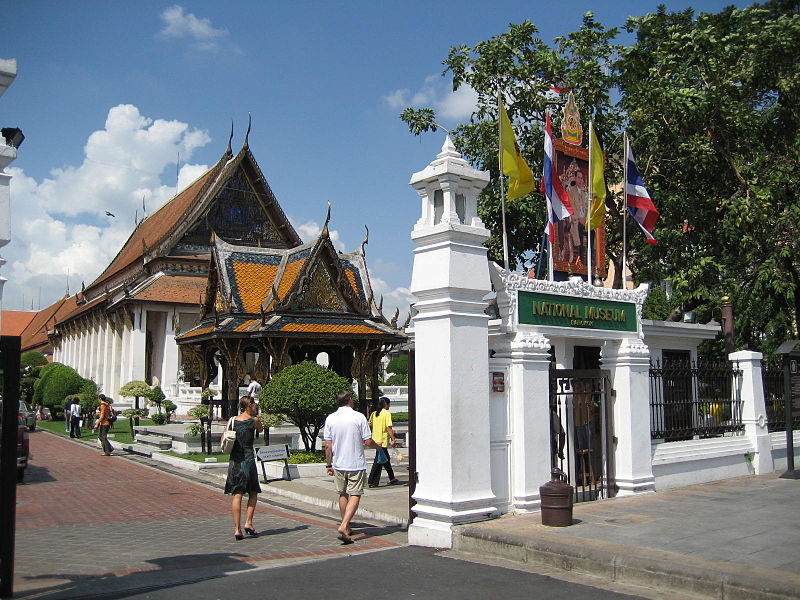 Tamnak Daeng is another building that has been moved to the Museum. This Red House was originally the residence of an elder sister of King Rama I. Furniture and other items from early Bangkok times.
The National Museum collection encompasses a wide range of religious and secular art found throughout the country. Items from pre-historic times, through the Srivijaya, Dvaravati, Khmer Kingdoms and the Sukhothai, Ayutthaya and Rattanakosin periods of Thai history. These include Neolithic tools, painted pots and bronze objects unearthed in the northeast. Thai Buddhist art exhibits feature images in stone, bronze and terracotta as well as illustrated scripture books manuscript cabinets and votive plaques.
The Museum also has a large collection of miscellaneous items such as Thai and Chinese ceramics, theatrical costumes, palanquins, weapons and assorted items used in royal households.
Guided tours are given free by volunteers in English and French starting at 9.30 a.m. on Wednesdays and Thursdays.
Tours are also given in German on Thursdays and in Japanese on Wednesdays of the first & the third week of each month. Guided tours in some other languages can be arranged.
How to get there : The most enjoyable route is to take the BTS Skytrain to Taksin Station. From here take a Chao Phraya River Express boat to Tha Phrachan Pier. Walk straight from the pier to Sanam Luang Park and turn left past Thammasat University to the museum.
Please note that the National Museum is closed on Mondays and Tuesdays.
By Bus No. 3, 6, 9, 15, 19, 30, 32, 33, 43, 53, 59, 64, 65, 70, 80, 84 Air Condition Bus No. 3, 6, 7, 38, 39, 80, 82, 91 Airport Bus No. A2 Opening hours : Wednesday to Sunday from 9.00 a.m. to 4.00 p.m.
Admission fee : 40 baht
Contact : The National Museum Bangkok Na Phrthat Rd., Phra Borommaharachawang Sub-district, Phra Nakorn District, Bangkok 10200
Tel : 0 2224 1333, 0 2224 1370
www.thailandmuseum.com
Nearby Places/Attractions: Grand Palace (Wat Phra Kaew), Phra Athit Road, Khaosan Road