» Bangkok Democracy Monument
Democracy Monument - อนุสาวรีย์ประชาธิปไตย
October 14th Memorial
Bangkok Giant Swing
Thonburi and Local Area Tourist Attractions
Post 1940s Victory Parade. Democracy Monument
Democracy Monument is a public monument in the centre of Bangkok, capital of Thailand. It occupies a traffic circle on the wide east-west Ratchadamnoen Klang Road, at the intersection of Dinso Road. The monument is roughly halfway between Sanam Luang, the former royal cremation ground in front of Wat Phra Kaew, and the temple of the Golden Mount (Phu Kao Thong).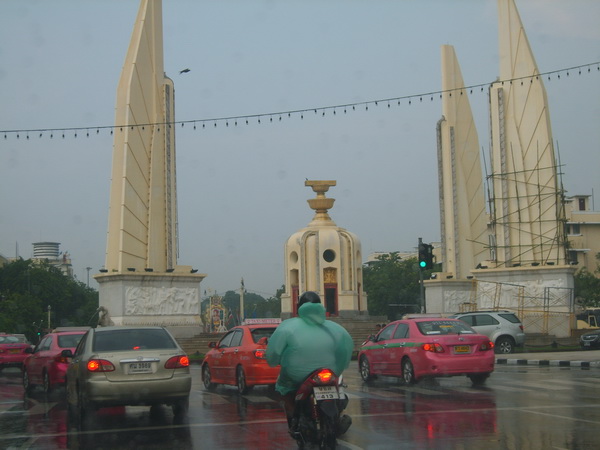 The monument was commissioned in 1939 to commemorate the 1932 Siamese coup d'état (also called "Siamese Revolution of 1932" or just 1932 Revolution) which led to the establishment of a constitutional monarchy in what was then the Kingdom of Siam, by its military ruler, Field Marshal Plaek Pibulsonggram (commonly called Por (Thai: ป.), otherwise called Phibun). Phibun saw the monument as the centre of what he envisaged as a new, westernised Bangkok, "making Thanon [road] Ratchadamnoen the Champs-Élysées and the Democracy Monument the Arc de Triomphe."[
Map Showing Democracy Monument
View Larger Map
The monument was designed by Mew Aphaiwong, an architect whose brother Khuang Aphaiwong was a leading member of Phibun's regime. The Italian sculptor Corrado Feroci, who was a Thai citizen and used the Thai name Silpa Bhirasi, executed the relief sculptures around the base of the monument.
The building of the Monument was highly unpopular at the time. Local residents and shopkeepers (mostly Chinese) were evicted from their homes and businesses with 60 days notice.
The widening of Ratchadamnoen Road to create a ceremonial boulevard involved cutting down hundreds of shade trees, a serious matter in the days before air conditioning, given Bangkok's torrid climate.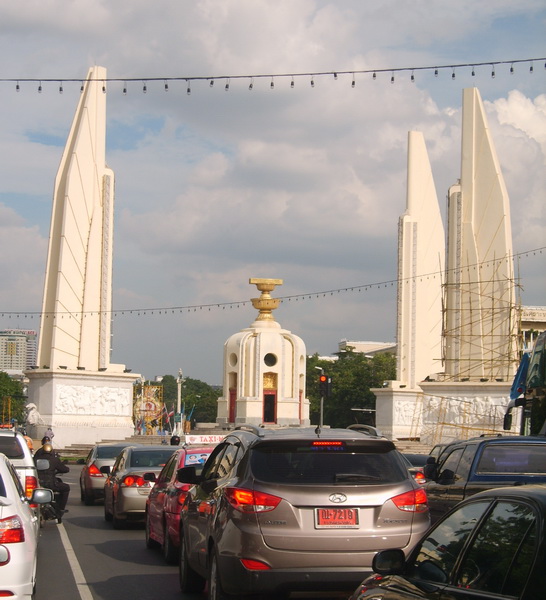 Bangkok Bridges