Karon Beach
Kata Beach
Phuket News Headlines
Phuket Forum
A Members Visit to Patong
Phuket Emergency Numbers
Patong Beach – Family Fun Spot or Bastion of Sleaze?
Author: Andy Burrows
Traditional Thai culture at Patong Beach is largely absent, with the arguably unattractive commercial development of the area leaving little space for the authentic local way of life. Still, this suits visitors for whom the diversity of raw eastern living is not conducive to the comfort and convenience they would expect of a typical sun and sand holiday.

Patong Beach's main drag epitomises the resort's relentless pursuit of capitalism, presenting each and every tourist with an endless tirade of solicitation from locals offering goods and services. Patience is a virtue that visitors will benefit from; however, when you're feeling a tad hung-over or just a safe passage between locations and have no need for a new suit, a Thai massage or a tuk-tuk ride to any of the area's local beauty spots, you may find yourself getting slightly irritated by the persistence of hawkers. Your Phuket travel guide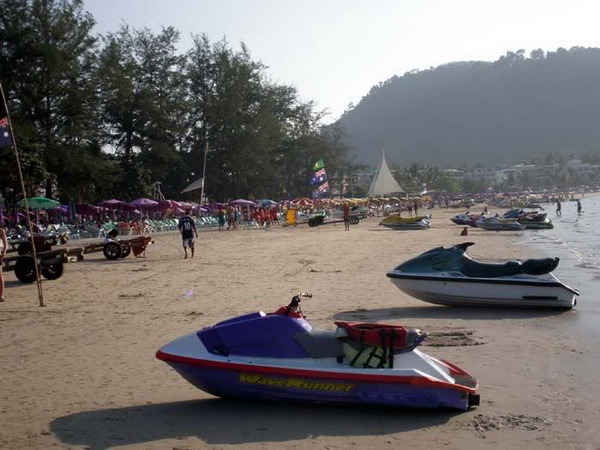 The beach itself is a place of great beauty although your ability to appreciate it might be diminished by the masses that descend upon it during high season and the excess of hotels sat 'behind' it. If you can manage to render yourself oblivious to such things, afternoon views of the vibrant blue sea waters or evening views of the fiery sunset are impressive.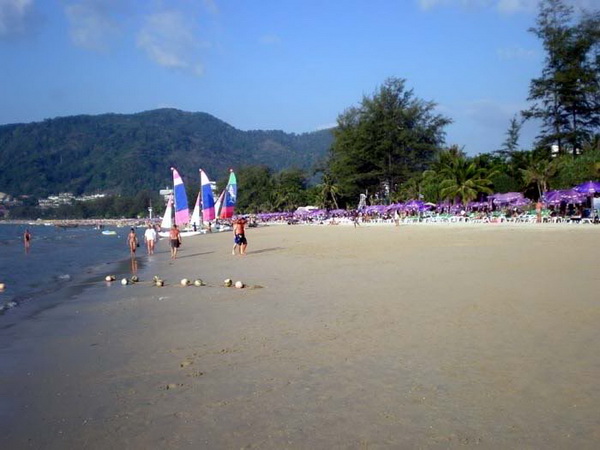 Enjoy the resort's shopping opportunities if the gamut of pirated goods are high up on your list of must-buys, else feel disappointed if you were hoping to find any unique Thai curios or original object d'art. Only mass-produced souvenirs and handicrafts line the shelves of the local vendors. Knock-off CDs and DVDs are as ubiquitous as the fake Lacoste t-shirts, wannabe Billabong shorts and North Face backpack wish-they-weres.
Once the sun has set over Patong Beach, certain areas of the resort get ready to become a playground for those seeking the sleazy side of Patong's evening entertainment. Bangla road and the small soi off of it is the epicentre of the scene and is literally brimming with venues where young Thai lovelies ply male tourists with drink and pursue sexually provocative codes of behaviour.
The girly bars of Patong are frequented largely by male clientele who go to drink a beer or two while enjoying the company of openly-flirtatious Thai ladies. Punters can partake in light conversation, challenge the girls to bar games or just sit with friends and enjoy the music and atmosphere. There's always the option to take a girl out of the bar for other pursuits, but no obligation or pressure to do so.
At the go-go bars voyeurs enjoy the spectacle of scantily clad females dancing in a suggestive and sexual fashion around metal poles. Punters can simply sit back and be titillated or opt for a little interaction with the ladies, buying them drinks and making plans to take them elsewhere. The scene is undeniably risqué, but the atmosphere is non-threatening and welcoming of any class of customer. A gay scene meanwhile presides at the Paradise Complex on Ratutit road with all manner of venues including bars, massage parlours, saunas and discos.
Less in-your-face and welcoming of couples or groups of female holidaymakers are venues such as The Banana on Thaweewong road and The Shark Club at the intersection of Rat-Uthid and Bangla roads.
The vibrant Patong Beach area
These clubs and a good selection of establishments like them offer opportunities for drinking and dancing the night away among a mixed and easy-going crowd of mostly holidaymakers.
Few venues close early and it would seem that Thai licensing laws are largely ignored by the majority here, allowing punters to enjoy partying until sunrise should they so desire. Though the atmosphere is relaxed and excessive alcohol consumption is common, drugs are not tolerated and visitors are wise to avoid them at all costs.
Patong Beach is a big place and it is possible to enjoy a holiday without having to venture into any of the seedy areas of an evening. However, the rampant commercialism and tiresome hawkers help to preclude Patong from being an ideal family holiday destination. On the other hand, if you are a broad-minded male traveller this is the ideal place to sow a few wild oats.
Article Source: http://www.articlesbase.com/exotic-locations-articles/patong-beach-family-fun-spot-or-bastion-of-sleaze-215329.html
About the Author
Phuket in Southern Thailand is one of Andy Burrows' most beloved holiday destinations.