British Style Pubs & Restaurants in Pattaya
Admiral Lord Nelson Pub
471/155-156, Soi Yodsak, Soi 6, Pattaya
Elephant Restaurant and Sports Bar
Pratamnak Road Soi 4 (Soi Asia Hotel)
Large open fronted bar and restaurant, has a couple of TVs for sports, a pool table, nice English food menu,also only 100meters from one of Pattaya's nicer beaches. A visit to the beach.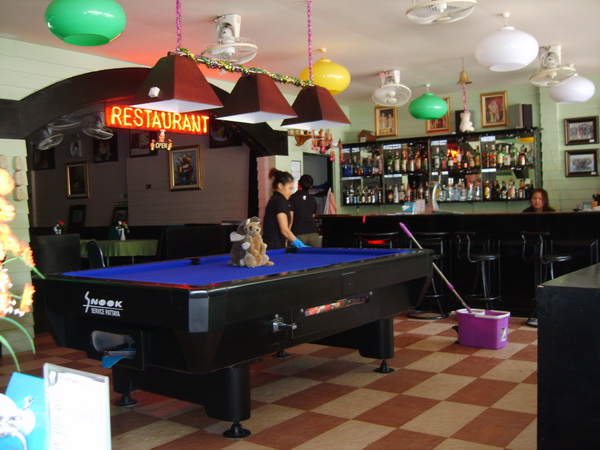 Lunch at the Elephant Restaurant and Sports Bar.
Jameson's Irish Pub
Nova Park, Soi Sukrudee (Soi A.R.)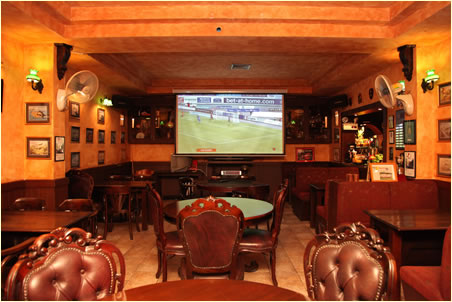 Kilkenny's Irish Pub
Walking Street, South Pattaya Established in December 2003, Kilkenny Irish Pub and Restaurant has become a firm favourite with visitors to Pattaya, a place to step back and enjoy a great evening of fun, food and drink in the heart of Pattaya's busiest nightlife area.
Pig and Whistle
Soi 7, Central Pattaya
Telephone: 038 361 315
Everyday there is a daily special such as Fridays which is Traditional Fish and Chips at 195baht. They now have a branch in Jomtien.
Rooms for rent from 850baht per night.
Post your comments on the Pig and Whistle.
Punch & Judy Pub
The Punch & Judy Pub is located on Soi 8 from Thepprasit Road or Soi 17 from 3rd Road, 50 meters from the Eden Hotel or across the road from The Caddy Shack.
It has 6 large flats screen TV's for sporting events and on Wednesdays they have a quiz night.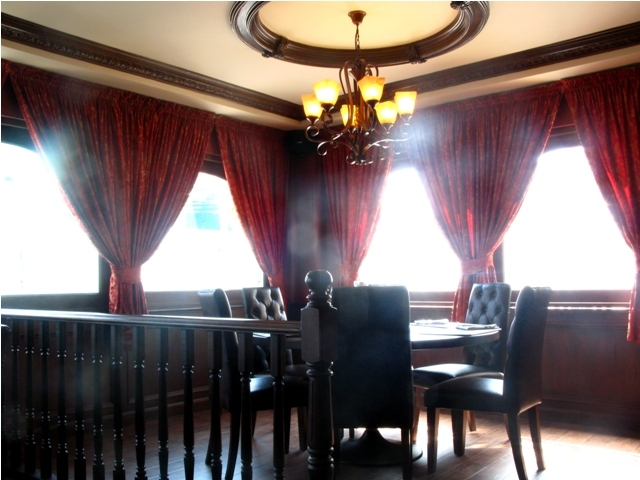 Rosie O'Grady's Irish Pub
Soi 7, Central Pattaya
Shenanigan's Irish Pubs
- The Avenue Mall, Pattaya Second Road, South Pattaya First opened in 1997 across the Road at what now is Royal Gardens.
Jomtien Complex Condo (ground floor), Thappraya Road, Jomtien Beach
Originally called the Flannigans Irish Pub, in 2008 the Shenanigans Company took over it and opened their second branch.
A visit to Flannigans.
Queen Victoria Inn
The Queen Victoria Inn 437/136-140 Soi 6 (SoiYodsak) Pattaya, Chonburi Thailand 20260 Tel: +66 (0) 38 425 418 or +66 (0) 38 362 523 (English and Thai)

The Queen Victoria Inn first opened its doors on Soi Yodsak (Soi 6) in 2001, it has rooms for rent from 500baht per night, free wifi throughout the building.
They have eight sports channels, five television screens, one large screen, if there are no sports on that you want to watch then they have a free pool table.
It has an extensive menu of over 130 items, with a variety of styles, English, European and Thai food, as well as snacks and sandwiches.
More on the Short Time Bars of Soi Yodsak.
Seven Oaks Inn
308 / 53-55 M.10 Thappraya Road, South Pattaya, Pattaya City
Tel : 66 38 - 252653
Up market place situated on Thappraya Road with rooms for rent starting at 600baht per night, more of an international menu than an English menu.
Dinner at the Seven Oaks Inn
Simple Simon
Jomtien Soi 5, Jomtien Beach
Can't really call Simple Simon's an English pub, more of an English Restaurant Bar & Guesthouse which is open fronted onto the street, but it serves pretty good food including a full English breakfast at only 120 Baht, including unlimited tea or coffee.
A breakfast at Simple Simon's
Sportsman Pub & Restaurant
Soi 13, Pattaya Beach Road, Pattaya, Chonburi 20150, Thailand
Telephone 038 710 609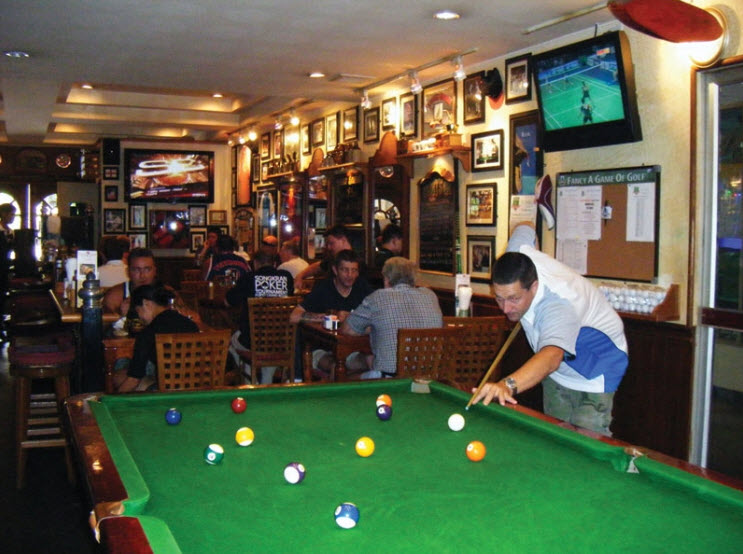 Opened for business in 1997, has large screen plasma TV showing major sporting events, free pool table, Wednesday is golfing day and Thursdays are quiz nights. Serves the normal choices of English food, plus a selection of Thai food, and on Sundays is the traditional Sunday carvery, served between 12.30 pm and 8.30 pm. Five different joints of meat, a great selection of potatoes and vegetables.
Witherspoon's Pub & Restaurant
Soi Buakhao, Central Pattaya (between the junctions with Soi Chaiyapoon and Soi Lengkee)
More of a Thai style British pub, open fronted onto the Soi, plenty of TVs to watch the sports, obviously lacking in air-con.
Eating out at Witherspoons Pub & Restaurant.
The Butchers Arms
The Butchers Arms Soi Buakhao 00 66 38416217
The Red Lion
The Red Lion is situated on Soi Khao Noi on the corner of Soi 13, has a nice outside seating area where you can smoke, inside it has a pool table and big screen tv.
A breakfast at the Red Lion
Yorkies Pork Platter
Situated quite a way down Jomtien Beach Road Yorkies is famed for his English pies and suasages, it is basically a restaurant rather than a pub although of course he does serve beer and spirits.
Breakfast at Yorkies Pork Platter