Bangkok Museums
Bangkok Photos
Bangkok Temples
If you have any questions about Bangkok why not post them in our Bangkok Forum.
Hello Unregistered,
Siriraj Medical Museum
The Siriraj Medical Museum is situated in Siriraj Hospital, Bangkok Noi Distirict, Thonburi on the Wat Arun side of the river nearly opposite the Grand Palace and the many other tourist destinations in that area. It is also known as the Bangkok Death Museum.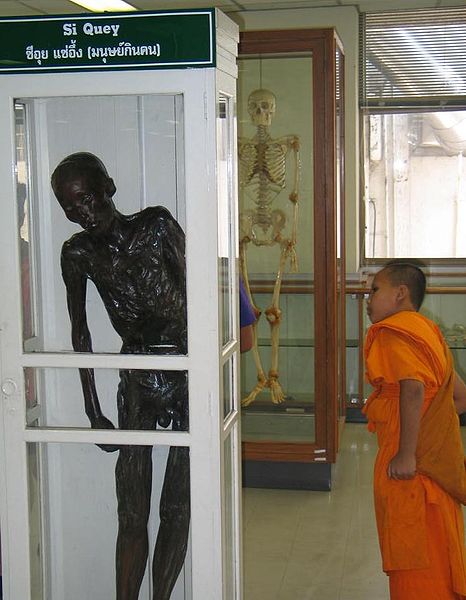 King Rama V founded Siriraj Hospital to provide modern medical treatment for Thai people. During the time when the hospital was being built, HRH Prince Sirirajgaguthapan, the first son of Queen Sri Bajarindra, fell ill and died of cholera. The King donated the wood used in the Princeís cremation ceremony to the building of the hospital and gave it the name Siriraj in the Princeís memory.
The hospital was Thailandís first medical school, with books and medical specimens collected in several museums that were established in the hospital to help medical students with their studies and research projects.
Congdon Anatomical Museum: (3rd floor Anatomy Bldg.) This two-room museum was founded in 1927 by Prof. Dr. Edgar Davidson Congdon, who was sent by the Rockefeller Foundation to improve Thai medical studies. lt contains over 2,000 exhibits, including skeletons, figures of humans and animals, the bodies and organs of Siamese twins preserved in ethyl-alcohol, and most importantly a display of the peripheral nervous system and the blood system, both of which are very difficult to dissect.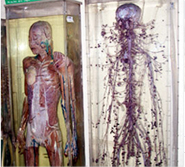 Sood Sangvichien Prehistoric Museum & Labostory: (1 st fl. Anatomy Bldg.) The evolution of life forms from 500 million years ago to the beginning of primates 70 million years ago are displayed here as well as recent material on pre-history and evolution.
Songkran Niyomsane Forensic Medicine Museum : (2nd fl. Adulayadejvikrom Bldg.) This room displays various methods of murder, with skeletons and evidence from past murder cases.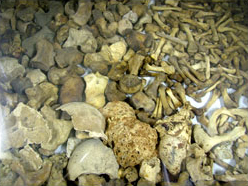 Parasitology Museum : (7th fl. Adulayadejωvikrom Bldg.) Here, various kinds of parasites such as whipworms and roundworms are exhibited, with models of their life-cycle.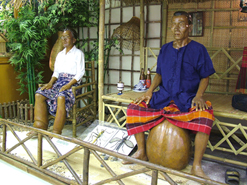 Ouay Ketusinh Museum of History of Thai Medicine: (1st fl. Physiological Science Bldg.) The history and development of Thai traditional medicine the treatment of disease and old age, Thai herbal medicines, Thai massage, and other disciplines can be seen here.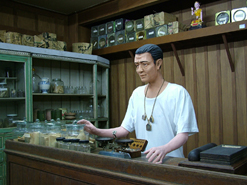 EIlis Pathological Museum : (8th fl. Adulayaωdejv turn Bldg.) Shows the evolution of medicine, and organs infected with diseases which can be detected with the naked eye or seen only under the microscope.
Veekit Veeranuvati Museum : (1st fl. Paob Building) Medical equipment and books collected over 40 years by Dr.Veekit Veeranuvati, the founder of the Gastroenterological Association of Thailand are , pt here. Subjects include examination and diagnostic methods and equipment and research Work.
The exhibition íThe Heart and Soul of the Nationí :(2nd fl. Adulyadejvikrom Building) the new exhibition about King Bhumiphol Adulyadejís 80th yrs-birthday anniversary with audio guide player. Audiovisual devices in both Thai and English will be available at the Guest service desk at the entrance to help narrating all guests on all exhibitís information. Admission fee 40 baht for farangs and 20baht for Thais. 200 baht deposit is required for the audio guide device together with your identification.
The museums are open Monday to Friday from 9 am. to 4 pm. Closed on Sundays and national holidays. For any further information tel. 0 2419 6363 Website: www.si.mahidol.ac.th/museums/th/index.htm
How to get there : visitors can take either bus or ferry. ordinary bus : 19, 57, 81, 83,146, 149 Airconditioned Bus: 91 Ferry from Tha Chang/Tha Phrachan pier to
Wang Lang Pier
(Siriraj Hospital)
Or maybe visit
WangLang Market
whilst you are in the local area.