Thai Vehicle Number Plates
Hello Unregistered,
Getting Your Thai Driving License
Thai Petrol and Gas Prices
Thailand Motorbike Accidents and Hospitals

So lets learn about Thai registration plates, first off they will have where the vehicle is registered, this is written in Thai at the bottom of the number plate, nowadays with it all being computerised you can register your car in any province, previously you actually had to take the car to that province and register it which could turn out to be quite a pain if the vehicle is sold to someone in another province.
Most Thai number plates consist of up to 2 Thai letters and 4 numerals, the letters are listed first on the registration plate.
The latest Bangkok number plates (starting in 2013) have one more number before the 2 Thai letters and 4 numerals. Like "1 กก 1234"
Our first number plate and the most common type of number plate in Thailand, black lettering on a white background, this is your common garden variety of private number plate, ie you buy yourself a car, (need a Non Immigrant Visa to Register it in your Name) this is the type of registration plate you will get, basically a vehicle for private use, non commercial and 7 seats or less.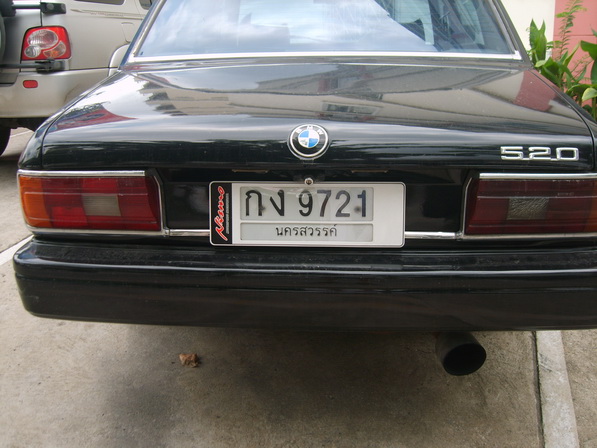 Red registration plates are used for new cars just out of the showroom, these are like "Dealer Plates", ie owned by the showroom and used on your new car till your own registration plates are issued, this can take several weeks and can be a real pain.
With the red plates there are restrictions on there use, ie a vehicle running on red plates isn't allowed to be used at night, nope, I have no idea why, maybe the red plates are not unique so if there is an accident......
Blue lettering on a white background is for van registrations and private vehicles with more than 7 seats.
Black lettering on a blue background is for military vehicles.
Although white lettering on a blue background signifies they are diplomatic number plates.
Thai registration plates using black text on a yellow background are used for taxis.
Green lettering on a white background is used for pick ups.
Green lettering on yellow is for Tuk Tuks.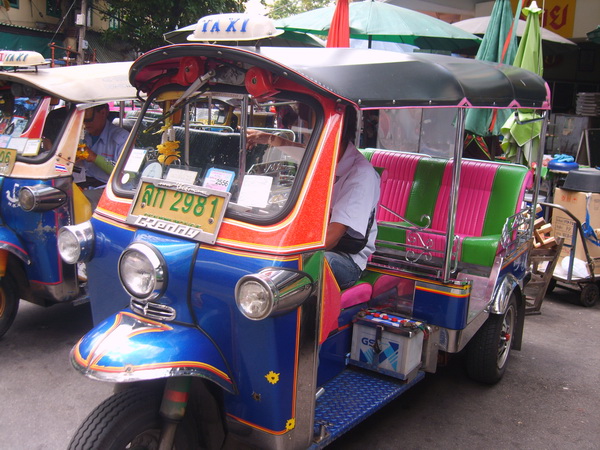 For private vehicles you can also buy personalised number plates, these generally revolve round the numerals and if they are considered lucky or not, a good one, say with 777 can fetch hundreds of thousands of baht at the right time, these generally are auctioned off and highest bidder gets them.
Personal number plates for sale http://www.tabienrot.com/