Penang Visa Run
Everything you need to know about travelling from Thailand to Malaysia and getting a new Thai Visa.
Penang is one of the main places that long term tourists in Thailand use to get a visa, ie people that don't qualify for marriage visas or retirement visas will generally have to do visa runs, with the tightening up of the 30 days visa exempt stamp, ie 15 days on entry, and the clamping down at the Cambodian borders where you need a ticket out of Thailand within the time of your allowed stay, Penang is back to becoming regular visa runners destination again amongst the foreigners in Thailand, although Cambodia is still at present a popular destination for Thailand's
visa runners
.
For information on the weather in Penang or any major town in Malaysia visit the TeakDoor
Malaysia Weather Forecast Page
. For general information on Penang and Malaysia why not visit our
Malaysia Travel Forum
.
TeakDoors News feeds for
Malaysia
and
Penang
are updated hourly.
TeakDoors
Currency Convertor
.
Time and Date in Malaysia
Getting to and from Penang
There are many different ways to get to Penang from Thailand, you can fly from Bangkok with
AirAsia
to Penang at very reasonable prices, they have 2 flights perday, the first leaving at 7.25am which if on time you can take a taxi straight to the Thai consulate to apply for your new visa, the second leaves at 13.55 from Bangkok, you can book a flight using a
Travel Agent
.
If you do decide to fly you can check your flight status for Penang International Airport
here
to make sure it will be leaving on time and arriving on time.
There is a train that leaves from Bangkoks
Hua Lamphong
train station every afternoon at 2.45pm, this arrives at
Padang Besar
on the Malaysian Border early the next morning and carries onto Butterworth, the train arrives there at lunchtime, it is then just a short walk to the
ferry
that will take you across to Penang, you will need some small Malaysian money to pay for your
ferry journey
.
You can view the Train Schedule times for Southern Thailand
here
.
Or maybe take a bus or coach from the Southern bus terminal in Bangkok down to
Hat Yai
and then a mini bus or taxi onwards to Penang Island.
You can also take your own car across at Sadao and many other
borders
between Thailand and Malaysia, at Sadao you will see insurance booths so that you can purchase insurance to drive in Malaysia, for a 2,000cc car etc expect to pay 500baht per month, the insurance offices are just before the Thai immigration booths, also between The Thai and Malaysian immigration is a duty free shop so you can stock up on booze, chocolates, aftershave and cigarettes there, after that it is about 170kms of nice motorway to get to Butterworth where you can choose between the ferry or the bridge to get to Penang Island, here you will have to pay a small nominal fee for either the ferry or the bridge, but on your return from Penang there is no charge, on the motorway are several toll booths so you will need some small change in Malaysian Ringgit.
If you are travelling by train or plane you will need to book your tickets in advance to make sure you get a seat, AirAsia can be booked online or you can buy tickets from them at their office at the airport, AirAsia also have an office on Chulia Street in Penang, train tickets can be booked at most major train stations in Thailand upto 3 months in advance and can now also be booked online, although it is very rare for the trains to be full as they do have quite a few 3rd class carriages, but if you want a sleeping berth then book in advance.
Getting around Penang is quite easy, for local journeys you can use rickshaws, or a taxi, also the bus system is quite good and extremely cheap, you can find maps of Penang and Georgetown
here
.
But as Malaysia has so many
Border Crossing Points
the choice can vary considerably on how you want to travel to Penang.
This is a journey from Penangs Georgetown to Jomtien via Hat Yai, Chumphon, Bangkok and
Pattaya
.
Train or Plane?
Bangkok to Penang by AirAsia, Tips, Tricks and pictures.
Some of our members views about AirAsia
Getting your Thai visa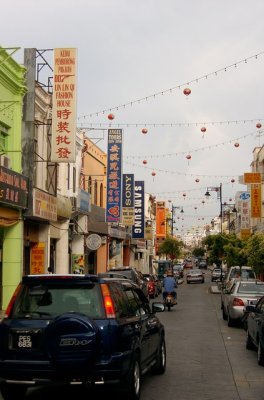 Royal Thai Consulate-General
No. 1, Jalan Tunku Abdul Rahman, 10350 Penang
Telephone: (60-4) 2268029, 2269484
Fax: (60-4) 2263121
E-mail :
To apply for your new Thai visa you can go to the Thai consulate yourself, if you are staying in Georgetown or Batu Ferringhi this will work out more expensive than using a
visa or travel agent
to submit your application for you and then pick your passport up for you.
Passports need to be submitted in the morning between 9am and 11am to be able to get them back the next afternoon between 2pm and 4.30pm, also the Thai consulate in Penang closes on both Thai and Malaysian public holidays so check your dates carefully, otherwise you could be there a few more nights than you expected, the TeakDoor
Calendar
has both Malaysian and Thai public holidays listed.
Malaysia is 1 hour ahead of Thai time so if you want to get back into Thailand that afternoon AirAsia have a flight to Bangkok, or you can get a minibus to Hat Yai and continue on from there by
train
or coach.
Thai Tourist Visa
The Thai consulate in Penang at the present time will only issue single entry tourist visas and will only issue from that consulate 3 times back to back, more info can be found
here.
The cost using a visa agent is 130 Ringgit and you will need 2 passport size photos.
Thai Non Immigrant Visa
The rules for Non Immigrant Visas are forever changing, ie the paperwork you will need to supply etc, if you are applying for a visa so you will be able to get a work permit or renewing a visa if you have already got a work permit then this
page
will be of help, but make sure that you confirm with the Penang consulate before you get there that the page is up to date, if you are after a marriage or retirement visa then this
page
will give you the guidelines, again check before you leave Thailand that the rules are still the same.
Non Immigrant ED 1 year visa
A letter from the Thai Ministry of Education and 2 passport size photos.
This visa will allow you to stay for 90 days and with a second letter from the MOE can extended every 90 days for the year at your local immigration office, the 90 day extensions cost 1,900baht each time and a passport photo is needed each time.
You can also do this using a letter from the school you maybe going to, ie if you was going to learn to speak Thai or learn about Thai culture you would be entitled to a ED Visa, some Thai language schools will do you this letter for free which will get you the initial visa but you will need to study with them to be able to extend your stay.
Hotels in Penang
Penang has every sort of hotel and guesthouse you can think of, from 80baht per night dormitorys in the heart of Georgetown on Chulia Street to luxury beach front hotels on Batu Ferringhi.
The Oriental Hotel
Nice location in the heart of
Georgetown
on the junction of Penang Road and
Leith Street
, also the world famous Kashmir Indian Restaurant is located in the basement of the hotel.
Rooms have air con and hot water.
Hotel Mingood
Hotel Mingood, Argyll Road, 10050 Penang, well placed hotel which will also sort out your paperwork for your new Thai visa for a small fee.
Hotel Continental
Hotel Continental and a tour of Penang
Towards the end of Penang Road near the area of places like
Slippery Senoritas
and the more upmarket bars and restaurants, a bit more upmarket than the Oriental Hotel but quite often has offers which work out less than 1,000baht per night including buffet breakfast.
Blue Diamond Hotel
In the center of Chulia Street in the main backpackers area this hotel is set back a bit from the road and has 2 restaurants in the garden, an international type menu at the Coco Island Restaurant and the El Barrio Food Mexican Restaurant, rooms start from around 200baht per night.
Pin Seng Hotel
Just off of Chulia Street and set back off of Love Lane this one seems the best deal for cheapness and cleanliness with rooms starting at 20 ringgit per night.
Down Love Lane are several other hotels and guesthouses including, Oasis Hotel, Love Lane Inn, Wan Hai Hotel which has a dorm room for 7 ringgit per night, probably a good street to look down if it is a bank holiday weekend and everything else is booked.
Banana GuestHouse
Again on Chulia Street and is most likely where you will be dropped off if your coming from Hat Yai by minibus, free internet if you stay here, the bar has a pool table and a couple of other type games.
Han Chow Hotel and Cafe
The Han Chows main claim to fame is that it does pizza, it is on Chulia Street up near the Leith Street and Penang Street intersection.
E&A Budget Hotel
This cheap Guesthouse is on Chulia Street but set back from the main road so is reasonably quiet.
Stardust Guesthouse and Cafe
On Chulia Street up near Little India, has a few rooms including a dorm room, some are air con, shared bathrooms and showers, clean restaurant downstairs serving basic Western food..
Eating out in Penang
Penang has an amazing variety of food and restaurants, here are a few of my favourite restaurants in
Penang.
Gurney drive
Gurney drive is famous for its food stalls and street food, from Georgetown you can get a bus or a taxi to there.
If you are hungry for more normal European food then Chulia Street has many backpacker type restaurants including places like
Jim's Place
, and
The Malibu Cafe
.
Because Penang is so culturally diverse it has just about every sort of food you could think of, from Chinese to
Indian Restaurants in Georgetown
, also
Little India
is worth a visit as there are many great Indian restaurants there.
Things to do and see in Penang
Batu Ferringhi Beach
, Penangs premier beach resort, several kilometers of beach with low end guesthouses up to 5 star hotels bordering the sandy beach, well worth a visit on any trip to Penang.
Fortcornwallis
was first built by Francis Light in 1786, since then it has been renovated several times and is a nice place to spend a couple of hours.
Penang Hill
is worth a visit, it is the highest point in Penang which makes it a bit cooler, also it has the funicular railway to take you to the top of the hill, also at the top it has an Indian Temple and a Mosque, also it is home to many monkeys and other wildlife.
If you are flying out of Penang airport then it is probably worth stopping off on the way at the
Snake Temple
, you can get there by bus or taxi and it is on the road quite near to the airport, if you use the bus to carry on from the Snake Temple to the airport the bus stop you will get off at is about a 1km walk away, so you really don't want to be carrying a lot of luggage.
Just wandering around Georgetown can be quite an experience and there are many places to
visit
and oppurtunitys for taking some great
photos.

In Georgetown itself there is quite a sex industry, in the evenings places like Love Lane you will find Thai ladymen hanging around and propositioning passersby, also some of the hotels have what they call "Health Clubs", which are generally a front for prostitution, you can read more about it
HERE
.
With Malaysia being such a diverse culture they have many different religions and many different types of places of worship, places like the
Kapitan Keling Mosque
and the
Hainan Temple
on Lebuh Gereja which was built in 1895 are among the many you could visit.
Other Thai Embassies and Consulates in Malaysia
Kuala Lumpur
Royal Thai Embassy, 206 Jalan Ampang, 50450 Kuala Lumpur, Malaysia.
Telephone: (03) 248-8005, 8222, 8350, 8420 Fax: (03) 248-6527
email : thaikl[at]pop1.jaring.my
A virtual tour of Kuala Lumpur
Here
, or have a look at the
Pyramid Tower at Sunway Lagoon Resort Hotel.
Kota Bharu
Royal Thai Consulate-General,
4426 Jalan Pengkalan Chepa,
Kota Bharu, Kelantan 15400,
Telephone: (099) 744-5266, 5934, 748-2545.Fax: (099) 744-9801
Our members have done many trips to Malaysia, including places like
Malacca
,
The Perhentian Islands
in The North East of Malaysia and
Taman Negara National Park
, also in Borneo the
Sarawak National Park and Kuching.
Thailand also has many other
Border Crossing Points
that can be used to do visa runs, you can travel by road to
Burma
, there is a Thai consulate in
Vientiane
where you can apply for visas for Thailand, from
Pattaya
there are many tour companies offering border runs to Cambodia by minibus, also there are similar companies in Bangkok offering these trips by coach or minibus.
From the Northern bus terminal in Bangkok, Morchit, you can get a regular air con bus to Aranyaprathet and carry onto the border and Poi Pet by motorbike taxi or tuk tuk.
If your visa run involves a night in Hat Yai you will find many hotels around the train station, The
Ladda Guesthouse
is about 100 meters from the train station, at the other end of town by the bus station is
C.K Resident GuestHouse
, both of these are very good value for the price, also
eating out in Hat Yai
can be quite an adventure.
Learn to speak Malay
Weather Forecasts for Malaysia
The Time in Malaysia
Other popular destinations for Thailand's visa runners are
Laos
,
Kuala Lumpur
and
Cambodia
.
Other Hotels and Guest Houses in Penang
Marco Polo Apartments
Batu Feringghi
From RM 80 to RM 250 per night.
Marco Polo Apartments
Crystal Guesthouse
No. 294, Lebuh Chulia, 10200 Pulau Pinang, Georgetown.
TEL: +604-263 8068 FAX: +604-261 3599
Crystal Guesthouse
Hotel Equatorial
1 Jalan Bukit Jambul
Bayan Lepas
11900 Penang
Malaysia
Tel: +60 4 643 8111
Fax: +60 4 644 8000
Hotel Equatorial
Parkroyal Penang
Batu Ferringhi Beach
11100 Penang
+60 4 881 1133
+60 4 881 2233
Parkroyal Penang
Cititel Penang
66 Jalan Penang,
10000 Penang, Malaysia
Tel: 604-370 1188
Fax: 604-370 2288
Cititel Penang
The Gurney Resort Hotel and Residences
18 Persiaran Gurney, 10250 Georgetown, Penang.
Tel: 604-370 7000 Fax: 604-370 5000
The Gurney Resort Hotel and Residences
Traders Hotel
Magazine Road
10300
Malaysia
T: (60 4) 262 2622
F: (60 4) 262 6526
Traders Hotel
Sunway Hotel
No. 33, Lorong Baru (New Lane)
10400 Penang
Malaysia
Sunway Hotel
Hotel Mingood Penang
Argyll Road, 10050 Penang, MALAYSIA
Tel: +604-2299922 Fax: +604-2280766
Hotel Mingood Penang
Paradise
527, Jalan Tanjung Bungah,
11200 Tanjung Bungah, Penang
Malaysia
Tel +(6)04-8999999
Fax +(6)04-8990000
Paradise
Crown Jewel Hotel
Tanjung Bungah,
11200 Penang,
Malaysia
Crown Jewel Hotel
Berjaya Georgetown Hotel
Georgetown, Penang,
Malaysia
Tel : +604-227 7111
Fax : +604-226 7111
Berjaya Georgetown Hotel
Copthorne Orchid Hotel
Tanjung Bungah
11200 Penang, Malaysia.
Tel: (604) 892 3333
Fax: (604) 892 3321
Copthorne Orchid Hotel
Tanjung Bungah Beach Hotel
505, Jalan Tanjung Bungah, Tanjung Bungah,11200 Penang, Malaysia.
(604) - 890 8808
Tanjung Bungah Beach Hotel
Eastern & Oriental Hotel (E&O Hotel)
10 Lebuh Farquhar
10200 Penang
Tel : +(6) 04 222 2000
Fax : +(6) 04 261 6333
Eastern & Oriental Hotel (E&O Hotel)