Prologue
I flew from Manchester airport to Jersey & after spending a week on the island, caught a ferry to St Malo, France. After a few drinks with some locals I took the train to Paris & arrived at Charles De Gaul airport just before midnight. I wandered around the airport & noticed on the television that Paris was in flames - something to do with employment law riots. I decided to forget about getting a hotel & jump on a plane out of there, but had no idea where to go. I studied the departure screens, looking for a suitably exotic destination & decided on
Bangkok
. Within an hour I was in the air on a very nice Air France flight, which cost me 1,200 Euros for a three-week return. I hadn't wanted a return ticket, but the girl at the desk explained that this was the only type of ticket they would sell me. I had never been on a plane so long in my life & was glad when we finally touched down, almost fourteen hours later.
One Night In Bangkok
Walking out of Don Muang airport, the first thing that struck me - besides the vast number of people punting Taxis - was the heat. I quickly figured my jeans, jumper & coat weren't going to be suitable for Thailand, but had little else to change into. I called my friend, who I knew had some experience of Thailand & explained to him where I was.
"Get a taxi outside the door & ask them to take you to Pattaya", he said. "Donít go into Bangkok - everything's twice the price - it's worse than London".
I wasn't keen on the idea of not going to Bangkok, but continued listening to what he had to say.
"Get yourself to a place called the Sabai Inn on Soi 2 in Pattaya & call me again when you're there", he concluded.
With his advice in mind I changed only £80 at the money exchange, thinking it was a good idea not to have too much Baht in my pocket, as I couldn't spend what I didn't have. I got into a taxi & asked the driver to take me to Bangkok. I hadnít come halfway across the world not to have a butchers at this famous city. I had no idea where he was taking me, but I was happy enjoying the sights & amused by his limited English vocabulary.
"You want lady? Ha ha! Lady lady", he was repeating, as we pulled up outside a place called the Bangkok Condotel.
Mr Prapan, the taxi driver, was all smiles as he led me into the reception area. Here an older lady - also grinning - escorted me to the reception desk & we went through the motions of checking in. I paid 1200 Baht for the one night, which included a small deposit. I paid Mr Prapan & told him to meet me at the hotel around 12 o'clock the next day, as I wanted to go to Pattaya. He clarified what I had told him by pointing at his watch & saying something I didn't understand. It didn't really matter to me
what
he was saying, as I figured that if he didn't turn up tomorrow, I would simply get a different taxi.
After the lady had showed me to my room, she asked if I would like some company, or words to that effect. I did, so gave her the 2000 Baht she asked for & jumped in the shower, awaiting the arrival of whoever was coming up soon, as she put it. I had never been with a prostitute before & was wondering what I had let myself in for, but to cut a long story short, a nice-enough girl came to my room, we did the business & it was almost the best sex I have ever had.
After getting rid of her (no easy task, as I had assumed the 2000 Baht went to the girl & thought she was taking the piss asking for more money, when, on reflection, she was actually asking for a tip) I left the hotel, flagged a tuk-tuk & asked the driver to take me where the action was.
He set off, giving me no indication that he hadn't a clue what I had just said.
The journey was great, an experience in itself & one of my fondest memories of Thailand is taking in the sights in the back of what is basically a three-wheeled moped driven by a drunken maniac. We eventually stopped at a place called the Embassy Club. I offered the driver some money, but he indicated he would wait for me outside. I tried to push some cash onto him but he wouldn't have any of it, so I left him in the car park & walked up to the door of the club, where some bloke in a shirt & tie gestured for me to walk inside with him.
I had no idea where I was, but gathered from the assortment of girls behind the giant glass wall wearing numbers that it was some kind of knocking shop, albiet tastefully fitted out. I sat in a crescent-shaped booth facing the girls & ordered a Coke - I had earlier decided getting pissed wasn't a good idea.
After five or ten minutes of trying not to gawp at the waving women the bloke in the tie came up & asked me which lady I had chosen. I hadn't chosen any. I was feeling a little stupid, truth be told, as I had wanted to visit a club or pub, not a brothel. Going through the motions, I asked him how much it would cost & he told me 3000 Baht. This was my cue to leave. I only had that much in my pocket. I tried to explain that I was too tired to take a girl & that I wanted to pay for the Coke, but he wasn't having any of it. Eventually he grumbled "40 Baht" at me & I gave him 100 & left.
The tuk-tuk driver was still outside & this time I explained, gesturing with a drinking motion, that I wanted to go to a pub or a club. It dawned on me that he couldn't understand a word I was saying as we set off again but when we came across an outside area full of foreigners drinking I tapped him on the shoulder & told him to stop. I didn't care where I was - this was where I wanted to be. I had no idea at this point I was outside Nana Plaza.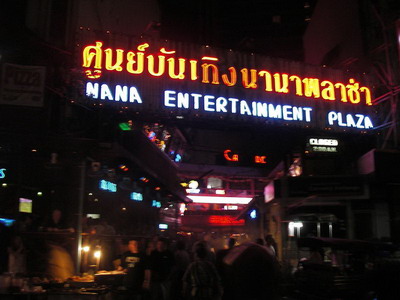 This is where I made what was to be the first of many mistakes in Thailand. I enjoy a smoke & asked the driver if he could get me any. The language barrier took a
lot
of breaking down, but we got there in the end. He wanted me to go with him to get it, but I was aware of my friend's warning that Bangkok can be like London, so I suggested he go & get it then bring it back to me. He seemed unhappy but agreed to meet me at one of the bars outside Nana in half an hour.
I forget the name of the bar but ordered a Coke & sat on a stool near the road, waiting for my delivery. Half an hour went by, in which I was shocked at the sight of all the young kids mooching up & down peddling chewing gum & such. This being my first night in Thailand I didn't know where to buy Rizla papers, so showed one of the kids my almost-empty packet & he snatched them out of my hand, returning moments later with a fresh packet. I gave him 100 Baht for them & he disappeared, looking happy enough.
The tuk-tuks going passed all looked the same to me & I had forgotten what the driver looked like by the time he came back. One of them beeped his horn, waved me over & I guessed that was him. As I got in he drove round the corner & asked me for 1000 Baht. I asked him to show me the shit. He asked for 1000 Baht. I asked him to show me the shit. It was stalemate. This went on for a while until eventually he passed me two cigarettes, screwed shut at the ends. I broke open one the cigs & could only see tobacco. Aware I was being scammed I got out of the tuk-tuk & asked him, once again, to show me the shit. He drove off, shouting something I couldn't understand & that was the last I saw of him.
It didn't occur to me that I hadn't paid him for the ride as I head back to the bar I had just left. As I sat watching people go by, I was sweltering, despite the late hour. The sights & sounds that are familiar to me now were then a complete surprise - the beggars, the mix of farangs,
insect vendors
, hawkers, hookers,
food carts
with those stupid horns & I felt an air of caution everywhere.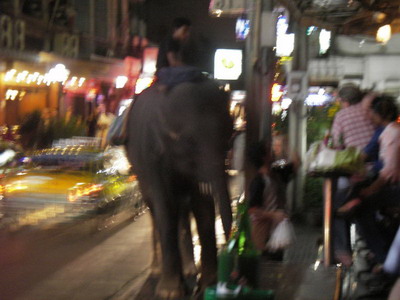 Drugs & Sex & Rock 'n Roll
It wasn't long until my attention was drawn to Nana Plaza.
I didn't know what it was, but it looked like my kind of place. I had a wander around, avoiding the door staff pulling curtains aside, trying to tempt you inside their doors. I was green & they could tell just by looking at me - I must have been the only person in Thaland wearing a coat (I had my travellers cheques in a special pocket & wasn't going to leave them at the hotel - it would cut the trip real short if I'd lost every penny I had). Eventually I found myself in a gogo & before I knew it I was sat with a couple of hot chicks, being expertly relieved of about 400 Baht a round (I'm still on Coke) while taking a ganders at the girls on the stage, about fifteen of them altogether, doing that shuffling thing that they do. I declined all offers of a short-time as I knew my cash wouldn't stretch to it, but didn't let on I hardly had any money - I knew it was the only reason I was getting all this attention.
In no time I was down to my last 200 Baht & I had to go back to the hotel.
I started to worry as I showed the hotel's card to the mototaxi lads, along with my last 200 Baht - they started laughing & went back to what they were doing, which wasn't very much, from what I could see. I realised I didn't have enough money to get back to the hotel. How was I to know what the going rate was? I hadn't paid for the one that brought me here & hadn't given it a second thought. I tried a few different lads & after fifteen or so minutes of flapping around I found a mototaxi who would take me.
The ride back was quite a trip. It seemed I had travelled a long way while I had been pre-occupied taking in the sights earlier. I guessed it would be easy to get lost in Bangkok. I have no idea if he was milking the journey or whether he was doing me a favour by taking me so far for 200 Baht.
Back at the hotel my attention turned again to getting something to smoke & changed £20 into Baht at reception & I didn't care about the dirty look I was getting from the guy behind the desk. It was 2am when I left the hotel & hit the pavement, looking to buy some stuff.
The streets were practically empty. There was the odd moped carrying four or five passengers going by, but not much else. I walked for a long time, careful to stay on roads I would recognise when I eventually had to turn back. I came across a doorway which looked like a small club of some sort. I could hear music playing & I figured my best bet would be to go in for a beer & suss the place out - keep an eye out for moody characters who look like they might sell what I wanted.
I didn't get any further than the door, as three Thai guys who were stood on the kerb outside blocked it as I approached. From my previous conversation with the tuk-tuk driver, I had learnt the Thai for a bit of smoke & blurted out "Ganja?" with as friendly a face as I could muster.
There were funny looks & words exchanged between them & it looked like I was in. Then one of them said "Yaba?" which meant nothing to me.
I repeated, "Ganja?"
More words were exchanged & they gestured for me to follow them down a small Soi, so I did, prepared to run like the wind should a knife or anything come out & my guard wasn't down for a moment. As it turned out I had nothing to worry about. They took me to a guy parked up in a tuk-tuk. I was glad it wasn't the same one as before. They left us alone & I asked him for some ganja. He mentioned yaba & I was back to square one, but this time I was down a back alley in a strange city & I decided that this was probably a bad idea. I made conversation for a while as I sat in the back of his tuk-tuk. He could speak well enough English for me to gather he was asking me for 1000 Baht & he would leave the tuk-tuk as a guarantee - his words - until he came back. What, exactly, he was planning to come back with was unclear, so I made my excuses & left.
In the morning I dressed, packed & went downstairs for breakfast. The menu was limited & I settled for boiled egg & toast. It was disgusting. Mr Prapan was already there. The old lady didn't appear happy that I hadn't booked a taxi through her & some words were exchanged between her & Mr Prapan. I didn't need to speak Thai to realise they weren't pleasant words & she looked glad to see the back of us both as we left the hotel & head for Pattaya.
Going to Pattaya
The journey to Pattaya was uneventful & Mr Prapan had the same limited vocabulary as the day before. He asked for some money to cover the juice & any tolls we would encounter, so I gave him 1000 Baht. When he returned he handed me a Liptovan, drinking his own to show me what it was intended for.
It looked like medicine to me & I was suspicious of waking up robbed in the middle of nowhere & took only a small sip of the drink - trying to appear polite.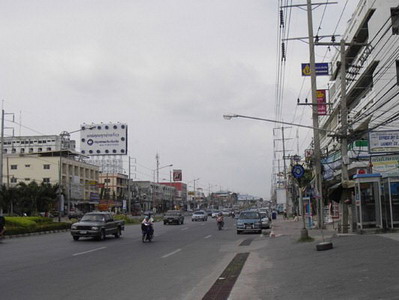 I told him I wanted the Sabai Inn, Soi 2. He made a phone call to somebody for directions & eventually we pulled up outside. The taxi cost a further 500 Baht & he gestured to give me change, which I refused. I looked up & down the Soi & truly believed I had arrived in paradise.
A Pattaya Holiday
The Sabai Inn is a great hotel & excellent value for money. I checked in & went back out quick-time, as I couldn't wait to have a look around. I was also getting thirsty for a beer, but decided to have a look around, see what was what, instead of diving into the nearest bar.
I must have walked past fifty places before I saw an English bar at the 2nd Road end of
Soi 6
. Looking back, the only thing English about the place were several St George flags hanging from the walls, staff wearing England shirts & the owner, who immediately made me feel welcome as I sat on a stool at the bar & ordered a bottle of Heinekin. As I was handed my beer, I was also given a cold towel to wipe my face, as I was to learn is custom in Pattaya.
As I started to wipe the sweat from my head, the owner barked at the girls that it was their job to take of that. Two of them came rushing over & using a towel each, began wiping my head & back of my neck at the same time, which along with a big slug of the ice-cold beer, felt extremely refreshing.
The owner & I went through the motions of getting to know each-other with all the usual questions & he gave me advice on where to buy some decent knock-off clothes & such. He was gushing about how great & wonderful Pattaya was, but his face told another story. It was a face that told me he was making it all up & I came away with the unspoken impression that Pattaya was not as great as he was making out.
I decided to hire a motorbike. I had never been on one before but every man & his dog - literally - seemed to be getting around on one, so I guessed it couldn't be very hard. There was a place just over the road hiring them out for 200 Baht a day & after parting with 1200 Baht & a photocopy of my passport, I was soon zooming around, transfixed by everything I saw, everywhere I went.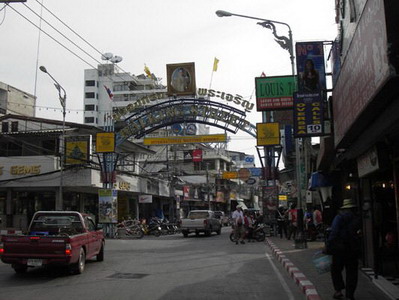 I made the mistake of not wearing the helmet I was given & within twenty minutes or so was stopped by the cops as I was coming the wrong way down
Walking Street
on my way back from the
pier
. I heard a whistle, looked around & there was a cop, indicating for me to stop, which I did. He took the keys out the bike & with a big smile asked me to accompany him into a pod thing by the side of the road which they sit in. He left me with another cop who was sat inside & I was educated in the way Thai police deal with traffic violations to the tune of 500 Baht & sent on my way.
As night fell, I found myself drinking in the beer bar complex at the top of Soi 2. After several unsuccessful attempts at finding anyone to get a smoke from I head for the
beach
, figuring I'd try my luck at some of the bars down that end. Unsure of where I was, I turned right at the bottom of the Soi, where there aren't any bars, only plenty of ladyboys & it wasn't long before I approached - what I believed - to be a group of women & asked if they could get me any stuff. One of them said that they could, but we would have to go somewhere & get it. I fetched my bike & to this day I have no idea where we went, but it was a fucking dump.
To cut a long story short, it was the same scenario as trying to score in Bangkok. Eventually, the guy sold us some yaba & we went back to the Sabai Inn. The hotel doesn't check IDs & I didn't notice any funny looks from the staff that would indicate anything untoward as we went up to the room & I was introduced to what I then found out was basically just amphetamine.
I told the girl that I thought she was very beautiful & she replied "Me same-same".
I took this to mean she thought I was beautiful, too, I placed my hand on her leg & began stroking it. She removed my hand & repeated, "Me same-same".
"What do you mean?", I asked.
"Me same-same you", she replied.
This was all going over my head & it wasn't until she pointed at her crotch, pointed at mine & said again "Me same same you" that it hit me - this girl was actually a
ladyboy
. Initially I was shocked, but saw the funny side of it & we spent the entire night wide-awake & high, chatting about Thai ways & how things
really
worked in Pattaya. I learned a lot & it was a world apart from what I had been told earlier in the day by the owner of the bar I had been to. We talked all night & in the morning he fucked off. I never saw him again after that.
A few days later I checked out of the Sabai Inn & into the Penthouse around Soi Pattaya Land, on the back of an advert I saw in a local magazine declaring it '
Pattaya's Biggest Party Hotel
' alongside some pictures of nearly naked birds & such. Needless to say, the place was a hole & a complete rip-off joint. I was well & truly shafted here - over 4000 Baht for two nights & the invoice when I left had more things added to it than I care to remember.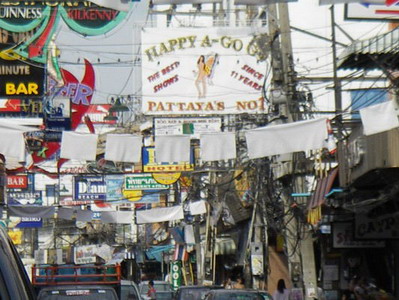 It was around this time I went into a
gogo
on
Walking Street
called Hootys. This is where I met Yupin. She wasn't the prettiest girl in there but that was partly the reason I chose her. Stunning girls are a handful & I don't have time for any of that. I just wanted some decent company to go out with & such. I paid her barfine & we went to Tony's disco for some drinks. Unfortunately, she didn't speak much English, but was more than pleasant enough to be with. She loved it in Tony's - all the girls do - but I hated it. The waiters were pests & the prices took the piss. You could see a lot of money had been spent fitting the place out, but it just looked tacky to me. I danced when she wanted to & went through the motions of pretending I was enjoying it as well, but was glad when we eventually left.
A Day Trip to Koh Larn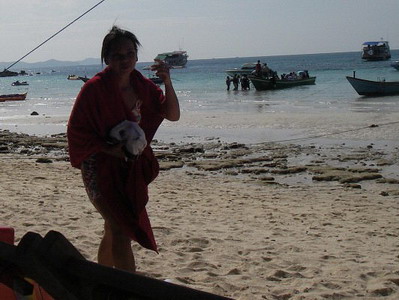 We had a nice night at the
hotel
& in the morning we took the
ferry
over to
Koh Larn
, after I refused to pay 2000 Baht for a speedboat. I had just forked out 2000 Baht to Yupin & 4000 Baht isn't a sum I wanted to be out of pocket within half an hour of getting out of bed. The trip to the island was slow & there was nothing to do when we got there. We sat on some deckchairs & I couldn't help notice the guy next to me had a beautiful girl with him & I began to think I had made a bad move, choosing Yupin the night before. He also had an electronic translator of some sort & as I watched them communicate I knew I had been unwise. I decided to swap Yupin for a beautiful, English-speaking girl that night & relaxed as I waited for the next ferry back to Pattaya.
Back at the hotel, conversation was almost impossible & I was tryng to tell Yupin to go away - as politely as possible, of course - but in the end I resorted to pointing at the door & while this seemed to get the message across, it didn't have the desired effect. She called a friend who spoke good English, passed me the phone & they asked me if I wanted Yupin to stay again that night. I think Yupin knew full well I didn't want her to stay, but there you have it. Eventually, she went, with a moody face on & I found it hard to feel guilty after trying to get rid of her for so long.
I regret it now, but I didn't know at the time that our paths would cross again in the future & she would save me from a serious beating.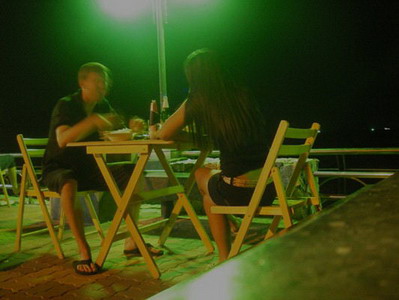 Back to Pattaya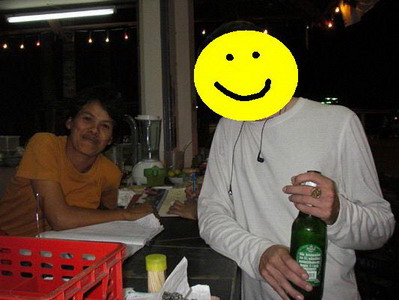 That night I went to
Club Boesche
, with one eye on a waitress I had noticed on a prior visit & the other eye on three girls in the Jacuzzi. The waitress was called Annoye. I paid her barfine, we spent the night together & the next day she took me to see Mini Siam, which has a lot of large models of world-famous landmarks & isn't actually as bad as it sounds. Annoye wasn't quite so beautiful in the daylight - when I was sober - but she was okay & at least she spoke English. We posed for lots of photos & had a really nice day. We spent around a week together & I really liked her, but one morning I found a note attached to my bike & that - as they say - was that.
My thoughts turned to Yupin & that night went back to Hootys to say hello. One thing led to another & we ended up going back to her room & meeting her sister, Yupan, who was stunning - she had some Yank sending her 20,000 Baht a month, so she didn't have to work. She also spoke perfect English. It crossed my mind - more than once - to have myself a piece of Yupan, but I kept my distance, out of respect for Yupin.
The days that followed were great fun & the three of us went everywhere together -
eating
, drinking,
clubbing
, going to the
lighthouse
&
Buddha Hill
late at night, feeding the stray dogs & generally enjoying each-other's company. We only separated when it was time to go to sleep & usually, Yupin would come & sleep with me after we had dropped Yupan off at her room.
I was as happy as the proverbial pig, but wanted to experience some really beautiful women before going home & told Yupin I was going to Phuket - on my bike. I looked at a map sometime afterwards & when I saw for the first time where Phuket actually was & I realised she would have known I was lying.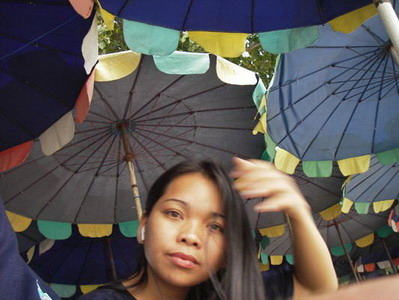 A Pattaya Mishap
I got myself a room in Soi LK & spent the remainder of my time enjoying myself, mainly hanging around with the girls who worked downstairs & getting to know the owner. Two days before I was due to fly home I was down at the beach & had my first go of a jet ski - this proved to be a costly error.
The jet ski was 500 Baht for half hour & I happily skimmed up & down the water until it was time to go back in. This was when the trouble started. The jet ski was designed for two people & the rear seat had come away while I was thrashing it around. There was a gaping hole where the seat should be & as is custom in these situations - it is all the farang's fault. At first, the lady & young guy who I had rented it from started screaming something or other at me, to which offered I a shrug & turned out my pockets, revealing around 200 Baht & smiled, thinking that they couldn't get blood out of a stone & if they thought I was mentioning the last 5000 Baht that I had at the hotel, they were mistaken.
I really thought it would be that simple - I'd just talk my way out of it, no problem. The demand was for 30,000 Baht. I didn't know whether to laugh or cry as the lady & young guy were replaced by three menacing-looking goons, who came out of nowhere, their faces all covered in scars. One of them even had an eye-patch, like some kind of pirate. They surrounded me it dawned on me, all of a sudden, that I was fucked. I considered making a run for it, but dismissed the idea & it seemed Western Union seemed like the only option I had. I started racking my brain for someone who would send me the cash. It was still early in the day back in England & there was plenty time to sort this out.
I made the necessary arrangements over the phone under the watchful eyes of the three thugs & the lady. I assured them it would be about an hour & they seemed - almost - happy with this. We sat on some deckchairs & I explained I was going to have to get my passport to get the money. They wanted to go & get it with me, but I didn't want to take these loons back to the place I was staying, so I called on my only friend in Pattaya - Yupin - to pick up my passport for me & bring it to the beach.
I had a hard time explaining things such as which hotel room I was at, my safe number & what to say to the girls who worked there, but I got the information over, in the end. She didn't seem surprised that I was on the beach in Pattaya, seeing as I was supposed to be in Phuket. Within half an hour she turned up with the passport. I could see her taking stock of the situation & she began to converse with the maniacs, finding out what was going on.
I have no idea what was said between them but eventually Yupin went to the cash machine, withdrew 15,000 Baht, gave it to the lady & with that we were on our way, with some words that were obviously not very friendly thrown in by the pirate for good measure. I knew 15,000 Baht was exactly what she was paid each month for working at Hootys.
Had she just withdrew her entire month's wages & bailed me out of the shit? I tried to ask but she didn't - or pretended - not to understand.
We went back to my room & waited for the Western Union to arrive. I told of the day's events to some farangs in the bar & they were well impressed with Yupin. I waited for the awkward questions about why I wasn't in Phuket to come almost as anxiously as I was waited for my cash, but the subject never came up. It was 11pm by the time my money arrived. God knows what the pirate & his chums would have done to me by this time, but thanks to Yupin forking out & seemingly reducing the sum by half, I never had to find out.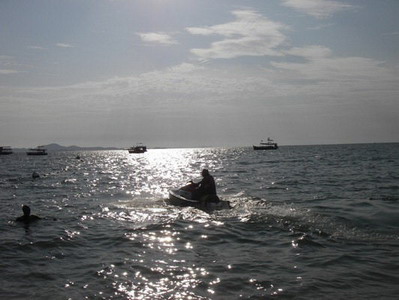 Bangkok Airport Mishap
I gave Yupin her money back & I spent the rest of my time with her. When the time came to fly back to England, she wanted to come & see me off & as we said our strained goodbyes at the airport, I gave her what remaining Baht I had in my pocket - probably a couple of thousand. I proceeded to check-in as she left & was surprised to be asked for 500 Baht departure tax. I had no idea it was payable. Nobody had mentioned it before. I explained that I didn't have it to the bloke behind the desk & was told I would have to ask the other passengers for it. I looked over the faces of the other passengers & they were all Korean, or something. There wasn't one friendly-looking face amongst them & it just seemed like a bad idea. I tried to get a Western Union but it was too late in the day. I got into a slanging match at with some sort of supervisor & that was the end of that. They shut the check-in & left me there, stranded, without a bean. I went outside for a cig & knew what I had to do.
I rang Yupin & told her to come back to the airport. I had limited battery-life on my phone & she was thinking I was only calling to say goodbye again. I was imagining being stuck in Bangkok with no money & no place to stay while the battery on my phone was dying, but eventually it got through to her what I was saying & she came back to the airport in the taxi. The Baht I had given her earlier (I was kicking myself over that) covered the taxi & she had just enough left to pay for one night in the Sabai Inn.
Pattaya Revisited
I had a whole new problem but didn't know it yet - it was Bank Holiday weekend in England & I wouldn't be receiving any money for at least the next four days. I had no money at all & the only thing I had to sustain me was my minibar, which was restocked daily. A phone call to England asking for some cash made me realise what my situation was. I explained it to Yupin. She went out on a mototaxi, returning a short while later with 300 Baht, which she gave me & told me to get some food & stuff, then went to work. That 300 Baht felt like 3000 in my hand & I immediately went to Subway for a Sub of the Day. With the remainder of the cash I got a Baht bus to Walking St & went to see Yupin at work. Things went on like this for a few days. Each night, before she went to work, she would give me 300 Baht & leave me to do my own thing. Sometimes I would buy a couple of her favourite drinks (Spy Coolers) & save them for when she come back. Mostly, I would buy a Subway & some fags then go to Hootys for a single drink, as it was all I could afford. Eventually, I got a wedge from Western Union & I offered Yupin 10,000 Baht as a thank-you, which she refused to take. I insisted she take it but she wouldn't. We had become firm friends.
Pattaya to Cambodia Visa Run
The day came to do a
visa run
& I booked it at the Sportsman on Soi 13. I used to eat a lot in the Sportsman, my favourite meal was the Sunday carvery & the visa run was, as I had expected, a good service. It was around 2,400 Baht for a seat on the bus including all the border fees & a good breakfast. The only downside was the other passengers. There was a Canadian who kept laughing out loud at the on-board movies, when they weren't even funny. Another guy only wanted to talk about all the girls he had fucked up the arse. Neither of them were my cup of tea & I was glad when the trip was over.
I didn't have a passport photo so the girl in charge of the bus took 100 Baht off me & paper-clipped it to my application. Apparently, this would ensure the lack of photograph was overlooked. I was tempted to go & have a look around on the
Cambodian
side of the border, but didn't bother in the end.
When I returned to
Pattaya
, Yupin took me to the bank & using my passport & her address I was able to open a bank account. Yupin pretty much left me to do my own thing after that, but we were always meeting up & I would go to see her when she was at work or when I was passing her room on 3rd Road. Sometimes she was with a customer & I wouldn't see her for a few days.
The last I heard from Yupin she was arranging a visa to Turkey for a holiday with her boyfriend. I hope she is safe & well.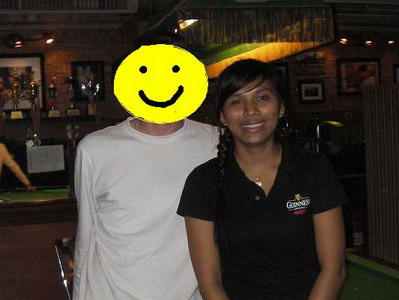 The Seedy Side of Pattaya
I found I was repeating the same old things each day & was becoming a little bored with life in Pattaya. I thought I'd to try & find a smoke from somewhere. I had noticed what looked like drug dealers on Walking Street & decided to start my search there. I was approached soon enough by some dealers, thinly disguised as cigarette vendors. I followed them down the small path which leads from Walking Street to the VC Hotel next to
Soi 8
. They jumped over the barrier halfway down & made their way to a secluded beer bar, which had just a few moody-looking Thai characters sat around it. I could tell not many people would know this place & they certainly weren't looking to bring any customers into it like all the other bars. It looked like a place just for them.
I sat on a stool & ordered a beer. I was offered everything you can imagine - yaba, ice, E, some smoke & cocaine. I wasn't entirely convinced that all the gear was genuine but I decided to take a chance. I bought a few bags of smoke & a large bag of ice. The guys were well happy at the price I paid & I assumed I had overpaid. I didn't mind, as I was grateful to have found myself a proper dealer. I had no idea what ice was & asked them how I was supposed to take it. One of the guys suggested I go to his room, where he had a pipe specifically designed for smoking it.
We ended up in a nice-enough room on Soi Xzyte. Over the next couple of hours, we went through all of the ice & didn't even touch the smoke. It was good shit & we had a great time just sitting talking to each other, smoking & listening to Sek Loso, while he showed me his knife collection. I was well aware that he was a dodgy character, but no worse than half the people I knew back home in Manchester.
Afterwards, we went back to the bar where I had bought the stuff & while the other customers were wary of the strange farang at their bar, it looked like my new-found mate was vouching for me & I was soon being bought beers by the rest of gang, enjoying proper conversation with proper people & there wasn't a fake smile to be seen anywhere. I made sure I bought a beer back for each one I was given & was careful not to take the piss - I liked these guys a lot & could see I would be spending a lot more time with them in the future.
I left the bar at around 5am. My new pals were great & I promised to go & see them again the next day, but I never made it, as I spent the entire time in bed, coming down off the ice & felt like shit. It was the following day when I went back to the bar. The usual suspects were there & they seemed happy enough to see me. I had my City shirt on & the talk turned to football. They were surprisingly clued-up on the game & I was enjoying myself more than I ever did talking to any farang.
I spent all my time hanging around with the dealers. I would spend my days chilling at the bar & at night we would all go to someone's room & get high. We could spend days on end without sleeping & if we weren't at the bar we were in Soi VC or
Soi Korpai
, chilling in the kind of places with the sort of people your average farang would never want to see or meet. I seemed to be accepted by the group as a whole, as they could see I had no fear of anything & was probably a source of some amusement - not to mention always good for a round of beers.
This went on for a couple of months & eventually I decided to fly home. I booked a flight with Qantas & said goodbye to everyone, setting off in plenty of time, making sure I had the departure tax on me this time.
Another Missed Flight at Bangkok
To cut a long story short - I missed the plane. I spent too long in the bar just outside the airport & when I went to check in the desk was closed. I ran around for a while trying to find somebody to help, but as the time for departure passed I resigned myself to another stay in Thailand.
I didn't know what else to do so I went back to the bar outside & while I drank myself into oblivion, contemplated my next move.
I woke up, alone, on a sofa in a small room. As my wits slowly came back to me, I noticed the word
Customs
- written backwards - etched into the frosted glass of the door beneath some Thai writing. It took a moment for the impact of what I was seeing to sink in, but when it did I leapt off the sofa in a panic & took a better look around.
I saw some kind of shrine & a picture of you-know-who on the wall. I was wide-awake now & I wondered to myself what I had done the night before. I could remember missing the plane, going to the bar & that was it. I had no shoes on but found them placed neatly under the sofa. My rucksack was propped against the wall & I hoped I had simply wandered in here drunk the night before & fell asleep.
I opened the door & peered around - it led onto an empty corridor. The coast was clear, so I put on my shoes, grabbed my bag & walked briskly out of the room, looking for a way out, hoping nobody suddenly shouted me back. After what seemed like a lifetime I found another door which led to the departure lounge. I went through & closed it behind me quickly. There were a few people milling about, none of them paying any attention to me. A look at my watch told me it was 5am.
I still wasn't sure how I had ended up where I had, so made my way out of the airport sharpish, in case I was in trouble. I crossed the bridge that leads to the train station & got a mototaxi on the far side to take me to Bangkok.
Despite having my fill of Pattaya, it was all I really knew, so I got into a taxi & went back to the Sabai Inn once again.
I decided to stay away from my dodgy mates for a while, as all the drugs were getting on top of me & I spent my time feeding all the stray animals I could find & keeping myself to myself. I arranged another flight home for the following week.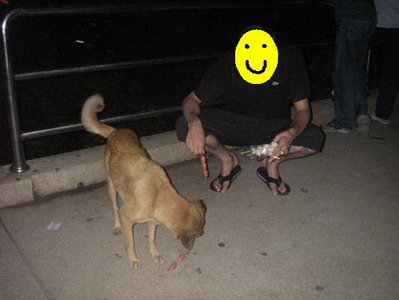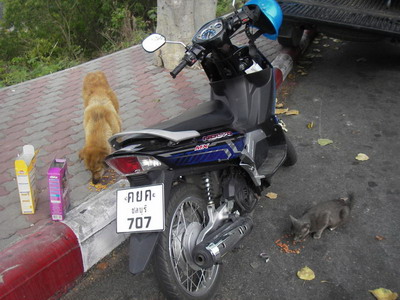 A couple days before I was due to fly out I stopped at the beer bar complex at the top end of Soi 8 & 9. A lovely girl had caught my eye as I was passing & I was going to have myself some as a treat. As I parked the bike, I decided to go for a piss before approaching her. As I walked, a sweet voice said "Hello, where you go?"
I looked around & she was lovely. I smiled back. She wasn't the prettiest girl I've ever seen but she was more than good enough for me. I decided I would forget the first girl & sit with this one after I got back from the toilet. As I came out she was sat at the bar with another farang, who had obviously just bought her a drink. I ordered a beer & waited for him to leave.
The whole time this girl was looking at me & appeared bored to death by the guy she was sitting with. I ordered more beer & continued to wait. After about an hour I was getting fed up & asked for the the check-bin.
There were some words exchanged between her & the girl serving the drinks & on the tray with my change was a phone number. The girl who gave it to me indicated with a nod that it belonged to the girl still sat with the farang. I was pleased. I picked it up, left the change, went back to the hotel & forgot all about her for the rest of the night.
The next night - I was due to fly the day after - I went back to the bar & she was alone this time.
She was pleased to see me as I entered the bar & I wasted no time paying the barfine. I really liked this girl & didn't want to waste time sitting in a beer bar, with all the farang chumps. I don't know what it was exactly, I couldn't put my finger on it, but I had a good feeling about her - the one you get when you just click with someone. I didn't know it yet but I was to fall deeply in love with her.
We went to Walking Street for something to eat, at a place on the corner of Soi 14 & she ordered some Thai food while & I had some kind of meat dish. It cost around 1500 Baht for the food & drinks & it was very nice, though not very good value for money. She spoke good English & by now I could speak a little Thai (to her amusement - it wasn't very good Thai, I guess) & we had a nice time.
A Stay at Jomtien
I was staying at Tony's hotel in
Jomtien
by now. I was curious after I had seen it advertised on the TV every single day & it looked okay on the adverts. It
was
okay, apart from the location - right at the far end of the main road - & the fact that the balcony could be reached easily from the shell of the building which was being built next door & there were a lot of homeless kids, it seemed, sniffing glue or whatever it is kids do, in the area, which wasn't pleasant to see.
We had a really good night & I decided I wasn't going home the next day. I was lucky, as I could change the date on the new ticket I'd bought & paid a travel shop on Soi Buchao 200 Baht to make the phone call for me. I didn't want to do it myself, as I wasn't confident I could do it without a credit card & for the sake of 200 Baht couldn't be bothered to find out.
I had to do yet another
visa run
. I was getting tired of them by now & for a change, I went with Witherspoons on Soi Buchao. Same price, same service, same breakfast - different faces. With all that over with, my shiny-new girlfriend & I got romantic.
My New Pattaya Girlfriend
I felt this girl was different -
that
old chestnut - from anything I had experienced before in Pattaya. The fundamental difference between the other girls & the one I had now fallen in love with was I wasn't giving her any money. That's not to say I didn't give her anything, I had given her 5000 Baht after she asked for money on our second day together, but that was it, apart from a handbag, shoes & some clothes.
She would go to work every night, come back to my room afterwards & stay with me until it was time to go back to work the next day. We never spoke about what she did, but from what I could gather, it was her job to pull punters off 2nd Road & into the bar. We'd start every day with breakfast at Nicky's, an English place on Soi Buchao & plan our day from there. We'd go paragliding on boat trips, take the bike to faraway places & everything in-between. These were the happiest days of my life. My fondest memories of Thailand are of taking the bike up to a harbour around ten miles outside of Pattaya, on the road to Rayong. We would take a picnic & spend all day with our feet in the water watching the boats go by.
A Bangkok Wedding?
I believed she felt the same way about me as I did about her. After only a month I asked her to
marry
me & she said yes. I had no idea what was involved & thought it would be just a case of slipping some monks a few Baht, collecting some paperwork & flying back to England together. As I was to find out, it's not quite as simple as that.
I paid a little visit to a visa shop, the kind that has a load of Polaroid photo's of girls holding passports on the wall. The guy there told me what was what, then he asked for 50,000 Baht, up-front. I had been in Pattaya long enough to know you don't give chancers like this guy 50,000 Baht up-front for anything. I decided to sort it out
myself
.
My girlfriend & I went to Bangkok to see Mama & Papa. We got the bus & as we weren't meeting her parents until the next day, took a look around. We used every form of transport you can imagine to get about & we spent the day shopping.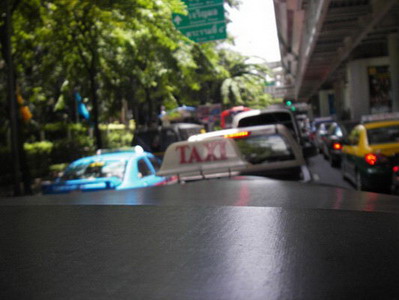 Bangkok Police, Drugs and Bribery
Following her lead, we went to lots of different
pubs
& clubs in the evening. She seemed keen to visit Soi Cowboy, which was a real eye-opener for me. We talked about getting married & meeting her folks the next day. After we left the last pub, we were walking by Ekamai bus station, trying to find a taxi. This was where I got myself arrested.
I didn't see the cops coming over to me until it was too late. I had noticed them out of the corner of my eye, but had no idea that they were heading for me. Five or six of them surrounded me & one snatched my smoke from out of my mouth, proceeding to pick it apart, looking for something inside it.
I was relaxed in the knowledge that there was nothing illegal in it. What I had in my pocket was another matter. I said nothing as they searched me & my girlfriend looked nothing short of scared to death. As their grubby hands rooted through my pockets, one of them could feel a bag of smoke, but because it was in a special hidden pocket, he couldn't get it out.
He told me to pull out whatever it was. I knew that if I did - I was fucked.
I pulled out my ATM card & held it up, hoping he would accept that was what he had felt in my pocket. He run his hand over me again & noticed the stuff was still there. He demanded I get it out, angrily this time.
Resigned to my fate, I pulled out a bag of weed. One of those wagons they drive, with a cage on the back, was parked a few yards away & I figured they were gong to throw me into the back of it any moment. To my surprise, they walked me to some kind of seating area, a long bench, where there were more cops.
The girlfriend followed, not saying a word.
We sat there for a while, saying nothing. I didn't know what to say. I'd heard rumours that I could buy my way out of this situation, but didn't want to be the one who brought it up. A few more cops came over to have a look what was going on. There must have been ten of them altogether. Some were saying things like "You go
police station
" & laughing, others were saying stuff I didn't understand.
After about ten minutes, one of the cops sat next to me & asked, "You want me
help you
?"
I knew what he was getting at & asked him, "How much?" He wanted 40,000 Baht. I only had 75,000 to my name & just under three weeks before I had to fly home, so I offered 20,000. He shook his head & repeated he wanted 40. In Thai I told him 20 & smiled, as if I do this sort of thing every day of the week. I was more than prepared to stump up 40 if they should attempt to throw me in the wagon, but as he turned to his mates & they spoke amongst themselves, I knew I would only have to pay the lesser amount.
Eventually he turned back to me & told me to send my girlfriend to the cash machine for the money.
No fucking way was I sending a bar girl off into the night, with every penny I had, while I sat at the mercy of Bangkok's finest on a drugs racket, hoping she would come back. I pleaded with him that
I
should go, leaving the girlfriend as a kind of deposit & he seemed okay with it - I think he knew what was on my mind.
The girlfriend didn't look too happy, but the last thing on my mind - at that moment - was her feelings.
He gave me a newspaper & explained I was to put the money in it before handing it back to him. They kept hold of my girl & my passport as I went to the machine & withdrew two lots of 10,000 Baht. It took a short while & as I glanced around I could see a bloke who looked like he had been sent to watch me. I paid him little attention as I put the money in the newspaper & made my way back to the cops.
I sat back down on the bench & handed over the money. He took a glance at the contents & smiled to his mates. One of the cops threw my bag at me & told me to go. I grabbed my girl's hand & we went.
We walked for a while. I was a bit shaken-up, but luckily, the cops hadn't found a second bag of smoke I had in my tobacco pouch, so I made a joint & lit it, as we walked, which helped calm me down.
I nearly died when I looked around & saw five or six cops on motorbikes, bearing down on us. It was the same cops as before - the ones who had surrounded me at the bus station.
I started to panic, but I had nothing to fear, as when they reached us, the one who I had handed the money to gave us a big smile & a cheery wave, then disappeared into the night, looking well pleased with himself.
Time to meet the Bangkok inlaws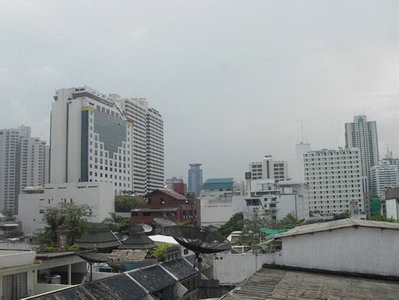 That night we stayed at the Nana hotel. The episode with the police had spoiled the evening & for the first time since we had been together, we didn't really get on. She didn't want to talk & was moody & unresponsive when we went to bed.
When we woke in the morning it seemed, for some reason, things between us had changed. I don't know why. She was unusually quiet over breakfast & I started to have second thoughts about meeting her parents to discuss getting married, but kept my mouth shut, for fear of upsetting her more.
Soon it was time to go & meet Mama & Papa. We got a taxi to some part of town near the Democracy monument. It might have been the Victory monument, I'm not sure. It wasn't far from a shopping centre, wherever it was.
We reached the block where they lived & made our way upstairs, to the very top of the building. There were around five rooms on each floor & people milling about everywhere. We reached her parent's room & knocked on the door.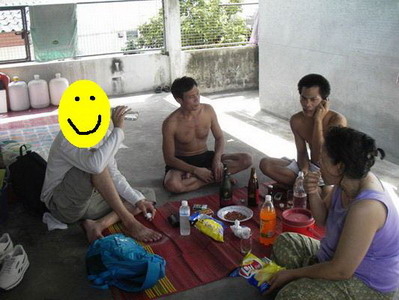 After the introductons, her mother spread a blanket on the floor outside the room & laid out some nuts, crisps & orange juice. Her father pulled out his stash of beer - it was that cheap stuff, I forget the name but you can see the bottle in the photo. We were joined later by her brother. The guys sat drinking & the girls talked. Despite knowing a little bit of Thai I could not understand a word they were saying.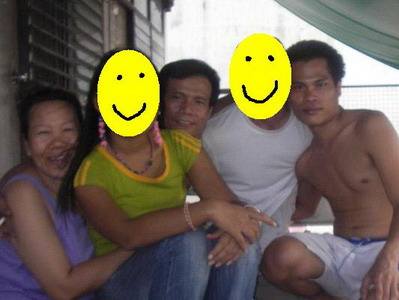 They were very nice to me & I decided I would get a decent bottle to share with the lads. The girlfriend & I went to a shop, where I bought a bottle of Remy, thinking her father would be well impressed with it (he was, too) & we went back to join the family.
There was a heated exchange between them all at one point & I got the feeling they were talking about me. I figured the conversation was about us getting married & I tried to gauge what was being said from their body-language & manner but couldn't figure out what they were saying.
The father & brother were good company. We talked about Manchester United, which consisted of the father repeating "Rooney" now & again, while I told them about the time I used to work there. I knew they couldn't understand, but I wanted to appear to be making an effort & if we were being honest, none of us were bothered about what each-other was actually saying. We were getting along, which was good enough for me.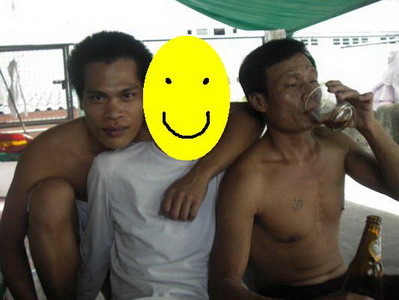 Soon, the father, brother & I were well pissed. We had sunk the brandy & were back on his stuff, which wasn't very good. My girlfriend told me that her parents had fell out lately, because the mother was sick of the father's drinking & that he kept losing his job. I guessed that bringing a bottle wasn't a good idea, but at least the father wasn't complaining.
The neighbour came home - a big, burly bitch, who was none too happy at the sight of us sitting there. I don't know why.She went into her room & reappeared, carrying some kind of vegetables, which she went to work on chopping up & dropping into a bucket the bits she didn't want to keep.
Time past & you could have cut the atmosphere with a knife. There was tension between the neighbours, from what I could gather. I could feel it, though nothing was said. I guess it was the way that everyone was being quiet now she had turned up. Things came to a head all of a sudden when her father emptied the ashtry all over the floor. I though it was amusing, as I had seen him looking around trying to find somewhere better to empty it, but obviously deciding it wasn't worth getting up to do so.
As the ash & fags blew over to the neighbour's patch, she erupted. She threw the knife she was working with at the father. I wasn't quite sure what had just happened. The bucket full of veg came flying over next & went everywhere. Everybody jumped up. The mother started screaming at the neighbour, who started screaming back.
The father & brother made themselves scarce down the stairs, my girlfriend grabbed my arm & said we should go. I thought so, too. We made a sharp exit, saying a
very
quick goodbye to her mother & virtually ran down the stairs, where we said a similarly quick goodbye to the father & brother.
I was unsteady on my feet, as I had drunk too much & was glad when we got into a taxi to Pattaya, in which I fell asleep. As I drifted off, I realised we seemed to have forgotten to mention getting married.
Returning to Pattaya unmarried
Back in Pattaya, things were becoming strained with the girlfriend. There was no real reason for it, as far as I knew. I would wake up next to her & sometimes, almost, simply wish she wasn't there. We would sit & eat breakfast in silence, when before we would have animated, happy conversations. We stopped going on days out & as the romance was began to wear off, I started to get fed up.
One night, while she was at work, I hit Walking Street, minded to check out a couple of gogos. As I parked my bike at the bottom of Walking Street I was approached by one of my old drug-dealing mates. He was with his sister, Supreeya.
Within an hour we were all in their room in
Soi Korpai
, up to our old tricks.
The conversation turned to me hooking up with his sister, Supreeya. I smiled politely & told them I didn't think it was a good idea. I knew that my girlfriend would murder me if I wasn't at the hotel when she came back or able to pick her up if she called. My good intentions went out of the window however & we ended up having sex.
It was late when I got back to the hotel. My girlfriend usually finished work an hour earlier than I arrived. I saw that the light in my room was on as I pulled up outside & I knew that I was in trouble. I had to knock on my door as she had already picked up the key from reception. I had given myself a once-over in the lift on the way up & I while I wasn't looking good, I thought I would pass an inspection. If I could have a quick shower & I would be right as rain. While I waited for her to answer the door, I didn't think for one moment that she would know where I had been. How could she?
She opened the door & it must have been written all over my face - she grabbed me & sniffed me, not as a kiss, but to find out what she could smell. She took a step back & her face morphed into a crying shape. I moved to step into the room & she hit me in the chest & shouted "You go with lady!" then started to fill up. The noise in the corridor was
loud
, so I tried to push past her, only to be pushed back again, while she continued to shout. This was rapidly developing into a situation.
I knew that if I handled this wrong, things could easily get out of hand. I shoved her into the room, rushed in & shut the door behind me. I turned & listened at the door to see if we had brought any attention onto us, but it seemed nobody had heard a thing or they had chosen to ignore it.
As I turned back around, she was sat on the bed, crying.
Without saying a word I went into the bathroom & jumped in the shower I didn't lock or even close the door behind me, as I thought this would have made it obvious I was trying to hide something. As I emerged she was still sat on the bed, weeping pathetically - not really crying. I noticed she had been in the fridge & opened a beer. She had never done that before.
I said to her "Why do you say me go with lady?"
"Where you go?" she retorted.
I managed to convince her I was with some farang friends who lived on Soi Xzyte & said I'd been having a smoke - which I knew she disapproved of & gave my story credibility - as the reason I hadn't told her where I had been. Eventually she calmed down & it seemed I had got away with it.
After we had made the peace, I lay awake all night while she slept & I couldn't help but thinking how much I loved her. I decided I wouldn't mess around any more & tomorrow would put a renewed energy into getting married & taking her to England. Unfortunately, the next day I felt like shit & never got round to it. The moment was gone after that. We continued to see each-other, though things were rapidly losing their shine. She started to ask for a lot more cash, but the way I see it, it was only money & I
had
been with her a long time.
Then one day, someone put the idea into her head to work in a gogo.
Working in a gogo is not a nice girls game. Forget what you think you know about them - it's a myth. They are ruthless money-grabbers, with only one objective - screwing you out of money. Their desire for things such as the latest mobile phone & gold pale into insignificance next to their desire for every last bit of your cash. They will lie, cheat, steal & even throw you off a condo - if they have the right connections - as long as there's something in it for them.
Soon she was working at Shark gogo above Soi Diamond & life became routine. I would drop her off at work, go for a few beers & pick her up when she finished. We would sometimes go to Lucifers or a beer bar on Soi 2, if we fancied a quieter drink.
I would go to her gogo for a drink most nights. I soon became friendly with the mamasan & was almost part of the furniture between 9-10 o'clock, when it was quiet, but would make myself scarce when the punters started coming in, as I didn't want to get in the way. Until they did, I would sit with my girlfriend & the mammasan, getting the drinks in & occasionally recieving a drink back.
I would go & see my old friends now & again. They were still there, doing the same old thing, but I showed uncharacteristic restraint when offered any of their wares nowadays, as I knew where it would lead & didn't want to upset my girlfriend any more.
Working at Shark, my girlfriend met some bad people. Looking back, I am in no doubt where she got the idea to hire a hitman to kill me.
My girl used to talk about a new friend she had met at Shark in admiration, as she seemed to know all the moves for skanking punters out of their money & never seemed to be short of cash, while my girlfriend, I think, was struggling a bit with her new job.
As time went on, she spent less of it with me. She would sometimes stay out all night & not answer her phone if I called. Instead she would ring me out of the blue when she wanted picking up from somewhere or more cash. Sometimes we would go for a coffee or something to eat, but the romantic days out & going clubbing together had gone out of the window.
Days could pass & I wouldn't hear from her. I would have to go to Shark if I wanted to see her & it would always be a short visit. We'd talk, I'd buy a drink, then I would go, sometimes asking her to come to the hotel afterwards, sometimes not, depending on the vibe I was getting.
I was almost happy with the arrangement, as it gave me an opportunity to check out some other places I'd recently noticed, withour fear of being caught doing anything wrong. She could hardly complain if I wasn't at the hotel when she came home, if she wasn't expected to be at home. I knew in my head things were over when I started taking girls back to the hotel, long-time, assuming I would be okay because she hardly ever came round any more.
I decided to go back to England - alone. I'd had enough of Pattaya & spent what was to be my final week or so with many different girls, only sometimes going to see my girl at work & never spending the night together any more.
A new room for my GoGo Girl, a going away present
Soon it was time to tell her I was going. She was okay about it & as it turned out, I was more upset than her. We spoke for a while & in the end, out of some twisted sense of giving a shit, I offered to pay for her room while I was gone. I guess I thought, at the back of my mind, I would always know where she would be if I ever came back to Pattaya. The talk soon turned to getting her a better room than the one she had.
Within a couple of days I had got her a room just off Soi Bua Khao. The room wasn't fantastic, but after I had bought a TV, DVD & some bedding & what-have-you it was more than okay & a lot better than the one she was already living in.
With only a few days left before I had to leave, we spent our time together. I paid her barfine so she wouldn't have to got to work & would also hang around with her new friend from Shark a lot, which I didn't like at all, but kept it to myself. I figured I was leaving soon & the friends that remained here with her were of more importance than me, so went along with it to keep her happy.
She came to see me off at the airport & we both cried as we went our seperate ways. She promised to stay in touch & I promised to send the rent for her room over every month.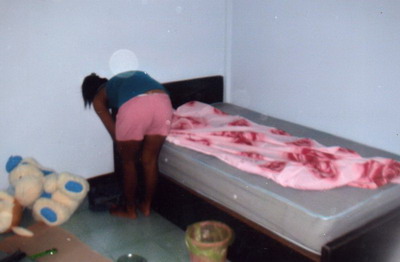 In Happier times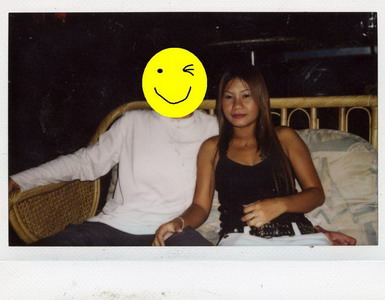 Bangkok to Amsterdam
My flight was to Amsterdam & as I pulled the blanket over myself to go to sleep on the plane, I thought about everything that had happened & was both happy & sad - in a way - it was all over. It wasn't until later, as I was sitting in my favourite coffee-shop, in the middle of the red-light district, enjoying a smoke, that I began to have second thoughts about going back to England - there was nothing there for me.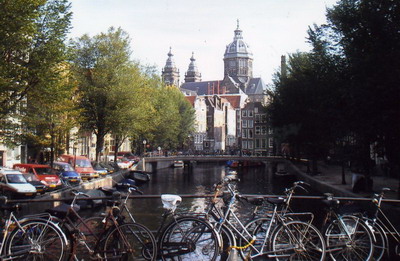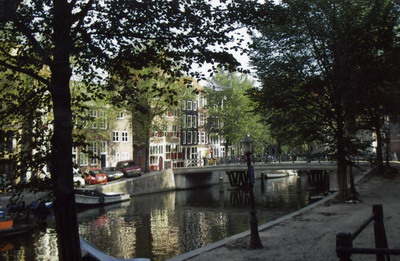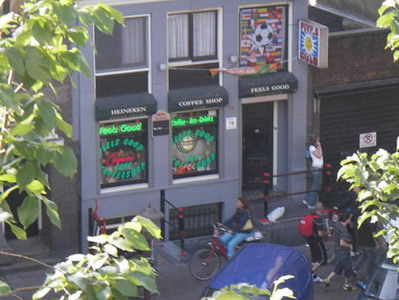 I spent a few days in Amsterdam, considering my next move. While sitting in the coffee-shop one day I got chatting to some Australian tourists & was enjoying telling them how wonderful Thailand was, when suddenly my phone rang.
I could see it was her & answered it on loudspeaker, thinking my new Oz mates would be well impressed when I spoke to her in Thai.
"Sawasdee", I said.
"Hellooo", she replied.
"Sabai dee mai?" I asked.
Her reply stunned me & I thought for a moment I had the wrong person. "What's your name?" she retorted.
Was she taking the piss? I'd only left her less than a week ago & she had just phoned
me
. I was feeling more than a little stupid. I asked her what she meant by asking me what my name was. The Australians were smiling at each-other.
"What's your name?" she repeated.
Something was going on. Thinking about it now, she was likely with a customer, but that didn't explain why she had phoned me in the first place. I hung up the phone. The Australians - stoned - were laughing out loud by now. I looked like an idiot.
After a few more drinks I made my way back to the hotel. I tried to call her, but the phone was switched off. It was on my mind as I went to sleep & when I woke, early the next morning, I decided I would go back to Pattaya & see her. It was all the excuse not to go back to England I needed. I bought a ticket from a travel agent for a KLM flight leaving that afternoon.
Amsterdam to Bangkok and on to Pattaya
The flight was uneventful. I got into a taxi right outside the airport & was in Pattaya in no time.
The first thing that entered my head as we turned off Sukhumvit Road into Pattaya, was that I would buy her a motorbike. I thought it would be bad form to come back without some sort of present & figured I'd get her something I could make use of myself. It turned out buying a motorbike was more complicated than I had thought, so I got on a Baht bus to the Sabbai Inn.
Everyone at the hotel was pleasantly suprised to see me & I was pleased to be back Securing my favourite room was no trouble at all. I had treated myself to a duty-free bottle of Grey Goose & opened it up, pouring myself a large measure - neat, no ice - while sitting on the bed, next to the phone. I looked out of the window, half expecting to see her coming down the Soi, for no good reason at all. As I watched Pattaya-life go by I felt nothing but familiarity & contempt.
I sat there for the longest time, as I wondered - what was I going to say?
I looked out of the window, back to the phone, took a slug of vodka & things went on like that for while. I knew that if I called her, I was commited so to speak & that I wouldn't be able to meet anyone else, such as Yupin, who I hadn't seen for a while.
As the vodka took hold it dawned on me that I had made a terrible mistake coming back to Pattaya. I wondered why I had come back, exactly? I had done it on the back of a whim & was deeply regretting it now.
However, I was stuck here for three weeks now, so decided to make the most of it.
Getting a motorbike was easy as the guys knew me so well they didn't even take any money or a copy of my passport as I picked my bike & I headed for Walking Street.
I had decided to meet my old friends in the bar & after getting high was minded to head over to Shark. I made the short walk & bounded up the stairs, getting that superstar reception you do when the doorman thinks he is your best friend & as he opened the door I pulled the curtain to one side & walked in.
I looked around but couldn't see her. I was recognized instantly by the service girls & they guided me to my favourite seat, pretending to be pleased to see me. As I sat down & looked deeper into the crowd I still couldn't see her. The waitress brought my drink over then quickly disappeared, rather than sitting with me as she had done in the past. The place was busy, so I couldn't start demanding attention, but I got the impression something was wrong. I felt out of place.
I almost felt relieved, as I was beginning to have second thoughts about meeting her & it meant I could fuckoff & do what I wanted. I didn't try to call her, as it would have sealed my fate had she answered. The mammasan beat me to it & came over with a mobile phone, indicating that it was for me. I was in no doubt as to who it was it was, but the music was so loud, I had to take it outside.
Her concept of conversation had vastly improved since we had last spoken, but now her tone was dark. She was trying to sound pleased that I had come back, but it was painfully obvious that she wasn't. I sat on a stool at the outside bar area, the mammasan close behind me, keeping a beady eye on her phone & we talked about meeting up. I didn't ask her where she was & she said she would be there soon.
I went & sat back in the club. Taking into account her tone on the phone & the fact nobody was coming near me, I should have guessed that something was up, but I didn't & I never noticed that her friend was conspicuous by her absence, either.
Eventually she turned up, looking lovely & I wasted no time getting out of there. We went to Lucifers & I found myself pleased to be with her again, but painfully aware that paying her barfine every night & doing the same old thing as last time I was here was not what I'd had in mind. She seemed to be enjoying herself as we danced in the hot club, full of monkeys & playing music so loud you can't even think, let alone talk. It finally sunk in that I had been deeply unwise coming back to Pattaya.
It was raining heavily as we left & being the gentleman that I am, I went to some mototaxi guys & bought one of their rain-proof capes for 60 Baht, taking it & the bike to the front of Lucifers. As we rode to the hotel, we didn't talk at all. After we arrived & was settled in the room, she asked me if she could borrow the bike to go home & get changed. I said okay. She was gone for at least three hours. When she came back she was wearing exactly the same clothes as she'd had on when she left. She told me she'd had an accident on the bike & started banging on about how wet it was at the top of the Soi. I took the customary look at her - supposedly - injured knee, but there was nothing wrong with it. I was more concerned what the damage to the bike was going to cost me when I asked her where had she been?
She came out with "I go room."
I gave it up quickly. I knew there was no point having this out. I turned my back & watched the television. We ignored each-other for the rest of the night. I couldn't wait to get rid of her in the morning. Early the next day I went to Soi LK to see an old lady who I had formed a friendship with in the past. She did the cleaning & early shift at a guesthouse, when no customers were around. I knew I could talk to her & she wouldn't have an agenda, like most of the people in Pattaya. She made us coffee & we sat down to talk. She told me I should wait for the girlfriend to leave the hotel & when she did, just check-out & disappear - simple as that.
I arrived back at the hotel around four o'clock & she had gore. On the table by the side of the phone was a note, written in lipstick.
If you want see me again call me
I know what you do
Where she had wrote, I know what you do, it looked like it was written as an afterthought. I ponderered the significance of it, but failed failed to come up with any one thing that it could be. I climbed into bed instead of checking-out. It didn't look like she was going to bother me any more.
I woke up around eleven, showered & decided to hit the town. I punched my code into the safe & it made a strange noise - indicating it was had been rejected. I pushed it in again, but it still didn't work. I tried once more, but the whole thing shut down, obviously some kind of safety feature.
I got on the phone to reception but was told the gadget they use to over-ride the security on the safe can only be accessed by the manager & he wouldn't be in until the morning. This sounded feasable enough, so I left it at that.
I only had a few thousand Baht to play with before the manager came to open the safe - plenty to go & have a drink, but not enough to get properly wasted with the lads. I ended up going down to the Thai bar & hooked up with Supreeya again.
She had one of her friends in tow, who was having a crisis because her farang boyfriend didn't want to know any her more. She was constantly in tears, wailing & getting on my nerves - I'd seen it all before. Eventually we ditched her in Walking Street & both went back to the hotel.
In the morning, the manager came up to open the safe. As he was connecting the device that opens it up, he explained that the reason it had shut down was because the wrong code had been entered five times. I could only remember three attempts & it hit me that my girlfriend had obviously been trying to open it the day before. As he opened the door, however, all my money was intact. I made a mental note not to trust her again.
Supreeya wouldn't take a hint when it was time for her to leave. I had to treat her nice because of who her brother was, so slinging her out wasn't an option. I took her to the bar & was hoping there would be somebody there who I could leave her with, but there wasn't & as I waited for someone to come along who I could leave her with, we got talking to a
ladyboy
, who was already at the bar when we arrived.
He had some cheap gear & asked if I was interested. I was, but not at that moment. We swapped numbers in anticipation of some future deal & as we talked, it became clear that he knew my girlfriend. I must have made my interest in her too obvious, as when I asked him what he knew about her, he clammed-up, making out he didn't know her all of a sudden.
He was talking to Supreeya a lot & when I asked them if they knew each-other, they told me that they didn't & I knew it was a lie. They were so engrossed in talking to each-other I dug out my phone & set it recording their conversation without them noticing.
I would find out what they were talking about later. I knew an old friend who would help me translate it.
As I got to Yupin's room block of flats I couldn't get in the bottom door so whistled up at the balcony. She popped her head over & looked happy to see me & threw down the keys. I made my way up to her room. Yupan was there as well, having problems getting something on her new laptop to work. I smiled at the thought of the Yank buying it for her. I sat down on the bed, eager to find out what had been said & I explained to them what I had done. I asked them to listen to the recording & tell me what had been said.
They were quite excited by the whole thing. We crowded together on the bed around the phone. I set it to loudspeaker & let it play. The recording stopped suddenly after two minutes & I assumed it must have been the default setting on the phone. They had listened in silence, concentrating hard, as the recording wasn't very good. As it ended, they looked at me in a strange way & Yupin asked "What did you do?"
This was an expansive question & I asked her what she meant. I could see by their faces what she was going to tell me wasn't going to be good. I felt like a naughty child as I waited for her to start talking. When she did, it revealed to me a lesson you never learn until it is too late -
everybody
in Pattaya knows each-other.
It was clear that the girlfriend knew about me & Supreeya. Listening to the conversation again, I could pick out where her name was being said. Apparantly, she had known the whole time, from the moment I had first left Supreeya's room all those months ago.
I felt like a bad guy. The significance of I know what you do set in when I got back to the hotel & re-read the note.
I spent my time alone after that, doing the same old things as before, seeing the same old stray dogs & only going to any bars where I wouldn't bump into any familiar faces. I would go to the Thai bar to score but that was all. I wouldn't stay for more than one drink.
I had a week before I had to go home & was relaxing in the hotel when I received a text message in Thai - I couldn't read it. I took it downstairs * asked the girl on reception to tell me what it said. Apparently, it was the girlfriend's mother, asking for my girlfriend to get in touch. I knew this wasn't right, the mother shouldn't even have my number. I figured it was the girlfriend being crafty & I should have trashed it there & then, but instead I forwarded the message onto her phone.
A few hours later, I got a thank-you for sending the message & asked if I want to meet up. I could see exactly where she was coming from, but figured it couldn't do any harm. I still had feelings for the her, whatever she did or didn't know about me.
We met in Starbucks & as we drank our coffee, I asked her to tell me what she knew. She would only respond with "Not want to speak truth", which was fine by me. I didn't want to talk about it either. As it turned out, we got on great. I began paying her barfines again & I almost felt sad knowing I would be leaving her soon.
I have no idea what possessed me to say it, but lay in each-other's arms one night I told her I would give her a large sum of money, as a kind of leaving present. I knew how pleased she was that I'd agreed to be pay her rent every month & I just got carried away - a bit too into the spirit of having a Thai girlfriend, you could say. I wasn't the first & certainly won't be the last.
She wanted a gold ring from Soi Buchao - 8000 Baht. We went to the shop & she picked one out straight away. She had obviously had her eye on it for a while. It was 8700 Baht, but I let it slide & as we made our way down Soi Diamond on the bike I could see her admiring the ring out of the corner of my eye & was pleased I had made her happy, but began to have doubts about my new role as a cash-buffalo. I decided I wasn't going to give her any money after all.
As I turned onto 2nd Rd, somebody was beeping their horn at me. I looked around & it was the
ladyboy
I had met in the bar when I was with Supreeya. It looked as though he had something urgent to say, as he was waving like a madman & shouting, indicating I should pull over.
I didn't want to stop. I had my girl on the bike & everything had been going so well. The last thing I needed was a conversation between the three of us & all the explaining that would have to go with it. I had completely forgotten at this point that they already knew each-other.
The girlfriend was pulling my shirt & making noises about stopping, but I ignored her & considered the best way to lose him as we approached the police box at the junction of Pattaya Klang. I figured that if I jumped the red light, he wouldn't follow for fear of being stopped by the police & figured if they stopped me, a 500 Baht fine was small price to pay.
I thought I had a fool-proof plan, but it went pear-shaped the minute I arrived at Pattaya Klang. I couldn't fit through the gaps in-between the traffic & was forced to stop. I suppose it was for the best - who wants to be chased through the streets by a
ladyboy
? I resigned myself to whatever was coming. As he pulled up behind me I said hello & I suddenly remembered that these two knew each-other, but they didn't know that I knew & thought I had the upper hand.
We pulled over somewhere before
Yodsak
. They tried to make out they didn't know each-other as the ladyboy asked me if I wanted any gear. I just shugged & said "Mai, khrap", hoping that would be the end of the matter. The two of them exchanged a glance which spoke louder than word & it was all highly suspicious, but what could I say?
I wanted to forget all about it - pretend it never happened - but it brought home to me just how deceptive the girlfriend was now being. I didn't mind giving her money & gold, like some sort of regular farang fool, but it was different being treated as one. I began to get annoyed & decided I would tell her when we reached the hotel that I wasn't going to give her any money after all.
She didn't take too kindly to the revelation that I wasn't going to give her the money any more, but I offered to still pay her rent, as I had said I would before. When it sunk in she wasn't getting the big prize she went bananas
.
I don't think I have ever seen anyone so angry. Her face was twisted with rage & I knew that she was about to get violent. I calmed her down by telling her I'd changed my mind - I had no intention of changing my mind - in an attempt to keep the peace & it seemed to work, although she was like a coiled spring from that moment on & I avoided saying anything that might set her off after that. I think she knew I was lying & she wouldn't have been wrong if she did.
She wanted to take a chunk out of the money I had left - a couple of thousand Baht - but I told her that I was getting a special Western Union sent over, just for her, in a couple of days. She wanted to know how much. Seeing as I was making the whole thing up, I plucked £5000 out of the air. It seemed as good a figure as any & of course she was over the moon.
I could get rid of her only for short periods, after that. She was protecting her investment, as it were, by hardly letting me out of her sight. When I could manage to escape I would usually go to say goodbye to the people I had met during my time in Pattaya.
A couple of days before I was duw to fly home, I was talking to some guys I knew in the Thai bar & I plucked up the courage to ask them about everything that was going on. I asked what the connection beween the
ladyboy
, my girlfriend, Supreeya & everyone else involved in this mess was?
I was surprised by their totally honest answer. They told me how everybody knew everyone else in this town & how my girlfriend knew full well
everything
I had been up to from the minute I had first arrived in Pattaya. I was taken aback, particularly by the fact that my girlfriend had obviously been here a lot longer than she had told me. My illusions were shattered. I had been a fool & looking back, I suppose it had been staring me in the face for a long time. I told them all about the deal I had with the girlfriend & what my intentions were. We had a good laugh about it & when I went back to the hotel later on, she wasn't there - which was unusual.
I had no idea where she was or what she was doing & least of all what she now knew. I didn't phone her, as I was half-glad of the break. I cracked open a beer & sat on the bed, contemplating whether or not to do a runner there & then. If I checked-out now & went to Bangkok, nobody would be any the wiser. It seemed like a good idea, but I had no real reason to flee just yet & another opportunity to slip away would present itself, I was sure. Besides, it would be just my luck for her to come back as I was checking-out, or something, so I decided to hang around. I had 48hrs before I had to be at the airport.
Sitting in my room & watching Fox news, I couldn't have known she was hiring a hitman. Drinking Heinekin & enjoying a smoke, I was sealing my fate gladly.
When she didn't come home all night I wasn't surprised - she had form for vanishing acts - but when I found her phone was switched off the next morning, I began to wonder where she was. This was my last full day in Pattaya. Tomorrow I was leaving for the airport, no later than around six o'clock, I reckoned.
I showered & head for breakfast at the Sportsman, they usually have all the newspapers & it would save me stopping to buy one on the way. I paid little attention to the dark blue car with blacked-out windows near my bike in the hotel car park & neither did I notice it follow me up Beach Rd. It was only as I turned up Soi 13/1, intending to double-back down Soi 13, that I noticed something close behind me.
Looking at my mirror, I thought the car was driving a little too close but at that stage it was just another car & gave me no cause for concern. As I pulled up outside the pub, the car sped past me down the Soi, as fast as the speed humps would allow. I couldn't see the occupants & didn't give it much thought, but I would recognise the car again, whenever I saw it subsequently.
I read the paper after breakfast I occasionaly tried to call her again, but there was still no answer. I decided to head for a last ride round Buddha Hill. As I approached Walking St, I saw Supreeya hanging around the motorbike parking area. I pulled in, intending to say goodbye. She looked surprised to see me & kept looking around a lot as I approached.
I said my goodbye & as I tried to ride away, she wouldn't let go of the bike. She didn't want me to leave. She had an anxious manner about her & continued to look around, but as she couldn't speak much English & I couldn't make out what she was saying in Thai, I assumed she was simply sad that I was leaving.
Turns out she wasn't sad - she was scared, but I never noticed this at the time.
Eventually I managed to get away & after a circuit of the hill & the lighthouse, I arrived back at the hotel & noticed the same blue car I had seen that morning already parked there. I paid it little attention & spent the afternoon sat by my window, watching Pattaya go by while enjoying the minibar & a smoke. I had an excellent view of the whole Soi & also a good view of the blue car in the car park, which became conspicuous as I noticed it never moved all day & could tell there was somebody sat inside it.
I watched with interest as the pub next door started to get ready to trade, as the parking is for customers only & I knew somebody would approach whoever was in the car & tell them to get off the car park.
As the security guard approached the car, it drove off quickly down the Soi without a word being exchanged. I began to get suspicious but dismissed the idea that it was following me as paranoia.
I was quite happy where I was & I didn't have much inclination to go out, despite this being my last night in Thailand. I had seen everything there was to see & done everything there was to do already. I decided it would be a better idea to wake up fresh rather than hungover in the morning.
As the night wore on, I started to get phone calls from virtually everybody I had met in Pattaya - mainly Thai but also farang - asking to meet them for a drink. As I declined invite after invite, I wondered why all these calls were coming in now & why the girlfriend still hadn't got in touch.
The hotel phone started to ring. I don't know why I thought it would be my girlfriend, I just did. I answered & got the familiar "Hellooo", but it wasn't here. I couldn't tell who it was as they didn't say anything else. I was about to hang up, when the receptionist came on the line & told me there was a girl downstairs who wanted to see me. I told her to send them up to my room. I had no idea who it was.
As I waited in the doorway, Supreeya appeared at the end of the corridor. My first thought was to get rid of her, quickly, in case the girlfriend showed up & I had a big problem on my hands. I invited her into the room & got her a drink. She started to talk & with a little patience, I was finally able to tell what she had been trying to say earlier on. I had to keep asking her to repeat the parts I could understand, as it sounded more than a little far-fetched, but from the look on her face I could tell she was being genuine.
As it turned out, my girlfriend had told her friend who she worked with at Shark, that I was getting 350,000 Baht from Western Union that day & after promising to give it to her, I had changed my mind & was planning on doing a runner, instead. This was fair enough, there was some truth in it & I didn't need to ask myself how she had found out.
What the guys at the bar had failed to tell her was I had no intention of collecting any money that day, or the next & wasn't giving anything to anyone - nobody had stopped to think of this, of course.
Supreeya told me what was going down. My girl & her friend had decided they were going to take the money from me as I was returning from Western Union & had hired some guys to "Do the necessary", as she put it. The plan was to knock me off my bike, then while I was lay in the road, likely bleeding to death, steal the money from me. She told me the guys always carried a gun, but that they didn't intend to shoot me - unless they had to.
I started to worry.
I started going over all the phone calls I had been recieving & looking closer at the times & suggested meeting points. I remembered what I had been told about everybody knowing everyone else & things fell into place. I was being set-up, for sure. The presence of the blue car all day also made sense to me now. I was grateful to Supreeya, but at the same time couldn't bring myself to completely trust her, so I thanked her & made her leave.
I sat alone by the window as night fell, looking onto the Soi & wondered if what I had been told was true or some kind of joke. It was certainly plausable that the girlfriend would have me killed for messing her around & the fact she had vanished lately only added credibility to the idea. I contemplated how I would get out of there safely the next day. I only needed to get to Bangkok & wouldn't be making any trip to Western Union. Unless they somehow thought I had gone for it already - without them noticing - until they saw me actually go to pick any money up, I guessed I would be safe.
The next morning - my last day - I woke up & was wary about leaving the hotel for beakfast. I looked around for anything suspicious, especially the blue car, but I saw nothing & decided to take a chance. I went to Nickys, on Soi Buchao, as there were lots of junctions & turns I could make if I suspected I was being followed..
As I sat eating breakfast, the staff were uncharacteristically off with me. I had been looking forward to saying goodbye to them, but they were literally ignoring me. My phone rang & it was my girlfriend. I didn't know whether to answer it, but figured that if I didn't, she might turn up at the hotel & I didn't want that.
I answered & she asked me where I was. I was hardly going to tell her, so I just said I was having something to eat. I didn't mention anything Supreeya had told me. She asked when I was catching the plane & I told her six o'clock, although it was actualy ten. She wanted to know when I was going back to the hotel. I said I wouldn't be there until much later, hoping I could check-out before she invited herself over. It wasn't long before she mentioned the money. She asked if I had picked it up yet & I told her I hadn't. I failed to mention that I wouldn't be, either. In the end, I told her to come by the hotel later that afternoon & I would give it to her.
As I left Nickys & set off down Soi Buchao, the blue car pulled out behind me. It had been there all along & I hadn't seen it. I realised somebody had told the girlfriend I was eating in Nickys & that she was just checking if I had picked up the money.
I had never rode a motorbike before coming to Thailand, but was tearing down the Soi like Ghost Rider now. Supreeya's words from the night before were ringing in my ears, - knock me off my bike... carry a gun - as I headed back to the hotel, as fast as I could. I managed to lose the car & as I arrived at the hotel, I dumped the bike at the door, gave the keys to the bell-boy & asked him to park it for me.
I went upstairs quickly & looked out of the window. The blue car was parked there again. It was only from the safety of my room, that I relaxed & realised that until they saw me go to Western Union, I didn't have anything to fear as they were going to do me in on the way back.
Even so, knowing there was somebody prepared to kill me, right outside my door, was making me more than a little nervous. I contemplated my next move, as I made a start on the minibar. It was ten hours before my flight was due to leave.
My situation was grim.
I figured that if they realised I was heading to the airport, without picking up any money, they might just do me in for giving them the runaround, or something. They might not, but I couldn't know for sure. Either way. I didn't want to take the chance. How was I going to get to the airport? If I got into a taxi outside the hotel, that would give the blue car over one-hundred miles to follow & stop us in the middle of nowhere & do whatever it is they were going do. If they did have a shooter, I supposed they could do anything. I ruled out getting a taxi.
I considered leaping from the window & making a break for it on the bike. I knew thay would see me jump but figured if I could get it started & ride past them the wrong way to the top of the Soi, then turn the wrong way again, onto 2nd Rd, I could lose them easily & get into a taxi anywhere - Jomtien, or something. I leaned out of window & considered all the factors.
I could see the bell-boy had put the lock on my bike - fucking idiot - but supposed he was only doing the right thing. Messing around unlocking that would have added too much time onto the getaway so I ruled out making a break for it that way. I wouldn't make it out of the car park.
I peered again, deep into my bag of options, but it was empty.
I needed to be making a move. Everything I had was packed & ready to go. I checked where the fire-escape led to. My heart sunk as I realised it led to the car park. Though it was a bittersweet realisation, as I found I could get to my bike, unlock it & be off, without the occupants of the car seeing me until it was too late - for them.
I gathered my stuff & checked-out of the hotel. The staff looked surprised when I made my way to the back of the hotel to leave, but said nothing. Through the fire-escape I peered through a gap in the fence & could see both my bike & the car. If I stayed low to unlock the chain & start the bike, I was confident they wouldn't see me.
I ducked down, opened the gate & made my way slowly, cautiously, over to the bike.
I unlocked the chain, put the key into the ignition & turned it. All I had to was start it up - the only problem I had was the bike was facing the wrong way. I knew if I stood up, I would be exposed, so tried to turn the bike around while squatting on the floor. I couldn't do it. I was going to have to put myself in the open & stand up. I took some deep breaths, preparing to move like lightning & made my move.
I wish I could tell you I jumped on the bike & screamed away, much like Steve McQueen in The Great Escape, but things happened somewhat different. I tried to start the bike, turn it around & flick the kickstand, all in one fluid movement, but pulling too hard on the throttle caused the bike to move forwards & crash into all the others beside it.
This was a disaster. I considered making a run for it, but the fire-door was locked from the inside & running down the Soi or past the hitman's car weren't options. People were appearing at the windows, wondering what the commotion was. I picked up the bike & began dragging it out, but it kept getting snagged & was taking a lot longer than I was comfortable with. I never looked to see where the car was, only concentrated on getting the bike going. Eventually I managed to get it out, leapt on & started it up. I looked around & it appeared I was in the clear - the car hadn't moved, but I knew that they must have seen everything that had just happened.
I decided against riding past the car & turned left into the Soi. I heard, rather than saw the car pull out behind me as my mirrors were twisted all over the place & I couldn't let go of the handlebars to adjust them as I was going so fast. Beach Road seemed too far away as I chicaned through the speed humps, grateful for them as I knew the car would have to slow down slightly for each one. It took the longest time to get to the the bottom of the Soi, where I stopped & chanced a glance around, seeing the car bearing down on me with no regard whatsoever for the speed humps.
I entered Beach Road & turned straight up Soi 3. I knew I couldn't outrun them on a straight road. I could hear the car right behind me & knew I wouldn't make it to the top of this Soi before they caught up with me. I turned into a hotel car park. I reached Soi 2 again & turned right, against the flow of traffic. As I rode through a small gap between a Baht bus & some food vendors, I knew the car wouldn't be able to follow me.
From 2nd Road, I head behind Big C, making sure to travel on back roads & made my way to Jomtien. I was relaxed now because if they were looking for me, I knew their chances of success were slim. I was supposed to return the bike, but had bigger problems & decided not to bother.
I don't know the name of the Soi, but well before I reached Jomtien I saw a sign advertising taxis to the airport. I decided I would get one of those.
I parked the bike in a quiet place & walked back to get a taxi. The woman at the desk told me I would have to wait for fifteen minutes & I sat towards the back of a nearby beer bar, well away from the road, kept my head down & waited. It was the longest fifteen minutes of my life. Eventually, the taxi turned up. I climbed in & stayed low, well aware I wasn't completely out of the woods, just yet.
Just over an hour later we arrived safely at the airport. I made my way through check-in & settled on the plane, half-listening to the captain telling everybody his spiel about wind direction, flight time & switching off our mobile phones. I pullled it out of my pocket & it beeped. I had a text message. It was from her.
It read, simply
Goodbye my love, remember me