» Cambodia Guesthouses Preah Vihear
Guesthouses in Preah Vihear
Cambodia Travel Forum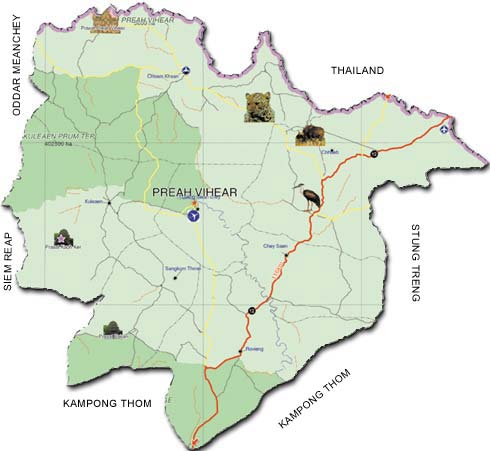 Sopheak Meangkol Guesthouse
Preah Vihear,
Samrong Village,
Tbeng Meanchey Commune,
in the heart of Preah Vihear town.
Preah Vihear has a Khmer (Cambodian) temple situated on top of a 525-meter cliff in the D'ngrÍk Mountains in Cambodia, right across the border of Si Saket Province, it can be accessed from either the Thai or Cambodian side.
Preah Vihear village is at the foot of the mountain on the Cambodian side and has a few extremely basic guesthouses made of wood.
Cambodia Visa Run Page
Cambodia News Headlines
Cambodia Weather Forecasts and Airport Arrival and Departure Schedules
Cambodian Riel Currency Converter
World Time
World News Headlines