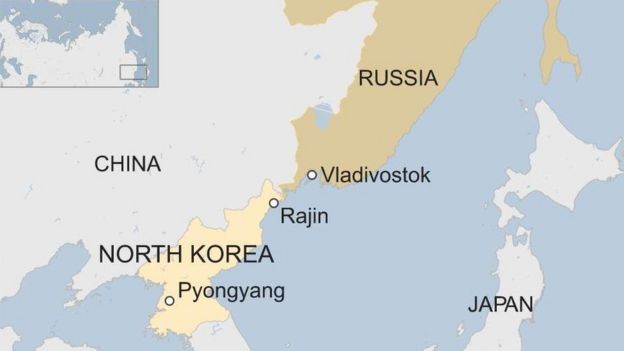 A North Korean passenger ferry has docked in Russia's far-eastern port of Vladivostok for the first time.
The vessel, called the Mangyongbong, will sail once a week to the port city and will also carry cargo. North Korea is under wide-ranging UN sanctions.
The ferry service comes amid heightened tension between North Korea and the US over Pyongyang's missile tests and efforts to develop a nuclear arsenal.
A Chinese tour operator sent some staff on the inaugural voyage.
The ferry has a restaurant, bars and a karaoke room. Chinese tourists are expected to use the service to visit communist North Korea and Russia.
A Russian firm, InvestStroiTrest, is operating the ferry from the North Korean port of Rajin. The firm runs an import/export business at Rajin, handling freight shipping as far as Vietnam and Thailand.
more
First N Korea-Russia ferry service opens despite UN sanctions - BBC News