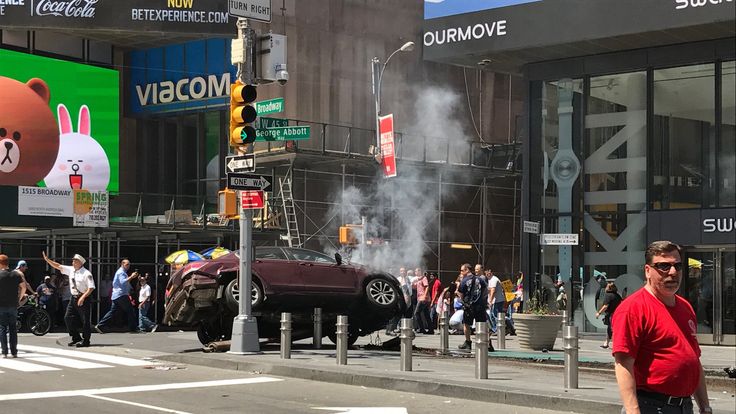 At least 22 people have been injured and one is dead after a speeding car struck pedestrians in New York City's Times Square.
A witness told Reuters news agency they saw seven people being loaded onto stretchers, shoes scattered around the scene and one person covered in a bloodstained blanket.
An injured pedestrian told Reuters the driver's actions appeared to have been "intentional".
Other witnesses said the vehicle drove against traffic and onto the pavement before striking the pedestrians at about midday local time.
Fox News said one of its contacts at the New York Police Department (NYPD) told them the driver may have committed a robbery.
The New York Post reported that when the car eventually crashed into a pole, the driver got out of the vehicle and tried to run away, according to witnesses.
He punched a police officer before several cops were able to apprehend him, witnesses said.
Pictures on CBS News network showed a man the station said was the suspect being bundled into a police vehicle by several officers.
The car ended up partly on its side outside the Swatch shop, at the corner of Broadway and W 45th St in one of the world's most popular tourist attractions.
One picture showed what appeared to be a dead woman in the middle of a pedestrianised area with a broken off wing mirror lying next to her.
Police said four people are in a critical but non-life threatening condition, three are in a serious condition and 15 are less serious.
Witness, Juan Soto, told Sky News: "I came upon the scene - a gruesome scene with multiple victims on the sidewalk and the street.
"I saw the head injuries and the blood and the victims not moving; I realised… that a car had ran into the crowd just minutes before."
NYPD Commissioner James O'Neill said the driver is 26-year-old Richard Rojas.
New York mayor Bill de Blasio said the suspect is a former US Navy serviceman and a US citizen and there is no indication it is connected to terrorism.
He has a criminal record, said Mr de Blasio.
The NYPD tweeted: "One male in custody in the #TimesSquare vehicle collision. It is believed to be an isolated incident, it remains under investigation."
Police sources said the suspect, who has two previous arrests for drunk driving, was being tested for alcohol.
The White House says that President Trump has been "made aware" of what has happened.
More than 300,000 people pass through Times Square every day.
Car hits pedestrians in New York's Times Square