These are exclusive pictures taken by our members, to view the whole thread click HERE
friscofrankie takes a drive round Chiang Mai the day after the military coup in Thailand.
Drove down to the Amphur/Jangwat government offices here. There's 6 light armoured troop carriers stationed at the entrances to the place with between 8 - 10 troops on each. The troops were all smiles and waved us on in to look around if we liked: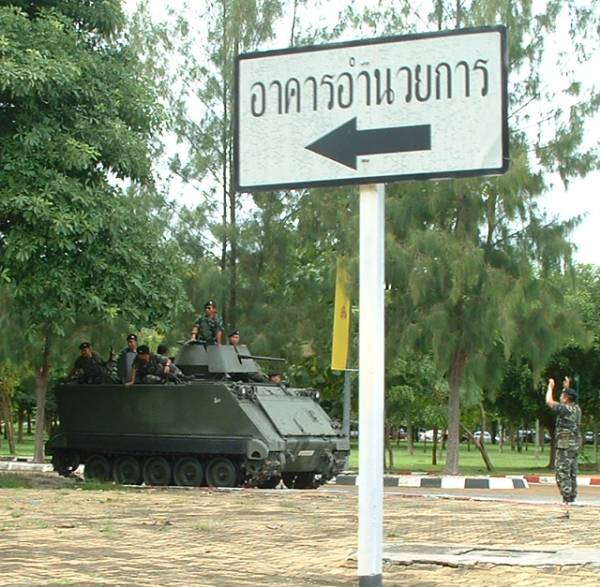 I particularly enjoyed the dude clowning with his hands up in front of the obviously unloded machinegun in this pic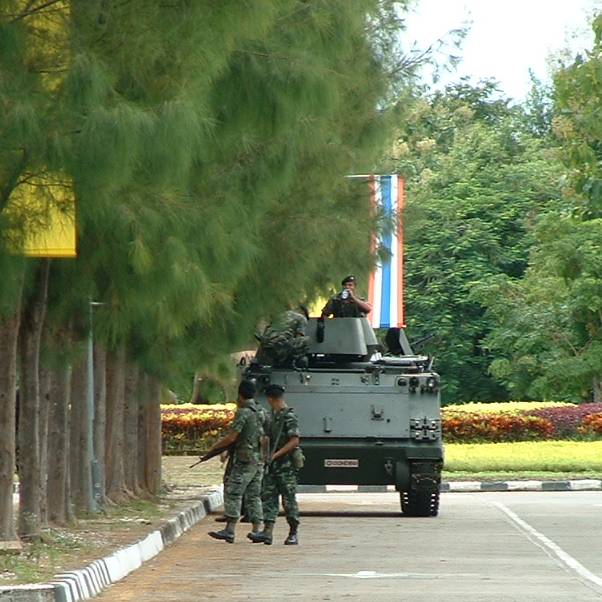 Few foot soldiers milling around the building, joking and fooling around like soldiers on a cake assignment might do anywhere. Think there a lot of people breathing a sigh of relief that this is finally done. I snapped a couple other shots but they are so boring I won't even post those.
Going into town this afternoon will see If I can't get some more intereesting shots but I really doubt seeing parked troop carriers with the smiling faces of the young men sittin atop them is going to get suddenly interesting. Maybe I can get CmN to throw a rock or sumthin'

hillbilly takes a drive round Bangkok to see what is happening in Thailands capital.
I knew we were getting close to the action when the soldiers started appearing on the outside of the Parliment's perimeter.
The pain hillbilly goes through to bring you a look up close at the turmoil.
We enter where they had installed temporary fences.
Some people had more pull than hillbilly.
A look at one of many tanks around the area.
All kinds of people were there.
Many Thai people were giving the soldiers yellow roses.
Even soldiers had to drink water.
This is the street we started out on.
A look at a tank farther down the road. We were told not to wander down there.

Soldiers getting ready for possible action in downtown Bangkok.
The police would stop some people from entering the perimeter fence.
The tanks are basically right across the road from the King's palace grounds.
While I was taking this shot of another road with a tank at the end, a security guard became angry. Why?
Maybe he was a Thaksin supporter and just didn't want me taking photos. Or it could have been I ignored him when he tried to stop me and then i may have mentioned something about him being a %$#@ buffalo...

Down Soi P-Lok.
The media was everywhere. I think that I was supposed to be behind them...
Tanks, soldiers and police were everywhere. But yet the place had a picnic feel around with people taking photos and gawking at all the displays.

RDN goes out looking for tanks in Phuket.
Tanks in Phuket!
...couldn't find any.

Phuket City Hall was deserted, as were the roads. I think everyone went to the beach.
Dirtydog Takes some pictures in his travels to and from Ayutthaya.
On my way back from Ayutthaya today they had loads of these just before hitting the outer ring road of Bangkok.
On Bangkoks Ring Road they had a few tanks on Thursday as I was on my way up to Ayutthaya.
Must have had 50 tank transporters there aswell.