Growing Tomatoes in Thailand
Hello Unregistered,
Thai Cherry Tomato Seeds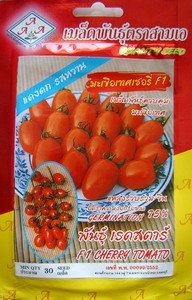 Learn How To Grow Tomatoes From Seeds
Author: Nikt
While deciding to grow tomatoes from seeds few issues need to be addressed as they directly influence further stages of tomato growing process. You will have to spend some time choosing the right soil and planting the right amount of seeds in order to get the best results. This way you will end up with the anticipated quantity of tomato plants ready to be transplanted outside in your garden bed in time for the growing season.
The first thing you will want to do is to start with clean potting soil. Do not use the soil from outside to start your plants. The best thing to do then is to go to the local nursery or garden center and pick up some good organic potting soil. You will then want to add the soil to nursery trays, or better yet, to flats that separate the pants from one another. This is beneficial when transplanting them when the time comes.
Read More Here
Preparing Soil And Choosing The Right Fertilizers For Your Tomato Plants
It is important to feed your plants with the right nutrients from the very beginning. That is why choosing fertilizers and preparing soil is so crucial when planting tomatoes and various other plants. In order to answer this question you will have to spend some time in your local gardening store researching different mixtures and asking some questions. We will show you where to start.
What motivates most gardeners is the final result of their work - best tasting, healthy and juicy tomatoes. What's a bit problematic is the fact that we want to avoid using pesticides where possible. The way you prepare the garden bed will help to ensure that this happens for you.
If you are starting with seeds, then you will want a good organic potting soil to start with. This will lessen the chance that the young plants will be attacked by disease in the early stages of growth. Once the plants have begun to grow, you'll want to put them in your selected spot when they are about 6 inches or so tall. There are a variety of methods used to keep cutworms and slugs away from the plants.
Read More Here
Pruning Tomato Plants - The Right Way
Pruning tomato plants is yet another important task that must be tended to when growing tomatoes in your garden. Pruning tomato plants will also help the plant to thrive and it will minimize the possibility of disease. Left to fend for itself the tomato plant would end up taking up about 4 square feet of space, it will probably have about 10 stems, and it will ultimately be hounded with disease. Using a device such as a tomato stake or even a tomato cage will help you to take proper care of your plants.
Next you will want to tie them in the case you are using stakes with a soft string such as soft yarn or something like that. Correct pruning is done by cutting out all of the leaves below the first flower cluster on the plants. You also want to make sure that each leave section has plenty of room to grow, and capture the sunshine. In order to produce the sugars that are necessary for the plant to live it needs the light.
Read More Here
Ways to Use Up Those Garden Tomatoes: Tomato Bouillon, Baked Stuffed Tomatoes, & Green Tomato Relish
Hello Unregistered,
Author: Grandma Linda
Now that the gardens and farmer's markets have an abundance of tomatoes, it is time to take advantage of this wonderful vegetable. Here are three recipes you might want to try. Tomato Bouillon, Baked Stuffed Tomatoes, and Green Tomato Relish are three very different ways to use tomatoes. The bouillon recipe uses tomato juice. You can easily make your own juice by putting ripe tomatoes in a heavy pot on the stove over low heat and cooking them down. Add a small amount of water if necessary. Strain the juice to remove seeds and peels.
Read More Here
Canning - How To Can Homemade Basil Tomato Sauce
Hello Unregistered,
Author: Shelly Hill
Every year we plant a large garden which always includes a few rows of tomatoes. We enjoy canning our own homemade tomato sauce to use throughout the winter and spring season when tomatoes are no longer in-season here in Pennsylvania.

Canning your own sauce is not difficult and you will need your basic home canning supplies such as: a water bath canner, quart-sized canning jars with rings and seals, funnel, ladle and a jar lifter. If you don't own these supplies, you can purchase them in a complete kit at your local kitchen shop or via a reputable online kitchen store that carries home canning supplies.

In the following recipe, I used fresh basil and parsley that I grew in my garden, however...you can certainly use dried herbs if that is what you have on hand. You will want to start out with ripe to very ripe (but not blemished) red tomatoes.

To Blanch Tomatoes: Bring a large stock pot with water to a full boil.

Read More Here


10 Things You May Not Have Known About Tomatoes
For many years the tomato was classified as a vegetable. Not for scientific reasons, but for reasons that simply made sense. Most fruits you simply pick up and eat, such as an apple or an orange, but as for the tomato, not many pick up a beefsteak or big boy hybrid and start munching, my wife excluded, she loves to eat tomatoes.
Tomatoes are botanically classified as a fruit but because of their savory flavor many still refer to this popular food as a vegetable. Tomatoes are so popular in the home vegetable garden that the USDA has noted that over eighty percent of all home vegetable gardens grow some variety of tomato, and that is more than twice the amount of the next most popular vegetable the cucumber. We'll talk about the cucumber in a future article or podcast.
Read More Here