A listing of Thailands Dog Breeders, Kennels, Vets, Pet Supplies and shops, Dog Friendly Hotels, Shippers and Freight Companies to bring your Dog to Thailand and your dogs health.
Taking your Thai dog to America
Diabetes in Dogs
Thailand is not very up on diabetes in dogs and many dogs go undiagnosed due to either not being taken to the vets or the vet not being trained up on it.
The medical terms are Diabetes Mellitus (Sugar Diabetes) and Diabetes Insipidus, caused by a lack of the hormone that controls water resorption by the kidneys, the only treatment is regular insulin injections, just dietary changes and tablet medications will not work, the normal range for blood glucose for dogs is around 60 to 110, with extemely high sugar levels your dogs internal organs will be damaged at a rapid pace, at present there is no cure for diabetes in dogs.
Recognising diabetes symptoms in your dog
One of the main symptoms is that your dog will be drinking lots of water and urinating a lot more often and a hell of a lot more urine, trouble is if you have recently brought your dog over from a temperate country like the UK you could mistakenly put this down to the heat, with our dog I at first thought we had water leaks in the building.
Your dog may also suffer from weight loss even though they maybe eating the same as or more than they have always done.
Looking after your diabetic dog
You will need the vet to take a urine sample from your dog to check for glucose, or they may do a glucose curve, this involves taking a blood sample and then injecting a small amount of insulin into your dog, the dogs blood will be checked during the day to see how much his sugar levels change and react to the insulin administered, this will give a rough idea of the amounts of insulin to be injected daily.
First you will need your own glucose meter to check your dogs sugar levels, this is initially used so you can see and get used to how your dog reacts to different blood glucose levels as for the first couple of months it is all a bit hit and miss.
Low glucose levels will cause your dog to go into shock and die, this can happen quite quickly, ie maybe you are a couple of hours late with its normal meal time, if your dog does start to go into shock you need to get his sugar levels up as quick as possible, it doesn't take a lot, ie a couple of spoons of syrup or anything that is sugary and can be absorbed into the blood stream fast.
High glucose levels will cause damage to your dogs internal organs and can cause blindness.
To keep the blood glucose at reasonable levels will mean a change of diet as seen below and also on feeding times, the best way to do this is to feed your dog the same food, the same amount, at the same time, 2 times perday, this way you balance out the sugar highs a bit better than them having a super high blood level due to one meal perday, also it is best to do 2 smaller doses of insulin perday about 30 minutes after they have eaten, you do have to make sure they have eaten their food before giving them the insulin injection, if they haven't eaten their food and you inject them they may go into shock as your taking their blood glucose down from a low level already.
Exercise is best done at the same times everyday and the same walks, if they have an extra long energetic walk this will bring down their glucose levels and without checking their blood you are not going to know by how much.
Dogs most at risk from Diabetes
Diabetes can occur at any age, but is most generally diagnosed between the ages of seven and nine years old.
Females are more likely than males to develop diabetes, you should think about getting females spayed because the hormone levels during their heat cycle disrupt control of diabetes and causes excessive highs and lows in your dogs blood sugar levels.
* Keeshond
* Poodle
* Samoyed
* Daschund
* Alaskan malamute
* Miniature schnauzer
* Chow chow
* Beagle
* Doberman
* Labrador retriever
* Hungarian puli
* Golden retriever
* Miniature pinscher
* Old English sheepdog
* Springer spaniel
* Schipperke
* Finnish spitz
* West Highland white terrier
* Cairn terrier
Other effects of Diabetes in dogs
Diabetic cataracts
This is the most common complication of diabetes in dogs.
A cataract is when the lens of the eye becomes opaque, resulting in blindness in the affected eye or eyes.
What causes diabetic cataracts?
Excess glucose in the bloodstream causes changes in the lens of the eye. Water diffuses into the lens causing swelling and disruption of the lens structure which is thought to be quite painfull. This results in the opacity that is seen.
Treatment in countries like America would involve removal and replacement of the lense, this I believe is not available here in Thailand at this time.
Infections in paws and legs;
With diabetic dogs you have to keep an eye on any cuts or damage to their paws and legs, these can quickly become infected and may end up in having to have the limb amputated
Your Diabetic dogs diet
Your main concern in feeding your dog is to try to stop highs and lows in their blood glucose levels, you really do need to learn how much sugar is in each item you feed your dog.
Fiber-enhanced foods in their diet helps slow the digestion and absorption of carbohydrates, this helps to reduce the blood glucose peak after the dog eats.
Avoid foods which contain sugar and use foods that are low in fat, ie chicken is a good choice for meat for your dog, but take the skin off, red meats like beef contain a lot of fat and can over stress the pancreas as it produces enzymes to break down the fat.
Raw or boiled fruit and vegetables are also good for your diabetic dog, we base our dogs diet on the BARF diet, we mainly use chicken and several vegetables with phumpkin to bulk it out for our dogs all boiled up in one pan.
Canine Heartworm Disease
Heartworm is a major killer of dogs in Thailand due to dogs being kept outside and the amount of mosquitos carrying infective heartworm, when an infected mosquito bites your dog it transmits the infection.
The larvae take several months to become sexually mature and grow to lengths of up to 12 inches / 30 center meters, these will reside in the heart and lung areas of your dog and can live for up to 7 years, obviously the more heartworms your dog has the more chance of it dieing from these.
There are many different prescriptions you can give to your dog to stop it getting heartworm, these normally consist of a monthly tablet.
If your dog has heartworm, the earlier it is found the better chances of survival it has, the treatment is quite simple and generally is just an injection to kill off the heartworms, the main problems occur when the dead worms are numerous and can block off major arteries, this can cause sudden death.
For the first month after your dog has been treated it is best to keep him caged as you do not want him playing or exerting himself untill he has coughed up or passed all, or the majority of the dead worms.
One of our members visits the
Bangkok international dog show atMuang Thong Thani Convention Center
.



Aanan Kennel
Breeder of Great Danes.
40 M.4 T.Thachang A.VisetChichan J.Angthong 14110
Tel: +66-0-3562-2269 ,Mobile: +66-08-1292-5662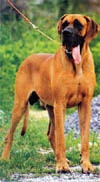 Aanan Kennel
Blackberry Shihtzu
39/29 Moo 10 , Soi Sanchaophoekaokiew. T. Banglen , A. Bangyai. Nonthaburi
Shihtzu Breeder, also has stud service, boarding, training and grooming service.
Blackberry Shihtzu
Mai Thai Kennel
98 / 42 Suetrong Village.. Rangsit-Nakorn Nayok road , Thaya buri District , Patumthani
Rottweiler, Beagle and Siberian Husky Breeders
Mai Thai Kennel
Chum Sang Song Kram Kennel
6/30 Thammabucha Rd , Soi 1 A. Muang Phitsanulok 65000 (Thailand)
Telephone: +66 55 304 066, +66 1 972 6683, +66 9 268 1326
Thai Bangkaew Breeders
This breed was supposedly started at the Wat Bangkaew Temple and was a mating between a long haired bitch and a wolf or jackal.
Chum Sang Song Kram Kennel
Aurora Shih Tzu
75 Soi Somdejchaopraya 6, Somdej Rd., Khlongsan, Bangkok 10600, Thailand.
Tel : 668-1810-3645. 668-6893-4674
Shih Tzu breeders, they also have a pet supplies shop.
Aurora Shih Tzu
Big Bell Shih Tzu
10 Moo.5 T.Lomkao A.Lomkao. Phetchbun Thailand 67120
Telephone. 666-2077882 , 661-6881728
Big Bell Shih Tzu
Blue Grass Kennels
Bangkok, Thailand
Phone: (6681) 700-9024, (662) 674-1146
Fax: (662) 210-2343
American Cocker Spaniel Breeder.
Blue Grass Kennels
Expana Yorkshire Terrier
89/74 Moo8 Narknivas Rd., Ladprao Bangkok, Thailand 10230
Phone: +66 1 629 6417 +66 9 449 2120
Yorkshire Terrier breeders.
Expana Yorkshire Terrier
House of Sakorn
Chiang Mai.
Telephone: 081-716-0420
Thai Ridgeback Breeders
House of Sakorn
Baan Shih Tzu
Breeders of Shih Tzu, Bulldogs, Pomeranian, Pekingese, Yorkshire Terriers and Lhasa apso.
Baan Shih Tzu
Pattaya UK Kennels
90/55 Moo 5, Non Chup Tao, Na Jomtien, Sattahip.
Kennels, training and pet supplies.
Pattaya UK Kennels
Hot Spice Kennel
83 Mahaisawan Road. Bukkalo, Thonburi Bangkok, 10600, Thailand.
Breeders of Sealyham Terriers, Kerry Blue Terriers and others.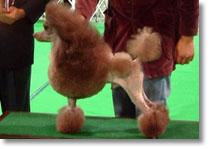 Hot Spice Kennel
Kennel Scandinavia Cha Am
68/1 Moo 8 Rimaipatana, Cha-am, 76120
Tel: 081-1989071 or 081-9413970
Dog Kennels and Cattery, also breeds Malinoise dogs, and does dog training, will pick up pets from Hua Hin for a small fee.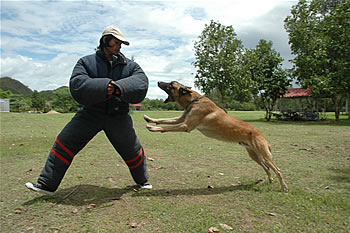 Kennel Scandinavia
PonThip Kennels
Khon Kaen
Breeder of Golden Retrievers.

PonThip Kennels
Santa Golden Kennel
203-205 Thongpol rd., Banpong district, Ratchaburi province, Thailand.
Tel/Fax (6632) 342-364 Mobile Phone (661) 818-9283
Breeder of Golden Retrievers and Labradors, stud service available.
Santa Golden Kennel
Phuket International Dog School
6/6 Teppratan Rd. T.Rassada A.Muang, Phuket , Thailand.
Telephone: 66-7621-6336 , 66-1537-6965 , 66-1956-1564
Fax Number 66-7622-4789
Breeder of Rotweiller and American Pit Bull Terrier, also has kennels and dog training.
Phuket International Dog School
Underground Miniature Bull Terrier
Independent breeder of miniature bull terriers in Thailand.
Bangkok
Telephone: +668 6603 2229
Underground Miniature Bull Terrier
Smile Pet and Dog Inn
72 Chalermprakiet Ror 9 Road., T. Vichit, A.Muang Phuket Thailand 83000
Big C Branch: 076-249299
Mobile: 01-8955303
Puppies for sale, dog grooming and looking after dogs.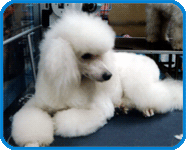 Smile Pet and Dog Inn
Animal Clinic
Address:4/3 Sukhumvit Soi 26 Bangkok, Thailand
Phone:66 2 258-6751
Rottwieller Breeder
Ban Phe
Rayong
Rottwieler Breeders
Kasetsart University Kamphaeng Saen Campus Vetinary Clinic and Animal Hospital (KU.KPS)
No. 1, Village 6, Tambon Kamphaeng Saen (Subdistrict), Amphur Kamphaeng Saen (District),
Changwat Nakhon Pathom (Province) 73140 Tel. 034-281053-6
Kasetsart University and animal hospital
Faculty of Veterinary Science Chulalongkorn University
9th Fl., 60th Anniversary Building, Henri Dunant Road, Bangkok
Faculty of Veterinary Science Chulalongkorn University
Animal Farm Veterinary Hospital
Address:709/52-53 Sukhumvit Soi 77 Bangkok, Thailand
Phone:66 2 331-8146-7
Ari Pet Hospital
Address:42 Soi Aree 5 Pahonyothin Road Bangkok, Thailand
Phone:66 2 271-3182
Bangkapi Veterinary Hospital
Address:153/1 Sutthisan Road Bangkok, Thailand
Phone:66 2 278-2532
Chulalongkorn Animal Husbandry Clinic
Address:Soi Chula 11 Henri Dunant Road Bangkok, Thailand
Phone:66 2 251-8938
Dog Gone It
Address:70 Sukhumvit Soi 31 Bangkok, Thailand
Phone:66 2 662-2298-9
Pet accessories, grooming and pets for sale.
Ekamai Vet Clinic
Address: (Ekkamai102-102/1 Soi 63) Sukhumvit Road Bangkok, Thailand
Phone:66 2 392-2008
Hoy-ya
Address:Sukhumvit 33, in Villa carpark Bangkok, Thailand
Phone:66 2 662-0379
Information:Large range of pet toys, clothing, food and accessories.
Metta Veterinary Hospital
Address:8/38 Moo 9 Lad Prao Soi 106 Bangkok, Thailand
Phone:66 2 538-6176
Petmaster
Address:Sukhumvit Soi 55 Bangkok, Thailand
Phone:66 2 714-9644
Information:Some pets and many pet products.
Prima Dog
Address:17 Soi Aree 1, Phaholyothin RoadBangkok, Thailand
Phone:66 2 272-3953
Information:Novelty animal things. Accessories food, toys, clothes and grooming
Thonglor Pet Hospital
Address:205/19-21 Sukhumvit Soi 55 (Thong Lor) Bangkok, Thailand
Phone:66 2 712-5273
Vet Clinic 20
Address:Intersection Sukhumvit Soi 77 and Srinakarin Road Bangkok, Thailand
Phone:66 2 322-4400
Pattaya Veterinary Clinic
Address: Pattaya-Naklua Road,
Phone:038 423 410
Nuern Plub War Animal Hospital
Address: Soi Nern Pleb Wan
Pattaya
Dog and Pet Friendly Hotels and Guest Houses in Thailand


Sunset Village - Chonburi
Sunset Beach:
89/5 Soi Nachomtien 52, Sattahip, Chonburi, Thailand.
Tel. +66 (0)3823 7940, 3823 7979, 3823 7980
Well-trained pets are welcome for a small additional charge.
One of our members visits Sunset Village
The Beach at Sunset Village
Sunset Village
Rabbit Resort - Jomtien
Dongtan Beach, Jomtien, Thailand
Tel (66) 38-303-303 to 4 (66) 38 -251-730 to 2 Fax

66) 38-251-628
Small dogs allowed but costs 800baht per night extra.
Virtual Tour of Jomtien
Virtual Tour Jomtien to Pattaya
Restaurant Reviews in Jomtien, Pattaya and Naklua
Rabbit Resort
Top Marks Hotel Hua Hin
100/4-6 Poonsuk Road, Hua Hin
Pets are welcome if accompanied by responsible owners!
Telephone: 032 530 404
Top Marks Hotel Hua Hin
The Doghouse Bar and Guest House Hua Hin
100/1 Poolsuk Road,
Hua Hin 77110, Thailand.
Tel: +66 032-513785
Best Western Ban Ao Nang Resort - Krabi
211 Moo 2, Ao Nang Beach, Krabi, 81000, TH
Phone: (66) 7563 7071-4 Fax: (66) 7563 7070
Best Western Ao Nang Bay Resort & Spa - Krabi
31/3 Moo 2 Ao Nang Beach, Krabi, 81000, TH
Phone: (66) 7569 5051-4 Fax: (66) 7569 5050
More about Krabi and things to see and do here
Pattaya Marriott Resort & Spa
218 M.10 Beach Road, Pattaya, 20260 Thailand
Phone: 66 38 412120 Fax: 66 38 429926
Guide Dogs allowed.
Things to do and see in Pattaya
Rose Garden Riverside - Nakorn Pathom
Km 32 Pet Kasem Road, Sampran, Nakorn Pathom, 73110 Thailand
Telephone: +66 34 322 544
Fax: +66 34 322775
Set in 70 Rai and is dog friendly, even has a play park for our furry friends.
Rose Garden Riverside
Bringing your pets and dogs to Thailand
Boomerang Pet Carrier
Bring your pets from Canada to Thailand.
Boomerang Pet Carrier
Air Animal
Pet Shipping from America to Thailand.
Air Animal - America to Thailand
Siam International Freight Forwarding
Pet Shippers from USA to Thailand.
Siam International Freight Forwarding
Passport for Pets - UK to Thailand


Thailand information and requirements for the importation of cats and dogs.
This is a summary of the main points only.
Animals must be shipped in IATA approved transit kennels that allow the animal to stand up without touching the top of the box, lie down and turn around.
From the UK the following paperwork is required: 1. An Official Export Health Certificate (1 per animal), which must be applied for from DEFRA. This must be completed and certified by your LVI within 72 hours of the flight. In order to comply your pats should have a current full set of vaccinations (Dogs - Distemper, Hepatitis, Parvovirus and Leptospirosis; Cats ñ Panleukopenia, Calicivirus and Rhinotracheitis) at least 21 days prior to the flight and within 1 year of the flight.
2. A written declaration stating that the animal has been resident in Great Britain for at least the last six months or since birth. Failing this then a certificate of vaccination against rabies will be required. The vaccination should be given at least 21 days prior to the flight.
3. An Import Permit obtained from the Department of Livestock Development, Disease Control Division, Phy Thai Road, Bangkok 10400, Thailand. This should be applied for at least 15 days prior to the date of importation. However if you are accompanying your pet then it is possible to obtain the Import Permit at the time of arrival. In this instance, please contact the veterinary officer on 24-hour duty at the arrival Hall of Terminal 1, Bangkok International Airport. Tel 5351425.
If you have any queries please contact the veterinary officer at Cargo Terminal, Room No 308, Bangkok International Airport between 08:30 and 16:30 local time Tel 5351546 or 5351210.
Contrary to advice given by DEFRA, there appears to be currently no quarantine (please check with the authorities for confirmation) for cats and dogs entering Thailand from the UK as long as all the paperwork is completed correctly and the animals are clinically healthy on entry.
The full set of requirements must be obtained from your local Animal Health Divisional Office, please contact us for the telephone number of your local office. Please request from DEFRA a Specimen copy of the Health Certificate as the things that have to be done become somewhat clearer than just referring to the notes.
Passport for Pets - UK to Thailand
UK Government website on taking pets abroad
Thai Consulate in Hull website on bringing your pets to Thailand
THE FOLLOWING ARE THE OFFICIAL THAI REGULATIONS FOR THE IMPORT
OF LIVE ANIMALS FROM THE UK
Issued by
THE DEPARTMENT OF LIVESTOCK DEVELOPMENT
MINISTRY OF AGRICULTURE AND CO-OPERATIVES
REQUIREMENTS FOR THE IMPORTATION OF DOGS AND CATS INTO
THE KINGDOM OF THAILAND
1) A health certificate in English, signed or further endorsed by a full-time authorised veterinary official of the government of the exporting country, if it is previously acknowledged by a veterinary surgeon, stating :-
1.1) number and species
1.2) breed, sex, age and colour or animal identification
1.3) name and address of the owner or the kennel of origin
1.4) certification of condition items (2) to (5)
2) The animals must come from an area where animal diseases are under control. The animals are found to be healthy, free from signs of any infectious and contagious diseases including ectoparasitism at the time of export and are fit to travel.
3) The country of export has been free from Rabies for at least the past 12 (twelve) months or the animals are vaccinated against Rabies with an official approved vaccine not less than 21 (twenty- one) days prior to departure from the country of export.
4) Either
a) The dog is vaccinated against Leptospirosis at least 21(twenty-one)days preceding departure.
or
b) The dog is subjected to a test for Leptospirosis with negative result during
the 30 (thirty) days prior to departure from the country of export.
5) The animals shall be vaccinated against other significant infectious or contagious diseases i.e. Distemper, Hepatitis and Parvovirus, with an official approved vaccine at least 21 (twenty-one) days prior to departure from the country of export.
6) The animals must be conveyed in nose and paw proof crates designed to avoid any risk of injury or unnecessary suffering.
7) The animals are not allowed to be exposed to other animals if they have to be landed in transit at any approved intermediate port. They shall not be allowed to leave the precinct of the port except to an officially approved transit quarantine area.
8) The animals are subjected to quarantine at approved premises for a period of at least 30 (thirty) days upon arrival during which they shall be submitted to tests and/or treatments as deemed necessary. The importer/owner shall be fully charged for the incurred expenses.
8) Failure to follow the import procedures may result in returning the animals to the country of origin or in destroying them without compensation.
Contact details:-
Bureau of Disease Control and Veterinary Services.
Department of Livestock Development
Phayathai Road, Ratchtavee, Bangkok 10400
Tel: (02) 653-4550-7 Fax: (02) 653-4929
E-mail: quarantine_dcontrol[at]dld.go.th