The Thai Temples and Wats in the UK, also Festivals and events held in the UK.
Both Chang and Singha Beer hold festivals in London, one at Greenwich and the other at Battersea Park, one of our members visits them, you can view his thread
Here
.
One of TeakDoors American members becomes a Monk in Chiang Mai, you can read about that
here
.
Thai Wales Website
The Oxford Buddha Vihara
University of London Union Buddhist Association
Buddhist Groups in Edinburgh
The Council of Thai Buddhist Monks of United Kingdom of Great Britain and Northern Ireland
North-West Centre for Buddhist Meditation
Web Site with some info about taking your Thai partner back to the UK
The Annual Thai Food & Culture Festival at Battersea Park Website
British Council Thai-UK Education Festival



Buddhapadipa Temple, Wimbledon, London
Wat Buddhapadipa in London was the first Buddhist temple in the United Kingdom, established by the London Buddhist Temple Foundation with the objective of creating a centre for the dissemination of theoretical and practical Buddhist teachings in Europe.
This temple has been under the Royal Patronage since 1965 when it was originally located on Christ Church Road, Richmond. It was moved to its present site in Calonne Road, Wimbledon Parkside in 1976. With the support of the Royal Thai Government and the Thai people, the Foundation erected an "Ubosot", a Thai style building for monastic ceremonies. The celebration of monastic boundary, held on October 30, 1982, enabled Wat Buddhapadipa to become a formal temple according to Thai tradition: in fact, the only Thai temple ever built in Europe.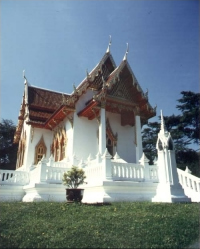 Buddhapadipa Temple
The Buddhavihara Temple, Burton upon Trent, UK
The new Temple is on Alrewas Road, in the village of Kings Bromley. The village lies on the A515, about 6 miles north of of the Cathedral City of Lichfield. In the centre of Kings Bromley village is a turn onto the A513 which leads down to the A38, from which there is easy access to/from Derby, Birmingham and the motorway network
Eastfield House is about 2/3 mile from the village centre: the dead-end left turn (coming from the village) just by the green locator arrow on the Google map is the drive to Eastfield House.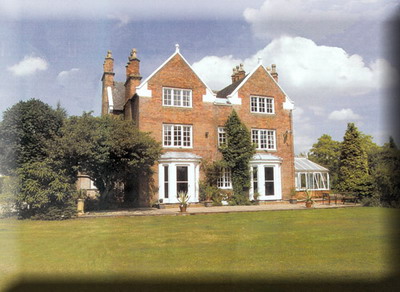 The Buddhavihara Temple, Burton upon Trent, UK

The Forest Hermitage, Lower Fulbrook, Warwickshire
Wat Pah Santidhamma
The Forest Hermitage, a branch of Wat Nong Pah Pong
Aruna Ratanagiri Buddhist Monastery
2 Harnham Hall Cottages, Harnham, Belsay, Northumberland
Harnham Buddhist Monastery is a Buddhist community on the borders of Scotland and England. The abbot, Ajahn Munindo, was ordained by the late Venerable Ajahn Chah of Wat Nong Pah Pong in NE Thailand in 1975. The community comprises a monastic residence of usually about 8 Sangha members and an adjacent lay retreat facility known as Harnham Retreat House
Aruna Ratanagiri Buddhist Monastery
Amaravati Buddhist Monastery, Hemel Hempstead, Hertfordshire
St. Margarets Lane, Great Gaddesden, Hemel Hempstead, Hertfordshire, HP1 3BZ, England
Retreat Booking Information
Retreats are held in a facility separate from the main monastery. Accommodation is mostly in dormitories, but there are a few rooms available for those with special needs. Retreatants are asked to participate fully in the daily schedule of sitting and walking meditation.
NOBLE SILENCE: Meditation instruction is given by the monk or nun leading the retreat and there is usually an opportunity to ask questions about meditation practice. Otherwise retreatants are asked to maintain 'noble silence', that is not engaging in any talk with each other, or anyone else, unless it is really necessary.
On the first day, retreatants are asked to arrive between 4pm and 7pm. On arrival, please come to the Retreat Centre Reception to register and find out where you are sleeping.
The schedule for the first evening is as follows:
Registration: Retreat Centre Office 4-7pm
Supper: Retreat Centre Kitchen 6-7.00pm
Orientation Talk: Retreat Centre Kitchen 7.15pm
Opening Meditation: Shrine Room 8.15pm
Weekend retreats finish at 4pm; five and ten day retreats finish after lunch on the last day.
Amaravati Buddhist Monastery
Wat Buddharam, Leyton, London
74 St.Georges Road, Leyton, London
Wat Buddharam
Other Buddhist Temples in the UK include Wat Sanghathan, Birmingham, Dhammapadipa Temple, Edinburgh, Wat Charoen Bhavana, Salford, Wat Sanghathan, Handworth Wood, Birmingham.
Thai Festivals and Events held in the UK
Brighton and Hove Ladyboys of Bangkok, Victoria Gardens. Throughout May.
This popular cabaret show has been a huge success for the last five years and is set to be another sell out. If you enjoy popular music, entertainment and thai food all in one package, this is a show not to be missed!
Secretts Farm and Garden Centre
Secretts Garden Centre
Milford, Surrey
Holds various Thai related events throughout the year.
The Hamilton Arms, Stedham, West Sussex:
Traditional English pub and Nava Thai Restaurant
School Lane, Stedham, Nr Midhurst, West Sussex GU29 0NZ
Holds various Thai related events throughout the year.
A great listing of Thai Restaurants all over the UK
Want to know what the weather is like in Thailand
Thailands Live Webcams from all over Thailand