Time and Date in Vietnam
Hello Unregistered,
Members Trips to Halong Bay
Hanoi to Halong and Sapa
Halong Bay Junk Boat Tour
Hanoi to Halong and a Boat Trip
Halong Bay Photos
Halong Bay & Junk Boats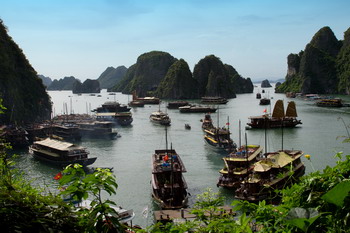 Caves in Halong Bay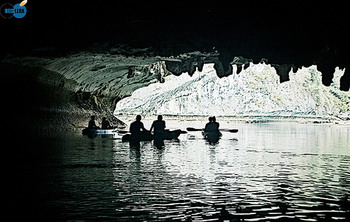 Kayaking in a Lagoon
Vietnamese Market Vendors
Vietnamese Junk Boat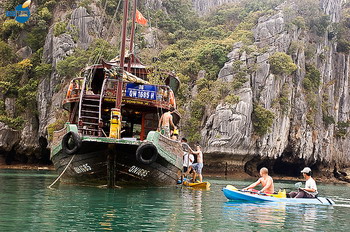 Limestone Islands
Halong Bay Articles
5 Things to do in Halong Bay
Halong Bay World Heritage Site
Biking in Halong Bay
Halong Bay Cruises
Trekking and Kayaking in Halong Bay
Scuba Diving in Halong Bay
The Islets of Halong Bay
Halong Bay Information
Halong Bay - Getting There
From Hanoi to Halong City is 170km, if your feeling rich and it is a Saturday you can go by helicopter from Gia Lam Airport for around $200, public bus for around $5, this takes 5 to 6 hours, or you can rent a car and driver for around $80 which takes around 3 1/2 hours.

Hotels in Halong & Cat Ba Island
Halong has many hotels with rates for places like Halong Bay Hotel starting from $30 per night to 4 star hotels such as Halong Plaza Hotel at just over $80 per night.
If you want to stay on Cat Ba Island there is the Sun and Sea Hotel at around $25 per night or the more luxurious Cat Ba Sunrise Resort starting from $125 per night although these maybe cheaper using a hotel booking company.

Halong Bay Live Aboards
Live aboards can be arranged in either Hanoi or Halong, these range from 1 night to 7 days, many also have kayaks so you can explore the limestone caves and hidden lagoons, prices and quality of the boats vary from 4 star luxurious splendour to "Oh my God, do you really expect me to sleep on that."

Halong Bay Information
Halong Bay has around 120km of coastline, 1,969 islets of which most are limestone is the number claimed by the Vietnamese, although the actual figure is around 3,000, it is situated in North Eastern Vietnam so it doesn't get too hot.

Halong Bay Videos
Halong Map
View Larger Map
Halong Bay Weather